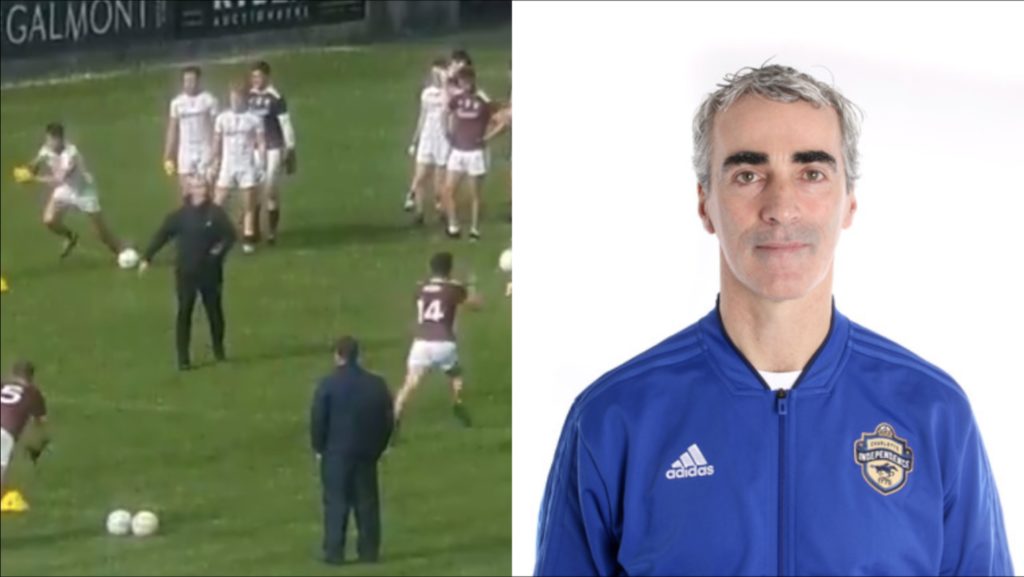 All-Ireland winning boss Jim McGuinness seen taking training session with Padraic Joyce's Galway footballers.
Footage of Donegal All-Ireland winning manager Jim McGuinness taking a training session with the Galway footballers emerged today.
The Glenties man led his county to the Sam Maguire title in 2012 — and also added three Ulster crowns either side of it — but went on to pursue a career in soccer.
McGuinness had spells with Celtic FC, Beijing Guoan and Charlotte Independence, but has not had an official role since leaving the lattermost as head coach in June 2019.
Today, a video appeared of the 2012 All-Ireland winner taking a session under Tribal County manager, Padraic Joyce, with whom he played on the 1999 Sigerson Cup-winning side at IT Tralee.
As former Kerry star Darran O'Sullivan said in 2019, there is a certain mystique about the Glenties man and his training methods.
"When teams start winning as they do, they start to build up an aura around them. Some of it is true; some of it can be false," said O'Sullivan.
"I remember when Donegal won the All-Ireland in 2012 under Jim McGuinness, there was all this talk about the training they were doing and how they were the fittest.
"I was talking to one of their players and half of what was said wasn't true."
When asked in 2016 about his future in GAA management, McGuinness was clear that home in where the heart is.
"I think 'never' is a long time. Obviously I love my own county and if I was to manage anyone it probably would be Donegal," he said.
"I think there is probably a higher possibility of managing my young fellas, at underage, than a county team. In the short term anyway. But I would never say never."
Speaking in 2015, McGuinness explained that he saw his time with Donegal akin to how an athlete looks at the Olympics — a four-year cycle.
In that sense, it was natural to leave the county at the end of 2014 because someone new needs to drive the set-up forward — namely the players themselves.
"It wasn't just about taking a football team and doing the best you could do with the team," he said.
"I wanted it to be a bit more than that. I wanted it to be a life experience for the people that were involved.
"When we brought the support team together, a big part of the remit was that you need to be professional and really, really positive," he adds.
"Never talk down to a player, never talk behind a player's back to another member of the support team. Never disrespect somebody and you would hope you would get the same
back.
"I think that's really, really important. The whole concept is about relationships. We were all there for the same goal.
"If you don't feel you are able to manage a task, people become demotivated. The task and the challenge that you are being set you have got to be able to identify the fact that you are able to do it.
"In Donegal we started off with very, very simple drills. I'm talking Uner-12 drills here. Two lines, two groups of people facing each other.
"We tried to do them at the highest pace possible. So it is a simple drill at a very high level."
"The process then becomes exhilarating and you are wondering how far can you push this? You are creating that dynamic in the group."
It remains to be seen if his role with Galway is a fleeting one, or if he will play a big part.