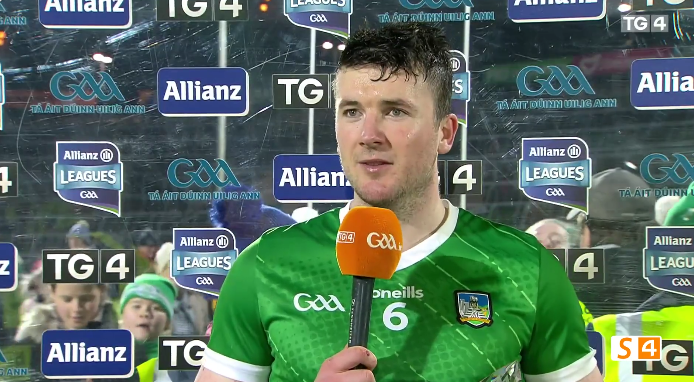 Declan Hannon and his team came through a battle on Saturday night!
Limerick produced a stirring second-half fightback to sink Tipperary in the Allianz Hurling League Division 1 semi-final.
The Treaty produced close to their best form to defeat the Premier County, with both teams flying into challenges and looking to lay down a marker ahead of the Munster Championship.
Speaking after the game, man of the match Hannon commented that the niggle on display was a welcome aspect in the full-blooded affair.
"It's great. There's a good rivalry between Tipperary and Limerick," he told TG4.
"There always has been. There was fantastic niggle in the game, it was a knockout game, no one wants to lose at this stage of the year. Everybody goes out to try and perform as best they can. The winner takes all then.
"It's why we play the game. These nights, it's a Saturday evening in Limerick, a great occasion for sport here in Limerick, Munster playing over the road, us in the Gaelic Grounds. A fantastic great crowd here, nice evening. We love it."
Tipp were on top for the first-half on Saturday evening, leading 0-16 to 0-12. But the hosts turned things around after the break to run out 1-28 to 0-25 victors.
"Good second half. We wouldn't have been happy at all with our first-half peformance when Tipperary were doing a lot of damage," Hannon detailed.
"But good composure, we gathered around at half-time, Paul and John gave us a few nuggets. So in the second-half we worked harder, that was the winning of the game.
"I think we all have a massive trust in each other that we've built over the last number of years. It was a nice confidence boost from John to leave it (at half-time) as the XV that started the first-half. It was up to us in the second-half to go and try turn things around. It was a bit more hard work, a bit more aggression in the tackle, things like that. Can't wait to start the league final now."
Declan Hannon and Co will now face Kilkenny or Cork in the National League final.