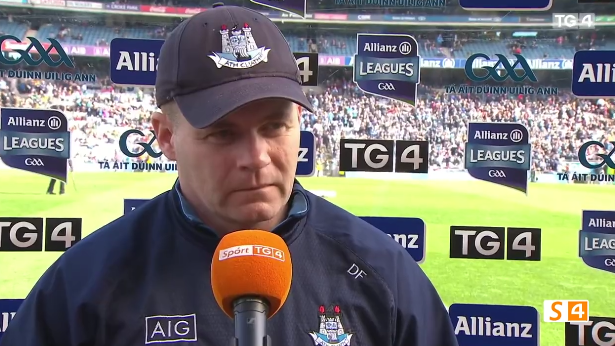 Dublin senior football manager Dessie Farrell was thrilled with his team's clinical display as they claimed the Allianz Football League Division 2 title in Sunday's final against Derry.
The Oak Leaf County led at the half-way mark, but the Dubs showed an attacking flair that was sorely lacking in recent weeks as they scored four second-half goals to win 4-8 to 0-11.
So what changed at half-time?
"It was just to go after it a bit more," Farrell told TG4.
"We pushed on them a little bit. We knew that once fatigue set in, those opportunities were going to open up and there was going to be more space. Whether we could exploit it or not was the question.
"We definitely turned in a few goals, but the shooting efficiency for points wasn't great and certainly something for us to work on.
"You come up against that set defence more and more in the modern day game. You have to be creative in how you open them up.
"It was nice to see that little bit of ruthlessness today that we hadn't seen to date in the league. You definitely have to play with that edge when you move up to the big boys later in the summer for sure."
Farrell was also asked about the performance of goalkeeper David O'Hanlon, who is under added pressure given the presence of Stephen Cluxton on the bench.
"He has a great mentor in Stephen, and it's great to have Stephen back in the mix," Farrell detailed. "But David has been phenomenal for us throughout the league campaign. And he's took over the jersey since Evan has been injured and has really commanded that position and we're really pleased with where he's at."
And there was no temptation to bring Cluxton on as a late substitute.
"Stephen doesn't want any of that tokenism," the Dublin boss continuted. "His day is going to come if it's going to come. He's training really well, he's part of the panel now at this stage, and we're looking forward to the contributions he'll make during the summer."