In quarter-final number 4 of our best All-Ireland winner series, Jim Gavin's five-in-a-row side of 2019 are pitted against the Kerry crew that retained the Sam Maguire Cup in 2007.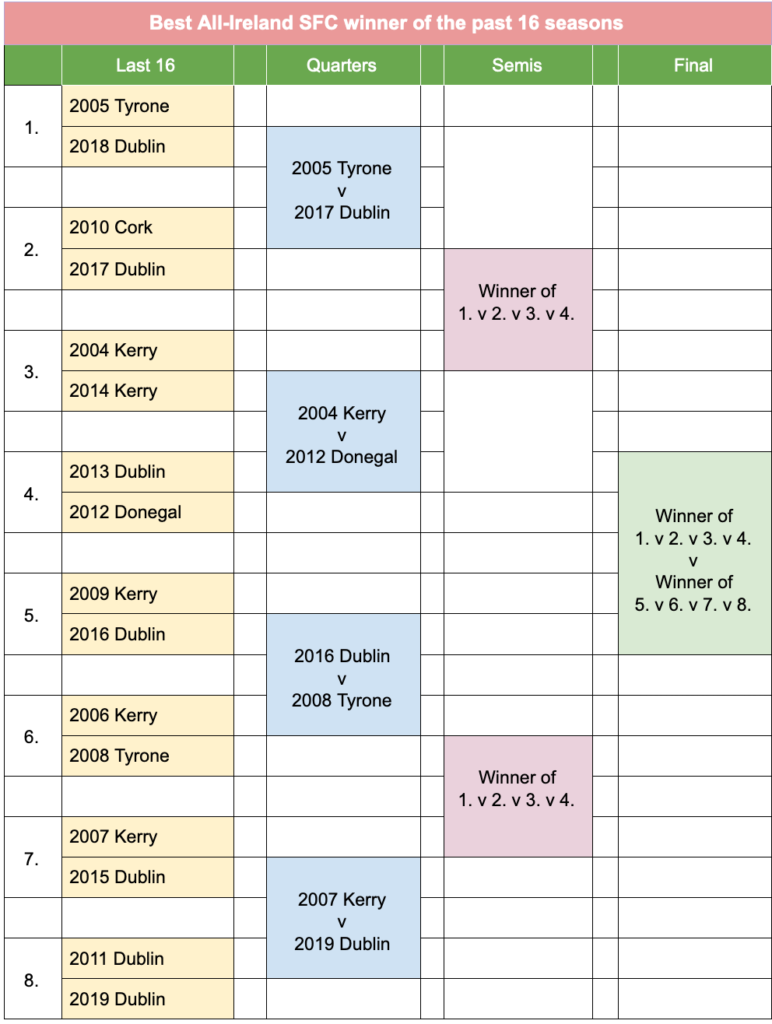 Dublin won the five-in-a-row under the fiercest of pressure, doing something that had never been done before.
In 2007, Kerry went back-to-back for the first time since Cork completed the Double in 1990, which at the time was considered a significant achievement.
That was a Kerry team replete with star players: Colm Cooper, Kieran Donaghy, Declan O'Sullivan, Paul Galvin and many more.
The Dublin team of 2019 had their scares against Kerry in the two finals, with Jack McCaffrey explaining the journey to us, including his brilliant 1-3 display in the drawn clash.
Con O'Callaghan too spoke of the drive-for-five, one where he played a key part and starred in the replay win over the Kingdom.
Jim Gavin's Dublin side have dominated the landscape for years, and the question is whether what they produced in 2019 alone would be enough to see off the 2007 Kerry outfit.
"He was a great thinker of the game, very tactically astute," Donaghy says of manager Pat O'Shea in his autobiography, What Do You Think Of That?
The Munster men crushed their provincinal neighbours Cork 3-13 to 1-9 in the All-Ireland final that season — with 'Gooch' hitting 1-5 and Donaghy smashing in a couple of goals.