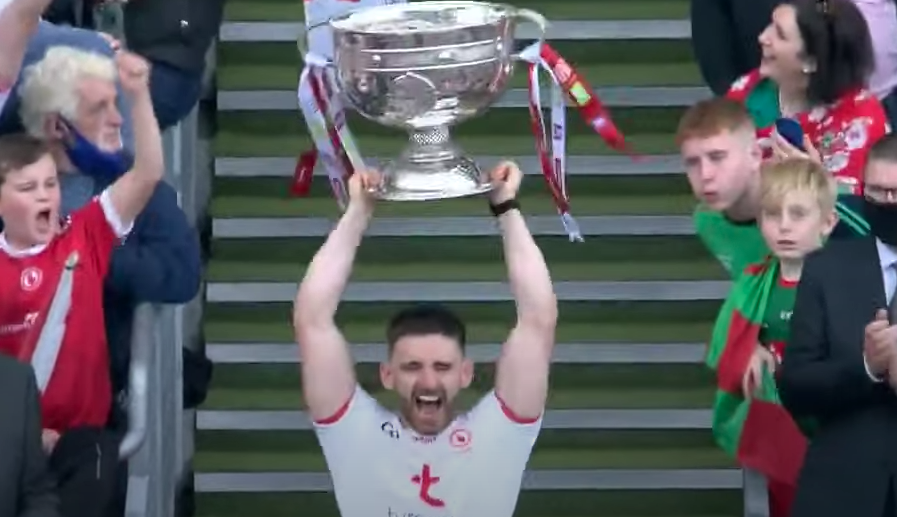 Tyrone embarking on unlikely ascension to the 2021 All-Ireland title was a remarkable upset. What has been more surprising still however is their drop-off since then.
The Red Hands exited the championship in 2022 after defeats against Derry and Armagh, with only an Ulster preliminary-round victory over Fermanagh to show.
Brian Dooher and Feargal Logan's charges now find themselves bottom of the Division 1 table after four rounds in the Allianz Football League, and have a fight on their hands to retain their top-tier status.
Having held the Sam Maguire Cup so recently, it has been a significant regression.
"Do you think for Tyrone here, is it a case that they're getting stuck between two stools here? I'm not sure if they're a defensive team anymore," opined former Mayo star Enda Varley, speaking on Our Game.
"To be honest, what I thought was going to happen in MacHale Park on Saturday was they were going to get 15 men behind the 45. They did that to us seven or eight years ago, and we found it very hard to break it down.
"Obviously they got off to a good start. But once the first goal went in against them, their heads dropped. They seemed very fragile in terms of their confidence levels.
"I haven't seen such a drop-off from All-Ireland champions to this extent. Lads leaving the panel. It's only 18 months since they won the All-Ireland. So usually what happens when you win the All-Ireland, you kick on again. Lads get greedy. The squad gets greedy. 'I want a piece of this'.
"But to me, what has happened here is, the squad [looks like] they're happy. They've got their All-Ireland. To me, they're content. They don't seem to have pushed on at all. And I'd be very worried if I were the management team there. I'm nearly confused when I'm looking at Tyrone, to be honest with you."
You can watch the full discussion here.
📮 Sign up to the OurGame newsletter — a daily email reminder of our latest videos, articles, quizzes and more.