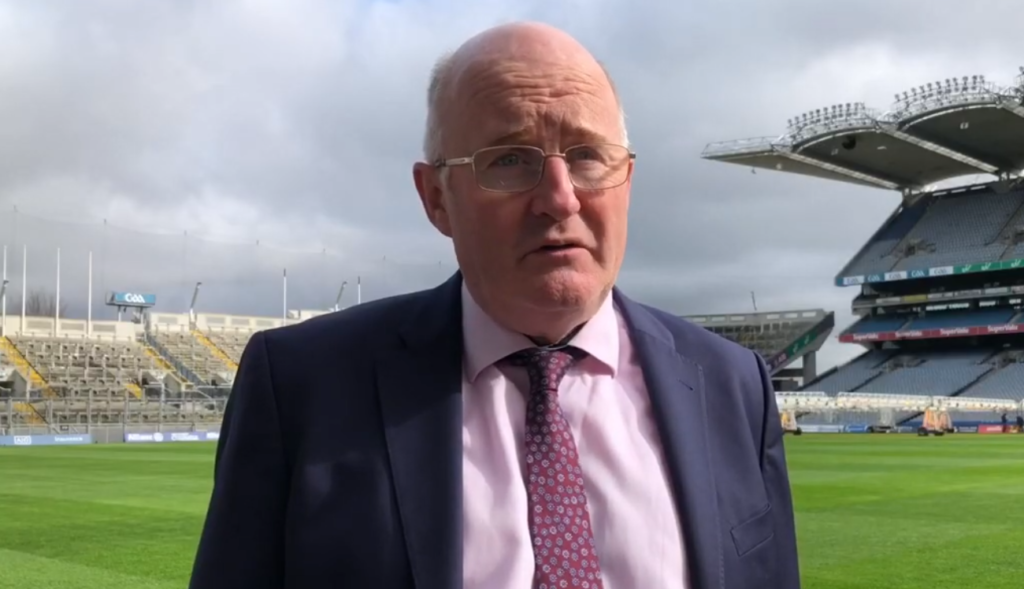 The inter-county season will begin on October 17, with club competitions at all grades to commence on July 31 — as the GAA announce 'Safe Return to Gaelic Games' document.
The GAA has announced that pitches will remain closed until June 29, and full club training will not be permitted until July 20.
The news comes on the same day that Taoiseach Leo Varadkar announced that groups of up to 15 people could gather for sports training from Monday.
The association, who unveiled the 'Safe Return to Gaelic Games' document, has instead advised that training in groups of ten will be allowed from June 29.
On June 8, the walking tracks will reopen to the public, though no games or small group training will be permitted on GAA facilities at this stage and all clubroom facilities will remain closed.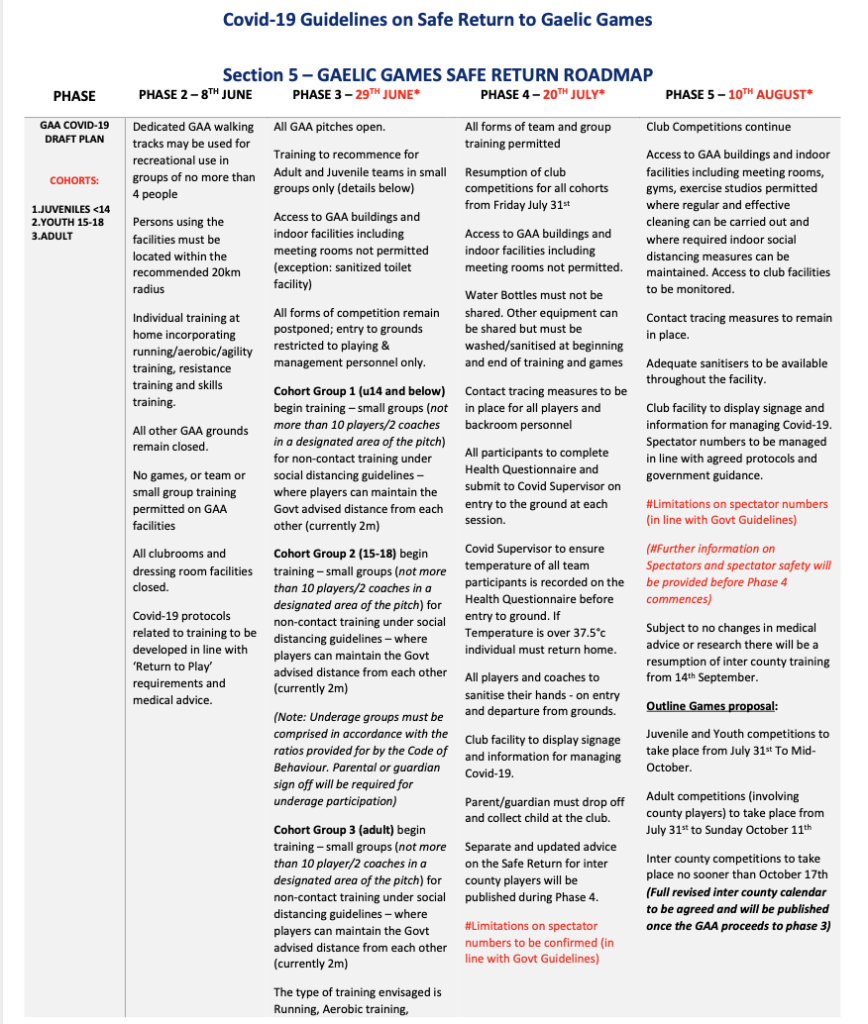 GAA pitches will then be opened when Phase 3 of the government's lockdown easing begins on June 29, at which point adults can begin training in small groups of five while adhering to social distancing.
Juvenile grades from under-12 and below can train in small groups from this date, with no more than ten — including players and coaches in one area of the pitch — for non-contact training under social distancing guidelines.
Early takes from the GAA/Camogie/LGFA Road-map
– Clubs are getting more than a fair share of pie, 11 weeks is more than what was muted which should provide a minimum of 2 games for each club
– Inter-county all but guaranteed to be straight knockout with All Ireland's in December

— Shane Brophy (@BrophShane) June 5, 2020
Meanwhile, players aged 15 to 18 can begin training in groups of no more than five, with parental or guardian sign-off required for underage participation.
Teams will be allowed to train fully from July 20 at the commencement of Phase 4, with the resumption of club competitions for all grades starting on July 31.
The 'Safe Return to Gaelic Games' guidelines have also recommended a number of safety measures — including sanitisation, the need for all participants to fill out a health questionnaire, and a Covid Supervisor to be appointed by clubs with duties including taking temperature levels of team participants upon entry to the grounds.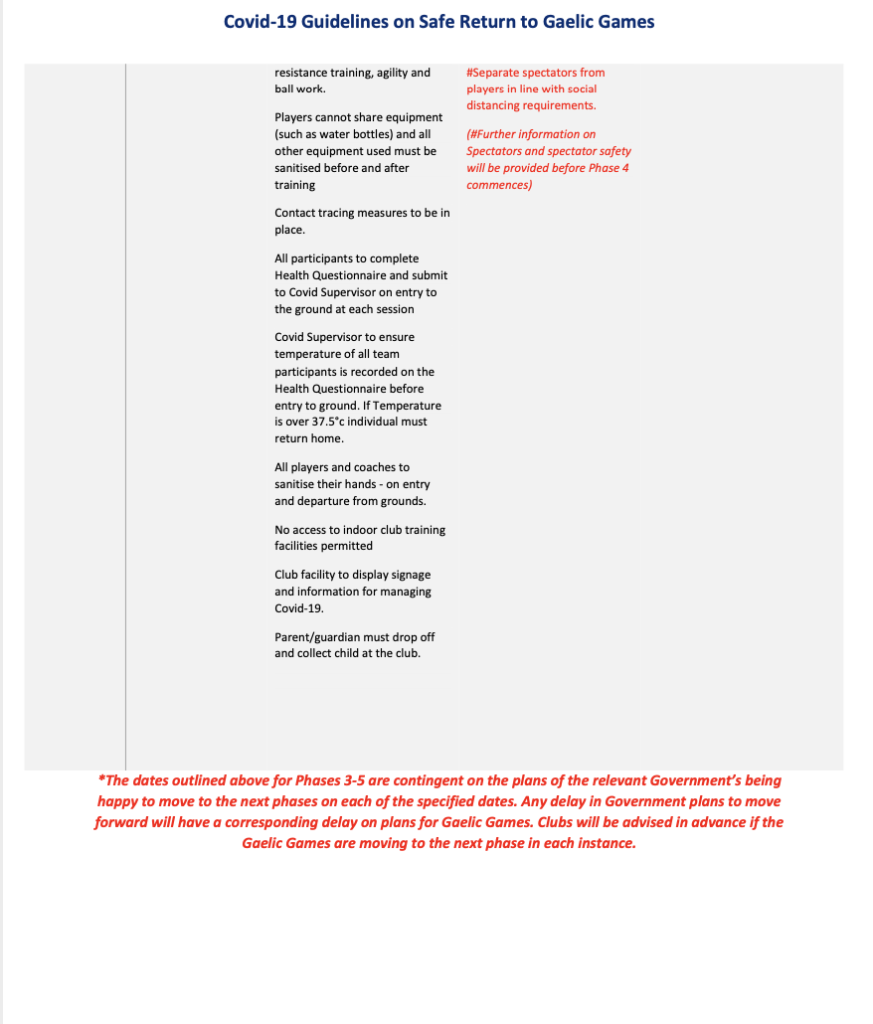 The final phase begins on August 10 when access to GAA buildings will again be permitted, with effective cleaning and indoor social distancing required.
Inter-county training can resume on September 17 and, assuming medical advice does not change, the elite-level championships will begin on October 17.
Dressing rooms won't be permitted for, at least, the first 2 weekends of club games, players will have to arrive and depart togged.

— Shane Brophy (@BrophShane) June 5, 2020
The final phase commences on 10 August when access to GAA buildings will be permitted again – where regular and effective cleaning can be carried out and where indoor social distancing can be maintained.
A full fixture calendar will be published in August, although the GAA have yet to confirm whether the 2020 league campaigns will be finished at a later date.
GAA President, John Horan, discusses the COVID-19 roadmap for a safe return to Gaelic Games which was published today, the requirements that will place on clubs, and how club and county championships will be structured this year. #GAA #GAABelong pic.twitter.com/J3xvttvLO8

— The GAA (@officialgaa) June 5, 2020
For club teams, an 11-week window means that the provincial and All-Ireland clubs series are unlikely to be played in 2020, denying Ballyhale Shamrocks and Corofin the opportunity to defend their titles.
📮 Sign up to the OurGame newsletter — a daily email reminder of our latest videos, articles, quizzes and more.
Don't forget to subscribe to the OurGame YouTube page for live streams and more.