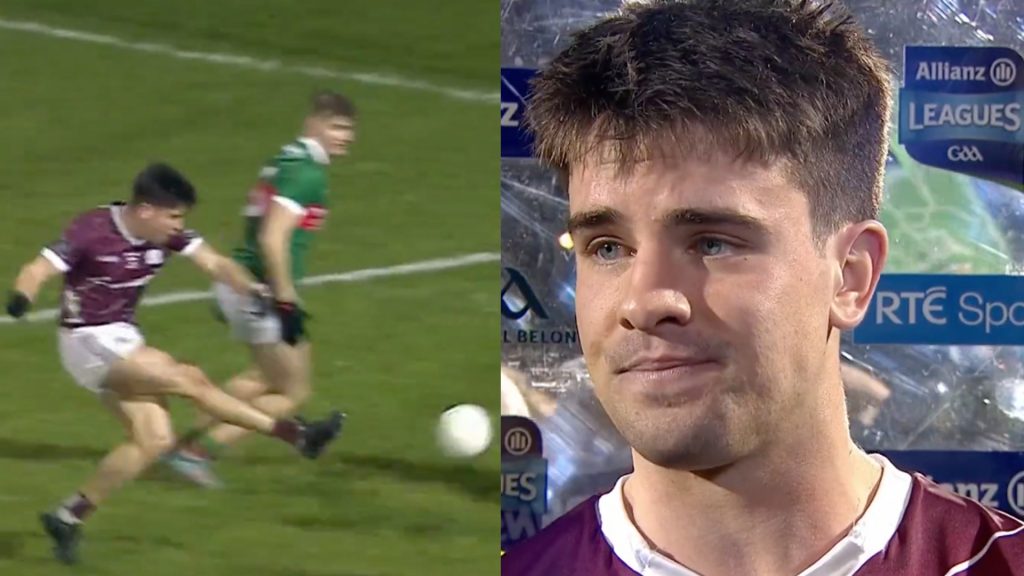 Galway captain Seán Kelly got a rare goal in the maroon jersey on Saturday night, as a foray forward against Mayo resulted in a green flag.
The Maigh Cuilinn defender has rejoined the Tribesmen after the club campaign, and added a scoring touch straight away.
In the second-half, Cillian McDaid made a storming run at the Mayo defence, before playing a hand pass into Kelly who had moved in behind the opposition rearguard. Once in possession, the full-back showed the poise of a seasoned forward to slot it home.
After collecting the man of the match award, Kelly was quick to play it down.
"Pádraic [Joyce] wants everyone – he's encouraging football – he wants everyone to get a score. I snuck up, turned right and it snuck in off the post. Maybe lucky, I don't know," he laughed, speaking to RTÉ.
However, he lamented his team's inability to hold out for the victory, after Ryan O'Donoghue's late score rescued a draw for Kevin McStay's side.
"Obviously disappointed," he reflected. "We were one point up at the end, just made a mistake coming out and good score kicked by Ryan O'Donoghue there at the end.
"A bit of disappointment, we could have and probably should have [won]. We'll look back on it and see what we could do better."
The 2022 All-Ireland finalists have little time to rest on their laurels, and must now prepare for another all-Connacht clash, as neighbours Roscommon come to Salthill next weekend.
"That's the League. It's tough match-ups, not much time to work on stuff," Kelly added.
"Back to the training ground…We'll look forward to it and try to improve each week."
📮 Sign up to the OurGame newsletter — a daily email reminder of our latest videos, articles, quizzes and more.