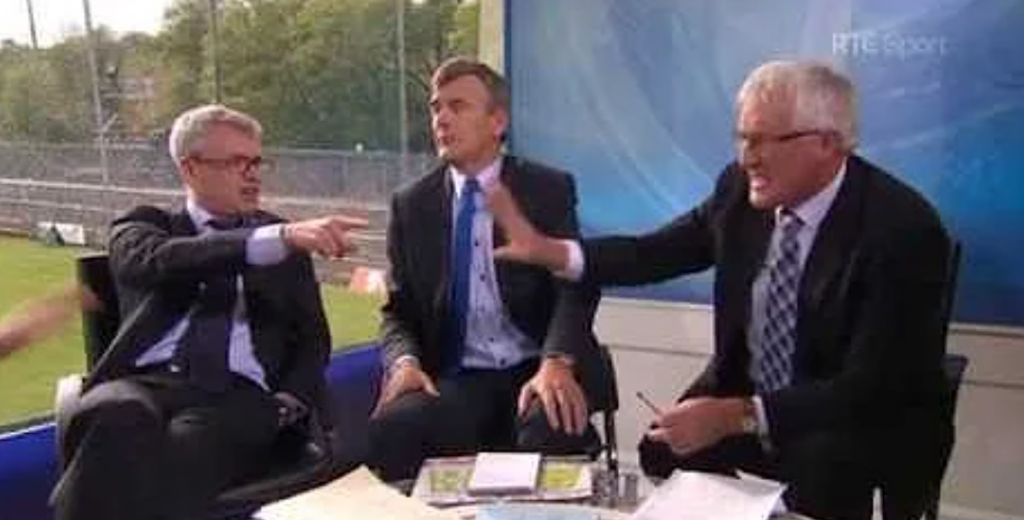 Pat Spillane didn't thank Joe Brolly for this!
Michael Lyster, Cyril Farrell and Tomás Mulcahy joined Our Game on Thursday to look back on some of their years with The Sunday Game.
There were some brilliant memories recounted from the RTÉ production, with the trio sharing stories that viewers of the show would not have heard over the years.
Mulcahy discussed one memory of Joe Brolly pulling the rug from underneath his colleague Pat Spillane.
"We were there one day, and the football was first," detailed the former Cork star and hurling analyst.
"Spillane would arrive in, and it was like he was after swallowing the bible in terms of quotes and what he would say! So he put his notes down on the table, and he said he must go to the loo. Quick as a flash, there was Brolly over and scanned the bible in front of him. He said to me, 'Watch Spillane now the minute the show opens'.
"I think Michael introduced the panel, and said 'we'll go to Joe Brolly first'. Joe Brolly read off the first quote that Spillane had written down, and Spillane was looking at him [raging]! We were in the background behind the cameras, and we are in stitches. He really caught Spillane big time!"
Brolly's time as a Sunday Game pundit came to an end in controversial circumstances in 2019 after the All-Ireland football final. Meanwhile, Pat Spillane elected to walk away in 2021 after a lengthy broadcasting career.
Watch as Michael Lyster, Cyril Farrell and Tomás Mulchay join Our Game to reminisce about their Sunday Game days here.