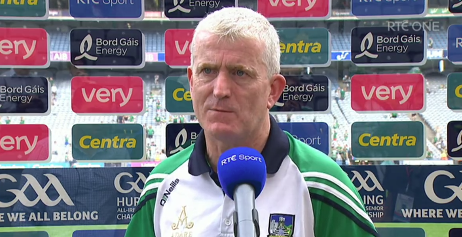 John Kiely is hopeful that a work-around can be found given the GAA's recent decision to ban temporary sponsors on jerseys, which include one-off charity logos.
Limerick's upcoming Munster Championship match with Tipperary was scheduled to feature the logo of the Dillon Quirke Foundation on both sets of jerseys.
There are also other fundraising efforts planned around the match.
Former Tipp star Quirke died last year while in action for his club Clonoulty-Rossmore.
"Firstly, I met Dan Quirke [Dillon's father] last November. We discussed doing something. We were all very much of the mind that we would like to help in whatever way we could, make a contribution in whatever way we could to the Foundation," Kiely said (quotes via RTÉ).
"This concept was put forward that the Foundation emblem would be put on the jersey for that one game between ourselves and Tipperary. We had agreed to do that. We were very happy to do that. And that afterwards the jerseys would be handed back to the Foundation for them to auction – that was the concept.
"Clearly, it has run into a difficulty now, because of the particular rule it might be in breach of. That's disappointing.
"I feel his situation is that little bit unique in that he died playing the game that he loved, on one of the most hallowed surfaces of all in Semple Stadium.
"We're very much open to finding some solution to that particular difficulty. If we can help in any way, we will. We will be open to that."
Limerick travel to Thurles on Sunday, May 21 which will be both teams' penultimate match in the round robin.
The Munster Championship gets underway on Sunday, April 23.
John Kiely and his team will first focus on Sunday's Allianz Hurling League final with Kilkenny at Páirc Uí Chaoimh.