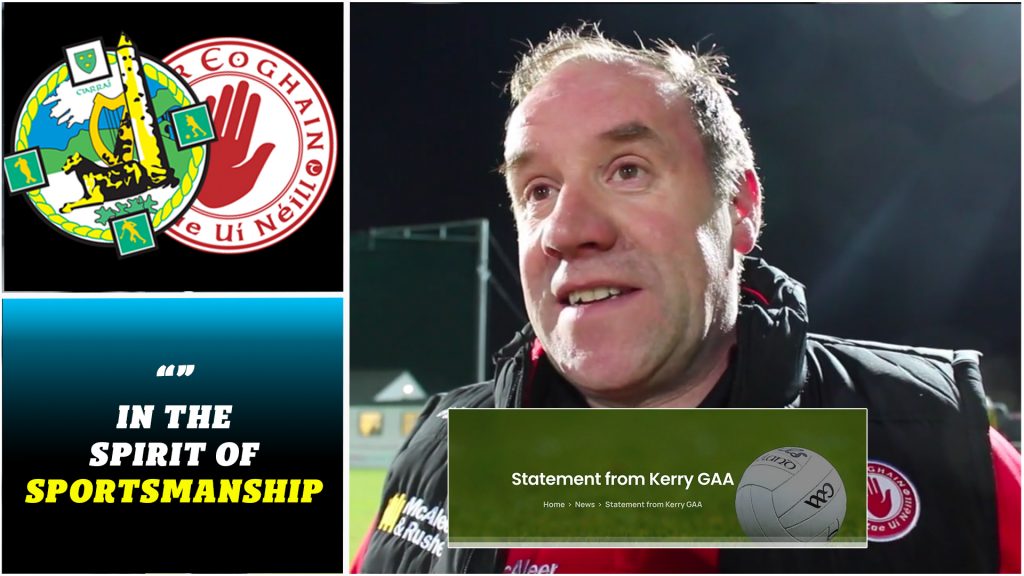 Tyrone explain that one player was hospitalised due to Covid as Kerry release statement asking the GAA to find a suitable date for their All-Ireland semi-final.
BY SHANE STAPLETON
Kerry GAA have announced that they are ready to wait at least another week to give Tyrone a chance to prepare for their All-Ireland SFC semi-final.
The Red Hands yesterday pulled out of the clash due to Covid cases in their camp, and today joint manager Feargal Logan explained that one player was hospitalised — while a large number of others have been hit with symptoms.
The GAA had originally refixed the game from Sunday August 15 to the 21st, but Tyrone then released a statement saying they would not fulfil the fixture.
Now Kerry, via a statement, have explained the impact this uncertainty has had on their preparations and called on the GAA to find a suitable date for the game.
"We have had one player hospitalised with clinical Covid, and a whole cross-section of symptoms," Logan revealed.
"We have a number of players confined to bed and to home.
"Ultimately, in order to meet the safe return to play protocols, we just need time.
"Of course we would love an amount of time, but we have to balance it to get to as safe a place as we can.
"We asked for two weeks initially. We don't say disrespectfully that we only got a week, but we say that we just can't safely field a team next weekend at Croke Park. Player welfare is paramount."
Kerry have now released a statement, signed by chairman Tim Murphy, explaining their stance on the saga.
"Following on from yesterday's announcement by Tyrone GAA, I have met with the Kerry Senior Football Management Team and with other connected parties to discuss the matter in detail and to issue a considered response.
"Kerry is a proud GAA County, rich in the tradition of Gaelic Games which is deeply ingrained in all our Clubs and Communities.
"Every All-Ireland title that Kerry has won, has been hard-earned after a tough competitive campaign and we expect this year to be no different.
"We empathise with the Tyrone Senior football team who find themselves in this situation as a result of Covid-19 but would also point out the resultant knock-on challenges that our team, management and supporters are encountering.
"We find ourselves in a very difficult situation not of our making.
"We have explicitly followed all Covid protocols and we have taken every precaution to protect our Players and Management.
"The confusion and uncertainty surrounding our semi-final meeting with Tyrone has undoubtedly hindered our planning and preparation and has also been a very challenging time for our loyal clubs and supporters, many of whom had made travel and accommodation arrangements for next weekend.
"Notwithstanding this and having considered every possible aspect of the situation, our over-arching wish is to ensure that the All Ireland Semi Final against Tyrone is played at the earliest possible opportunity.
"On that basis we have conveyed our position to National GAA earlier today and now await their deliberations and decision.
"Covid-19 has impacted hugely on everyone over the past year and a half and in the spirit of sportsmanship and collegiality, we feel that this offer will afford the National CCCC the best opportunity to arrive at an agreeable and acceptable solution in very difficult circumstances for all concerned."
📮 Sign up to the OurGame newsletter — a daily email reminder of our latest videos, articles, quizzes and more.