Larry Tompkins speaks of the gut-wrenching decision to retire, how he had three weeks to get over a hamstring injury to be ready for the 1988 All-Ireland final replay, going to Manchester United for treatment, and why he sat drinking water as Bryan Robson, Paul McGrath and Co hit the bottle.

Larry Tompkins describes the feeling of retiring from football as gut-wrenching.
The three-time All Star lined out with Kildare and Cork between 1979 and 1996, collecting two All-Ireland and six Munster medals.
He captained the Rebels to the latter success in 1990, and will go down as one of the game's great players.
Tompkins took over as Cork senior football boss in late 1996 and was in charge until the conclusion of the 2003 season.
Lifting the Sam Maguire eluded him as a manager but he won two provincial titles in both 1999 and 2002.
"When you're playing, you're in the thick of things and you can make things happen," says Tompkins, marking the release of his autobiography 'Believe'.
"When I took over as manager, you don't have that power to change things as you'd like to do as a player.
"It's a massive feeling to be over a team, it's the next best thing. To see a team develop and get the big stage and develop.
"When I was over them, we had magic moments, suffered defeats, and came very close to winning (the All-Ireland) in 1999 — which would have been a double as the hurlers won two weeks before.
"Is it the same? No. A player is what you want to be.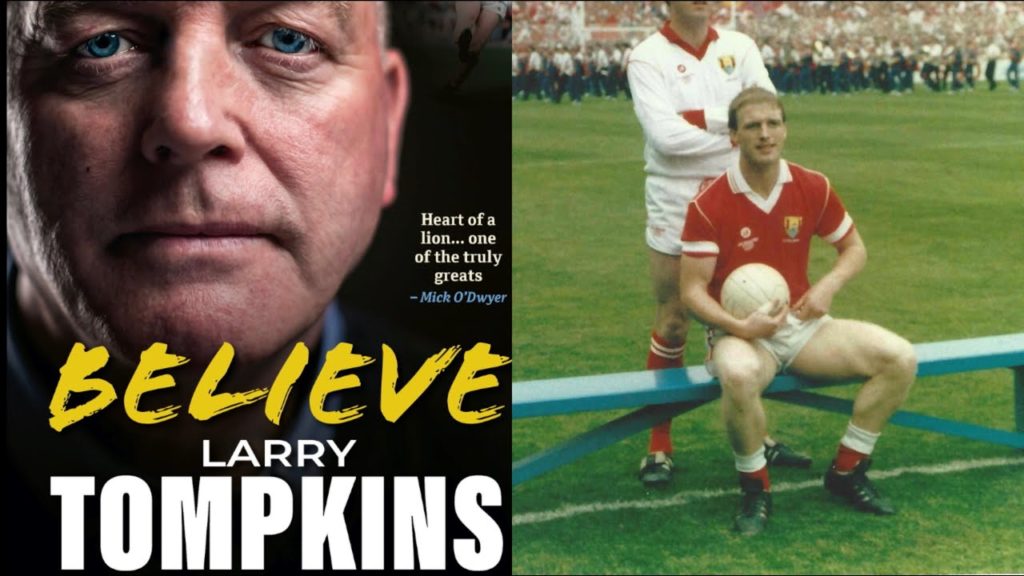 "Then to retire and not be able to do it again, it's gut-wrenching and you feel like your body and soul is gone.
"I get great satisfaction now looking at my club, at Cork and Kildare, and to watch my young fella playing.
"You'll never get the enjoyment you have when you're out there and being in the heat of battle. Those are the greatest moments of your life."
In our exclusive interview, Tompkins also speaks about his team rehabbing at Manchester United, car-pooling with Paul McGrath and Bryan Robson, and speaking with Alex Ferguson.
That trip came off the back of the drawn All-Ireland final against Meath in 1988, when he played through a hamstring injury and kicked what looked to be the winning score.
The referee allowed more time to be played, meaning the Royals were able to work an equalising score.
The Rebel County officials made contact with Old Trafford, and soon Tompkins was on his way across the water in a bid to recuperate for the replay.
"Bryan was different animal," he says of Robson, a highly-publicised heavy drinker who still performed at a high level.
"He had ferocious strength that it didn't matter if he got no sleep.
"You could see that with him at training sessions, and he had a purpose going out that he didn't want to be beaten.
"A wonderful player and these guys were big names, but look, that's why the book is called 'Believe'.
"In every person, if you want to make it or do anything, there's nothing impossible and you need to believe and you can't have an inferiority complex about anything.
"That was my attitude going there, I always believed in my ability."
Meath won the replay but Tompkins would ultimately reach the summit of football.
The Castlehaven man speaks about his journey in both football and life, leaving his home club and Kildare, time spent in America, and much more.
Larry Tompkins' autobiography, Believe, is on sale now in all good stores, and online here.
📮 Sign up to the OurGame newsletter — a daily email reminder of our latest videos, articles, quizzes and more.
Don't forget to subscribe to the OurGame YouTube page for live streams and more.