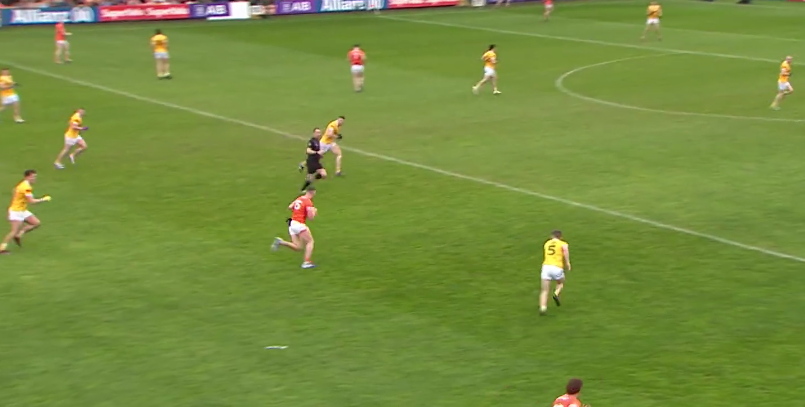 Armagh's Ulster Championship preliminary round victory over Antrim was largely forgettable.
The fancied Orchard County made light work of the Saffrons, and prevailed 0-20 to 1-8 at the Box-It Athletic Grounds.
However, former Carlow and Roscommon coach Steven Poacher feels it fell far short in standard compared to usual Ulster affairs.
"It was abysmal," the Down native said on Our Game.
"The first half was shocking. From an Antrim perspective, I was hugely disappointed with Antrim in the first half of that game. To be fair, in the second half, they put up a bit more of a spirited performance.
"I was just really disappointed. For an Ulster Championship game, I would always have associated Ulster Championship games with fight and fire and passion and attrition. It was just dead. A large part of this for me is the structure of the competition. The Athletic Grounds was dead. Normally the Athletic Grounds brings that fire.
"Have we just diluted the provincials now to the extent where they don't mean an awful lot? I'd say Antrim are happy enough to go to the Tailteann Cup and regroup. The players will probably go back to their clubs for a few weeks, because the Tailteann Cup probably won't happen for the next five or six weeks. Then they'll regroup and go at it again.
"From an Armagh perspective, I think it's the perfect draw for them. No Andrew Murnin, no Rian O'Neill, no Jarly Óg Burns. And still got through the game by kicking 20 points. And winning the game comfortably. From their perspective, they'll be relieved it was Antrim they were playing, and not a Derry or a Donegal or a Monaghan. I would say [Kieran] McGeeney will be pretty pleased. He'll get those men back on their feet….With no Rian and still kicking 20 points, I'd say he'll be delighted.
"They're playing Cavan now. That is the perceived weaker side of the draw. You have Armagh, Cavan, Down and Donegal. I would say all four teams will fancy their chances.
"My own county (Down) are very bullish about their chances in Ulster, and why not? They're playing a Donegal team that are rock bottom by the looks of it."