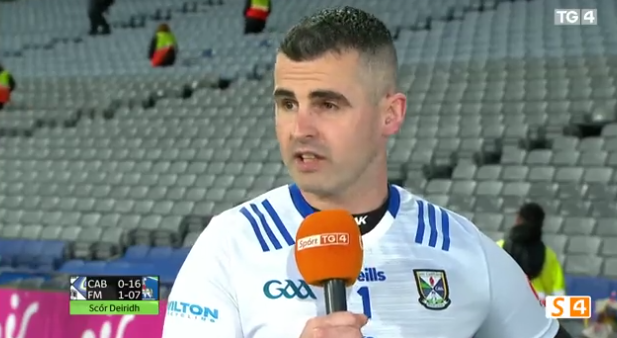 The Cavan footballers have been on a rollercoaster ride in the Allianz Football League in recent years. The Breffni County competed in Division 1 in 2019, and were relegated for three successive seasons.
After bottoming out in Division 4, their stay in the basement tier was short-lived. They won that title in 2022, and on Saturday evening claimed a Division 3 crown with a hard-fought final win over Fermanagh at Croke Park.
One man who has been there through the thick and thin for the team is Raymond Galligan. The captain and goalkeeper knows the different levels required in he different tiers.
"It's been a very difficult last couple of years, and there's no point in saying otherwise," Galligan said in a post-match interview with TG4.
"What it has done though is it has built serious character in this team. Going down to Division 4, it's a difficult place to be.
"To try and move back up, we stuck together. We're after building momentum, getting back into Division 2, and it sets us up for next year that we're playing at a higher level. And hopefully it will stand to us going into the championship this year, getting the win here today."
And Galligan was asked about subtle changes in style from Mickey Graham's men.
"It's hard to know where we're at," the Cavan shot-stopper noted.
"We're playing a little bit more expansively this year. We're working harder, higher up the field. The last couple of years, we'd probably become a little bit more defensive, dropping off, letting teams attack us a little higher up the field. So I think we're working harder and higher up the field. And we're kind of just playing with a little bit more abandon, where players aren't afraid to take on shots from different angles. And we're all just backing each other."