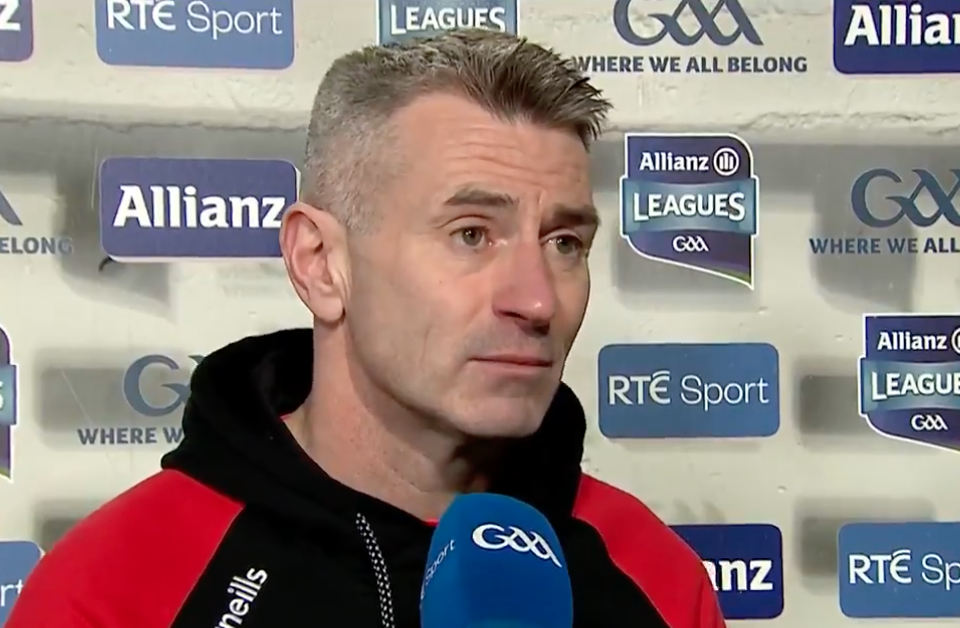 Derry all but secured promotion to Division 1 and laid down a marker ahead of the summer with a statement victory over Dublin on Saturday evening.
In a battle of two reigning provincial champions in the second tier, the Oak Leaf County trailed by five points at the halfway mark, 0-2 to 0-7. But they staged a fightback after the break, and prevailed 1-11 to 0-13 thanks to a late Brendan Rogers winner.
But after the game, Rory Gallagher made it clear that his team's first-half display was not up to scratch.
"When you're five points down, it's not a nice place to be. But I could see how we could turn it around. We stood off Dublin far too much," he outlined, speaking to RTÉ.
"I thought they (Dublin) were brilliant in the first half. But we didn't bring any intensity or hunger. You can talk about tactics, but you've got to bring them. And if you don't bring them, you're going to be in trouble.
"We played within ourselves. We didn't rise to the occasion at the start. It was far too cautious without the ball, with our own kick-outs, pressing on theirs, everything.
"In the second-half, we knew we could get the momentum. Even saying that, Niall Loughlin should have had a goal in the first-half.
"[We were] just stand-off-ish. To be honest, you were playing a better quality opponent who was really, really up for it, and came with a very clear plan with the ball. I thought they were excellent. And we just hadn't been in a battle like that. So it's good to get a battle like that, and Dublin will be the better for it too.
"We rode our luck, but in the end I thought we were the better team."
Derry are primed for a return to Division 1 for the first time since their relegation in 2015, and they sank as low as Division 4 in 2019. But Gallagher says they need another point from their final two games against Clare and Cork to get over the line:
"We needed three points out of the last six points [on offer]. Now we need one. We look forward to Clare now in two weeks."
📮 Sign up to the OurGame newsletter — a daily email reminder of our latest videos, articles, quizzes and more.