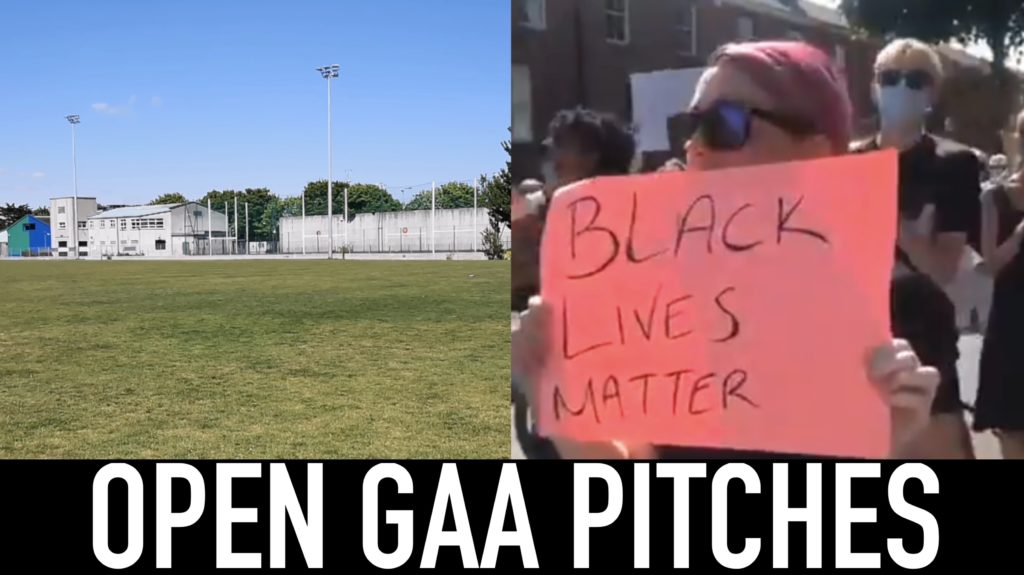 Shane Stapleton explains that if we're being led by science, as we have been told from the start, then the gates to GAA grounds should be unlatched immediately. 
Can a GAA person not be trusted to use the facilities that their members have built from the ground up?
By keeping the gates closed, we are being told we are incapable of adhering to the guidelines. Perhaps those in power feel that the old adage will apply if the pitches reopened: once you cross that white line, you're a savage.
It really is a nonsense, exposed by both anecdotal and scientific evidence. First off, environments comparable to GAA fields and walking tracks are already in use across the country, and have been for weeks.
As an example, Merrion Square in Dublin city centre was thronged with people over the weekend, as it has been on the many sunny days we've had in recent times.
Take out the trees, plants, and gravel walkways, and replace them with a set of goalposts, and it's not dissimilar to a GAA venue.
It's bank holiday Monday, and people are milling around the square's large green areas, doing shuttle runs, using makeshift nets for tennis, playing with footballs and pucking sliotars, while an instructor runs a fitness class in the corner with four clients.
Gardai occasionally drive through and a caretaker rings a bell at the end of the evening, but people are otherwise let get on with it — adhering to the guidelines as much as anyone outside the park.
Merrion Square, to all intents and purposes, right now is a leisure and sports facility in the same way that a GAA ground is prevented from being. 
'Who will supervise us?' I hear you ask of GAA venues, before adding 'you can't expect volunteers to do it'. Indeed we can't and, more importantly, we don't need anyone to. The people of Ireland have already proven their worth.
Consider the parties that needed to deliver once this pandemic arrived on our shores. Those in power, and the public. Now ask yourself, which has delivered and which has not?
"In broad terms, we've effectively extinguished it from the community in general right across the country," Chief Medical Officer Tony Holohan said on May 19, confirming that the people had done what had been asked of them. That is unequivocal.
Has the government delivered on its end? Were the vulnerable in care home settings protected? Did healthcare staff get the equipment they needed in time to shield them from infection? Should flights into the country have been stopped, most particularly coming from Italy when it was being gutted by the virus?
People Before Profit tweeted their support of the Black Lives Matter march in Dublin on Monday, as did Taoiseach Leo Varadkar, and there was no condemnation of the lack of social distancing by the time of writing on Monday. The case of George Floyd was shocking and merits protest, without doubt, but have the lines between what is right and what will go down well on social media now been blurred? 
Our Taoiseach announced a five-stage plan of reopening the country on May 2 but did not then face the media who work on the news beat, instead favouring the Late Late Show couch.
It is right to question those who are deciding what we can and can't do, and who are likely influencing GAA decision making. As director general Tom Ryan told John Fogarty on Saturday, this is not simply an insurance issue.
If you can't question your government, or if you're the sort of person who engages in hand-wringing at those who do, then the shame is that you were not born into the '1984' world concocted by George Orwell. 'Newspeak' and 'groupthink' may very much be for you.
In any case, those in power are aware that certain GAA grounds cannot be closed to the public. A case in point is the fine facilities at Sean Moore Park in Ringsend. The two fields, which are adjacent to Sandymount beach, are gated at one entrance but the venue is wide open at the other. 
Every day, and for many weeks now, people have made use of their facilities. Even the ball wall, which is caged and locked, has at times been scaled by kids.
On Monday, you could see members of the public inside the Good Counsel pitch in Drimnagh, soaking up the rays. This has been the case for a sustained period, and yet an online search will find no reports of a spike in transmission due to these venues. If it was even suspected, there would surely have been a clampdown by now.
Last week on PrimeTime, Dr Cillian De Gascun, Chair of the Expert Advisory Group, accepted that the chances of a primary case transmission in a closed environment is 18.7 times greater than an open-air environment.
"Yeah, absolutely, and that's the study we have to date," De Gascun said. "It's significantly lower, but it's about risk-management, it's not completely zero. That's all."
In simpler terms, you are almost 19 times more likely to contract the virus doing your food shopping than by walking around a field.
That's before you consider the physical and mental-health benefits of exercising at a facility that your parish has specifically designed for this purpose. In many cases, it is the sole area to do so. 
As TJ Reid of Ballyhale Shamrocks, a rural club in Kilkenny, tweeted on May 25: "Please reopen our GAA pitches. Public parks are open and were packed over the weekend, yet rural club areas within 5km of people's homes cant be accessed for use of safe walkways and to enjoy the grass roots of the community. #club #exercise #physicalhealth #mentalhealth #GAA [sic]"
Professor Gerald Barry, Virologist at UCD, was clear on the subject of open-air settings: "A few different studies looking at the overall infectivity comparing outdoors and indoors, and it seems from a wide variety of different studies across the world that the vast, vast majority of cases happen indoor.
"It is very rare that people have reported being infected through contact outdoors."
"As soon as you go outdoors," he added, "wind movement will naturally disperse the virus and dilute it into the environment.
"If it lands on surfaces and the sun is getting at it, then the sun will very rapidly inactivate the virus, within maybe 30 minutes of exposure."
Given the levels of compliance across the country, members would likely agree to wear face masks if required to do so. The whatever-it-takes approach shown by our people proves we are up to it.
Britain has partially reopened schools, the Polish PM Mateusz Morawiecki says fans will be allowed back in to watch matches from June 19, and yet we lag behind on something so basic.
Black lives matter, vulnerable lives matter, and the health of all people matters. Nothing that isn't already happening in parks is going to happen in GAA grounds — this is obvious.
This isn't about taking the pandemic less seriously, returning to team training, or showing a lack of empathy for families who have been through tragedy. It is about a nuanced approach, phasing in the right manners, and making choices that stack up. 
Clubs across the country have rallied around those in need, raising money for some and coming to the service of others. These are good people who have shown leadership in acting responsibly. The science now shows it's time to open their clubs back up.
📮 Sign up to the OurGame newsletter — a daily email reminder of our latest videos, articles, quizzes and more.
Don't forget to subscribe to the OurGame YouTube page for live streams and more.