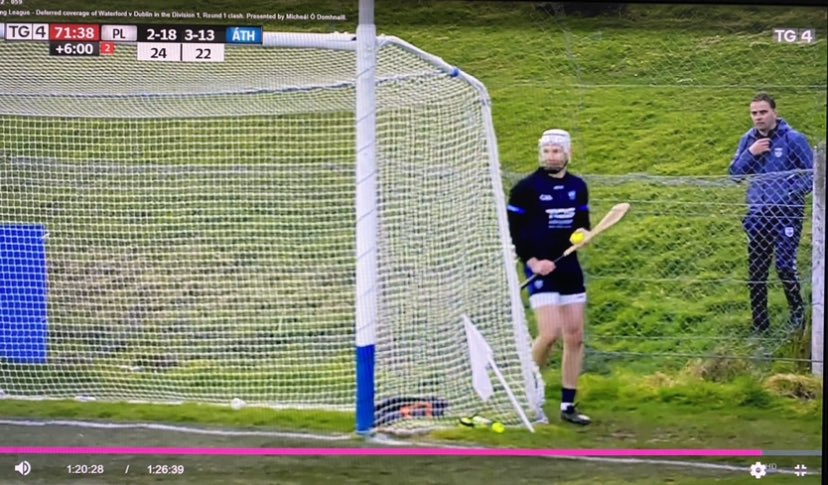 Waterford manager Davy Fitzgerald is famed for his tactical nous, and willingness to push the boat out with innovations.
And there was evidence on Sunday that the Clare-man could be trialling something different with the Déise.
As the Suir-siders kicked off their Allianz Hurling League defence at home to Dublin in Fraher Field, it appeared that Waterford stationed a backroom team member behind their own goal.
"There was always great talk and rumour that Davy had a man behind the goals, giving instructions to Mark Fanning about puck-outs and stuff like that…It looked to be the exact same the other day down in Fraher Field," observed Michael Verney on the Our Game Thursday show.
"On the bank at the far end, there was nobody on that bank. There was still a fella in Waterford gear, with a headset, throwing the ball back to Shaun O'Brien, talking now and then.
"On the other bank where there was nobody, it was so blatantly obvious. Your man was standing at the back of the goals. It looked like he was giving instructions to Shaun O'Brien."
Behind the goals is often regarded as a prime location to analyse a match, with broadcasters frequently offering a 'high-behind' angle, while Sky Sports stationed pundit Anthony Nash in the terraces during the 2020 and 2021 Championships when games were behind closed doors.
It remains to be seen whether the individual in question is in fact a member of Davy Fitzgerald's Waterford backroom team.
📮 Sign up to the OurGame newsletter — a daily email reminder of our latest videos, articles, quizzes and more.