The Kerry vintage of 2004 and the Donegal brigade of 2012 clash in quarter-final number two of our best All-Ireland winner knockout series.
Both managers achieved impressive feats eight years apart.
Jack O'Connor came in as Kingdom manager with no great pedigree as a county legend, yet he delivered Sam Maguire in his debut season.
No only that, but there had been three leans years since last they had carted home the title in 2001, with Armagh and then Tyrone seemingly changing the face of football in the two previous seasons.
It had been a chastening spell for the Munster men, but they hammered Mayo on the big day with an impressive tally of 1-20 — the highest scored by any side in an All-Ireland football final since Eoin 'Bomber' Liston and Co put 5-11 past Dublin in 1978.
Moreover, they won the game without star midfielder Dara Ó Sé, while Seamus Moynihan and Mike Frank Russell were on the bench for the majority of the game.
Colm Cooper hit 1-5 while Dara Ó Cinnéide walked off the field with right points to his name. A fine team, indeed.
What Donegal produced in 2012 will go down in footballing folklore. Whereas Kerry people are reared on stories of All-Ireland wins, this was just a second title for the men from the hills.
Jim McGuinness had been part of the crew that made history in 1992, and 20 years on he was in his second season as manager.
In 2011, their football was attritional and even dire to watch at times, but theirs was a project still under construction.
Year two was the high watermark of this team, as they beat Kerry, Cork and Mayo in the biggest games at Croke Park to win Sam.
Early goals from Michael Murphy and Colm McFadden — who would score 1-4 apiece — set the tone for McGuinness' men, who held on against a valiant Mayo.
"We got off to a fantastic start with Michael's goal and then my own but Mayo came back at us," McFadden said after the final whistle.
"They tackled ferociously in the midfield, battled hard but thankfully we could hold on. It's still hard to believe now.
"We've been sheltered from the buzz the past couple of weeks but can go back to Donegal now and enjoy it. I'm delighted for the people of Donegal."
We're looking to find the best All-Ireland winner of the past 16 seasons. We've drawn them in lots and are running a knockout competition where you vote to send teams through to the next round — before eventually declaring the winner!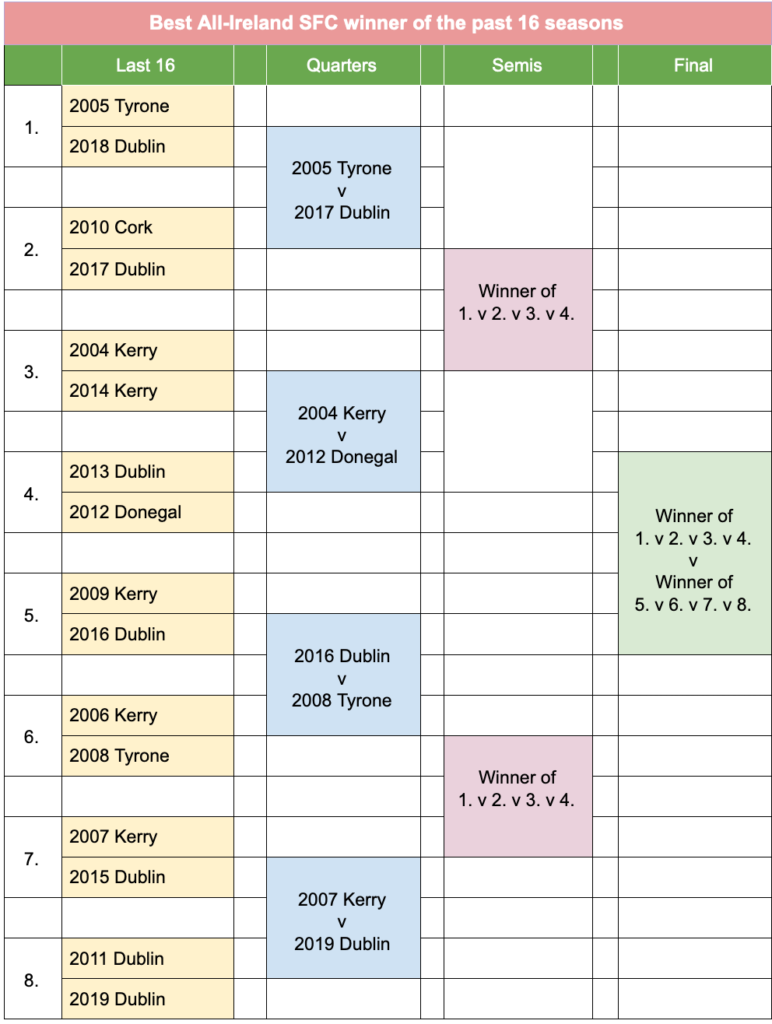 📮 Sign up to the OurGame newsletter — a daily email reminder of our latest videos, articles, quizzes and more.
Don't forget to subscribe to the OurGame YouTube page for live streams and more.