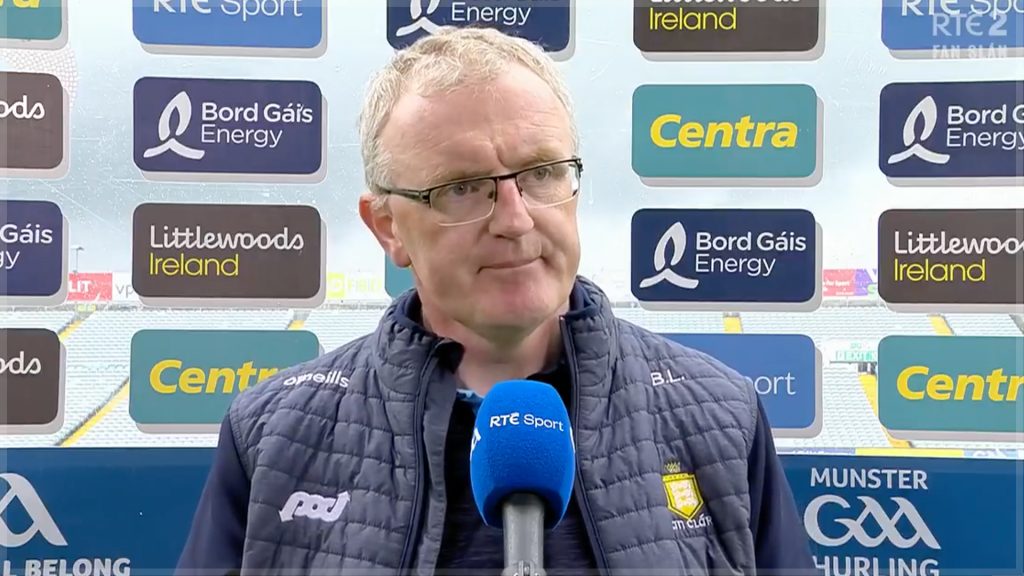 Brian Lohan was seething with the performance of referee James Owens as a contentious black-card decision turned Sunday's Munster SHC semi-final.
BY SHANE STAPLETON
Brian Lohan was seething with the performance of referee James Owens as a contentious black-card decision turned Sunday's Munster SHC semi-final.
Clare led Tipperary by two points in the 38th minute but then Aidan McCarthy upended Jake Morris 18 yards out underneath the Mackey Stand.
The official awarded the Premier County a penalty for a cynical foul denying a goalscoring opportunity, and sent the Inagh/Kilnamona man to the sin bin for ten minutes.
It allowed Tipp to begin a scoring burst of 2-4 to 0-2, with the Banner ultimately losing by four points.
Lohan was furious with the decision of Owens, and made reference to a red card to his side in a qualifier clash with Laois last year.
"I don't know where the referee got his interpretation," Lohan bristled.
"I'd say he was the only man in the ground that saw a goal-scoring opportunity out of that.
"Aidan went for the ball, he mistimed the tackle but how he called a penalty and sent one of our men off, it is just very frustrating.
"2-4 to 0-2 was the score in that period of time. I'm just frustrated with it, absolutely frustrated with it. Our lads don't deserve that.
"They have trained hard and trained well, came here and gave their all and I'm so disgusted with that decision and it is not the first time James Owens has been involved in a decision like that.
"Last year David McInerney was sent off and James Owens was involved in that. It is just very frustrating.
"I don't want any explanation from him to be honest with you," Lohan added.
"It give me no pleasure or gives anyone here no pleasure to see a referee booed off the field and the end of a game, but it is his own fault."
Lohan confirmed that he did not speak with the Wexford whistler after the game, and has no interest in hearing any explanation for the decision.
The new penalty rule for cynical play has caused plenty of debate since its introduction this year, with Cork also awarded one in Saturday's defeat to Limerick.
"I've no problem with the rule but you expect that the referee would be able to interpret the rule properly," says the Banner boss.
"Tell me – am I out of order here? What did ye see? Everyone had a good view of it.
"It's so frustrating to have to deal with that."
Liam Sheedy, meanwhile, hailed Seamus Callanan for his captain's performance.
The Drom-Inch man notched his 37th championship goal — all from open play — as the Premier qualified for a provincial final clash with Limerick on July 18.
Callanan also scored a point and assisted for a host of other scoring chances, with the 32-year-old continuing to be his side's most crucial player in his 14th season.
A back injury kept the 2019 Hurler of the Year out of the first three games of the league, but he returned for the final two outings against Westmeath and Waterford.
"Yeah, and you know in fairness to Seamus, he has had a really tough preparation in terms of the early stages," says Sheedy.
"He couldn't feature in the league, couldn't train for long periods.
"It's probably a great testament to the man that he stayed at it, he only featured for his first game against Westmeath — so he only had Westmeath and Waterford, and he was out there playing championship today.
"So what you're seeing is Seamie finding his feet, finding his pace, but I just thought his energy on the pitch was a real captain's part.
"I'm thrilled for him because he's a great guy. He's doing this for a long time in this jersey, and he led the line and led the team today."
Tipp struggled in the early stages of the game but began to knit together some silky moves as the space opened up.
No Clare forward scored from open play after Ian Galvin's effort on 46 minutes, with the Portroe man happy with his defensive unit.
"Yeah a really good contest and some great individual duels going on," Sheedy explains.
"I thought our team-work was slick today, thought we moved the ball well. And the forwards' work rate in that second-half was something I was really, really proud of. 
"It sort of gives the backs a breath of air when they're really pushing hard.
"I thought some of our tackling up front in the second-half was as good as we've had in a while. That's very pleasing.
"But I'd have to compliment the overall panel. When you're coming into a match, you're coming into the unknown.
"The lads that played today were fully tested in the last three weeks and that was important."
📮 Sign up to the OurGame newsletter — a daily email reminder of our latest videos, articles, quizzes and more.
Don't forget to subscribe to the OurGame YouTube page for live streams and more.