Shane Stapleton was at Semple Stadium to see the All-Ireland minor hurling championship final clash of Clare v Galway.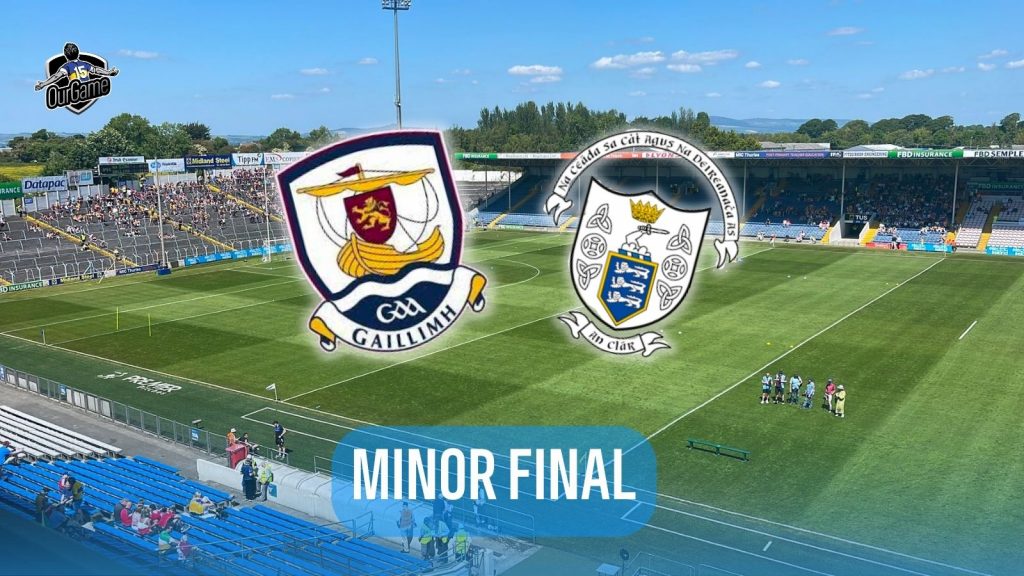 Clare 2-22 Galway 4-11 Electric Ireland All-Ireland MHC final
Clare are All-Ireland minor hurling champions for the first time since 1997 after a brilliant team performance against Galway at Semple Stadium.
Two goals within six minutes at the start of the second half through Ogie Fanning and James Hegarty (free) created daylight for The Banner, who had 13 different scorers.
Cullen Killeen hit the net twice for Galway — once in either half — while Jason Rabbitte and a Harry Holmes cracker also pared the deficit.
In truth, 24 scores to 15 in favour of Clare highlighted the difference between the teams on the day, with the Tribe chasing the game for much of the afternoon.
The sun was splitting the stones in Thurles on what promised to be a magical day for the players, their friends and relations.
There was a familiar feeling in Thurles, a buzz both outside the ground and within.
Big names roamed in the stands and out on the field field as part of the backroom teams. Former Clare senior boss Donal Moloney one onside, with ex-Galway stars Fergal Healy, Joe Canning and James Skehill across from them.
It may be Under-17 and not the end of the world, but for many this will be their last opportunity ever to play in front of a huge crowd with a Celtic Cross on the line.
Centre-forward Michael Collins featured regularly through the first half, hitting two nice points, setting up another for Ronan Kilroy, and perhaps leaving behind a great chance to set up a goal.
That was on 17 minutes when one of several Galway short puck-outs or balls from the backs was cut out, and the Clonlara man took on a low-percentage shot when two inside forwards were free inside for an easy goal chance.
All the same, Collins' pace and drive were a big factor in why The Banner led 0-12 to 2-5 at the break.
Aaron Niland is perhaps the most touted underage star since his coach Canning, though he didn't set the world alight in usual fashion in the opening half.
Funnily enough, a free that he attempted to put over from his own '45 dropped short after three minutes, for Rabbitte to snap inside the square and bundle home.
Clare didn't panic and were 0-5 to 1-1 ahead after 12 minutes as Marc O'Brien began to score from play and placed balls.
Then came the score of the half as Tribe midfielder Killeen soloed towards the Killinan End, rode a heavy shoulder from a Clare defender, carried on and smashed the ball past Mark Sheedy straight off his stick.
Niland popped over a free two minutes later and, three points in front, the Connacht side had a nice platform on which to build.
Sean Arthur won a puck-out break just after to fire over Clare's first response, and then Eoin Begley won two quick-fire frees close to goal for O'Brien to bring it back level.
Ronan Kilroy and Ogie Fanning hit fine points from either wing to put the Banner in front, but Niland frees either side of that restored parity.
Then Niland, who had been finding the ball elusive at centre-forward, spun that little tiger Eoghan Gunning and headed for the square, shooting off his stick from 21 yards for Sheedy to save.
Galway managed just one more score before the interval — Rabbitte set up by Michael Burke — and were left to rue three long balls in the half that went directly over the Clare end line.
The Banner dropped two short through midfielder Jack Mescal but Begley and O'Brien (free) managed further singles to put them ahead by the minimum at the break.
Full-back Ronan Keane had to be withdrawn at the break after pulling up in the final minute of the half, and credit the Killanena who still batted a dangerous ball away as he limped forward.
Clare's first goal came when O'Brien soloed with intent at the Galway square and sucked in a couple of defenders, before offloading tor Fanning to coolly direct to the net.
Burke and sub Michael Fallon slapped over points for Galway but soon after the killer blow came for the maroon boys.
Clare number six James Hegarty — a star in the making — dropped in a long free that came up short, and may also have been going wide, but goalkeeper Shane Murray spilled it into his own net.
A tough one for the young 'keeper, who otherwise did himself plenty of credit.
The Banner weren't bothered and added another point through a Hegarty free, but his namesake Fred popped one over on a run of three more points in a row.
That put Galway eight behind, and they felt the need to push for goals.
Niland was cynically dragged back by the brilliant Clare defender Gunning on the '21, and dropped down the placed ball.
From the sideline, Canning pointed upwards and shouted for a point — which may have been a bit of reverse psychology to make Clare switch off — but Niland went for goal and it was saved. As was Brian Callanan's rebound.
Niland got two in a row to bring Galway a little closer and then both Conor Gilligan and Callanan found themselves in decent goal positions but couldn't convert.
Holmes then soloed past Matthew O'Halloran and James Hegarty to arrow a ball into the top corner from 18 yards, but the Banner always had an answer.
Whether it was cutting out long diagonals, defending stoutly, or countering through points from O'Brien or Eoin Carey, they would not be denied.
Galway had the final say as Killeen worked a goal, but it wasn't to be.
Clare on top, and they celebrated in style by storming the pitch.