Shane Stapleton was at Semple Stadium to see the All-Ireland Under-20 hurling final between Cork and Offaly.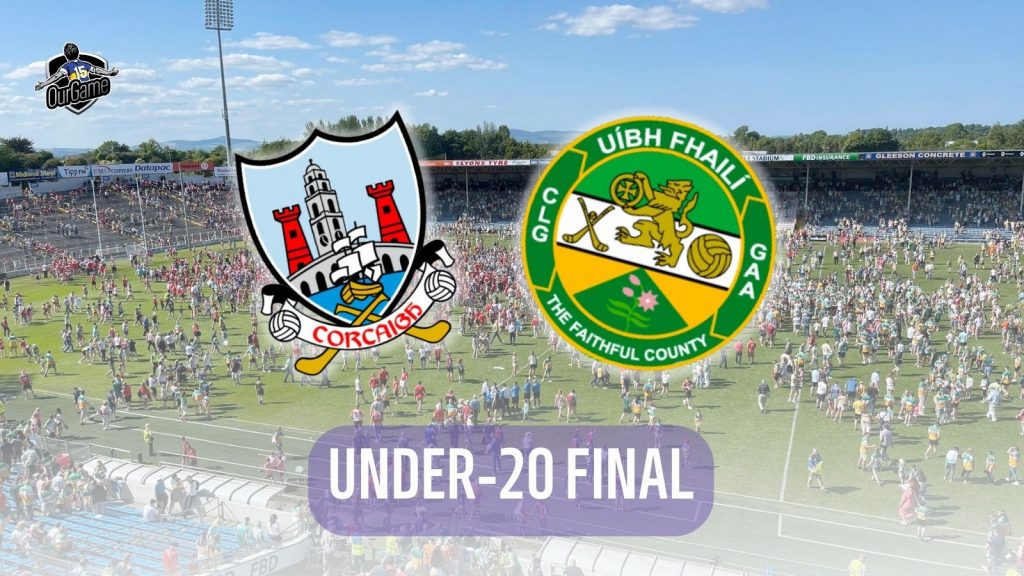 Cork 2-22 Offaly 3-13 All-Ireland Under-20 hurling final
Size mattered in the end as Cork claimed their third All-Ireland Under-20 title in four years in front of 29,380 at Semple Stadium.
Offaly put their hearts and souls into this performance but ran out of gas as the Rebels blitzed them 1-11 to 0-1 either side of half time to secure victory.
The physicality of the Leesiders was a big factor as their opposition faded, but credit to the latter who might well have folded had they been made of lesser stuff.
Diarmuid Healy and Micheal Mullins hit goals for Cork in the ninth and 31st minutes, while Dan Ravenhill (penalty), Conor Doyle and Shane Rigney did likewise for the Faithful.
Offaly's class and economy of effort meant they converted ten of 11 chances — with no wide registered — before the interval but they put away just half of their 12 efforts after the break.
Cork had 39 scoring opportunities overall (compared with 23) and had brilliant performance from Ben Cunningham (0-9; 0-5f), William Buckley (0-4), Healy (1-1) and Jack Leahy (0-4).
Powerhouse Ben O'Connor marshalled the red defence while Eoin Downey kept the backdoor secure as a sweeper, as the lovely diagonal balls being sent in by Offaly dried up after 25-odd minutes.
When the player's names were announced before the game, there was a deafening roar for star forward Adam Screeney.
The hurling public knows all about the young Kilcormac-Killoughey star, and so too did Cork, yet they couldn't handle the citog from the start.
Screeney won a free after two minutes when taken out of it by full-back Shane Kingston, slotted it over, and then added his first from play just after following a lovely diagonal ball in.
That was a theme of the Faithful approach in the first half of the opening period, and something that Ben O'Connor's charges struggled with hugely.
At the other end, The Rebels were also showing their teeth and had scores on the board early through wing-forward Buckley, and a free from Cunningham.
The latter is a star in the making and had goals on his mind too, forcing a low attempt from 21 yards which was dealt with by Mark Troy, but the leftovers were spilled allowing Healy to fire low to the net.
It was a dagger to Offaly, and Cork looked to thrust in the spear once more when Healy hit a lovely diagonal stick-pass to Leahy who was inside the '14.
Credit the Faithful defenders for turning the Dungourney man back, who took the point when a goal wasn't going to come.
A Screeney free and a Dan Ravenhill point, after fine work by Dan Bourke, ensured that Leo O'Connor's boys were well in the game, however, and then came a huge moment.
Screeney was whipped across by Downey as he ran at the penalty area, before Cormac Egan was smashed by Kingston inside the area.
The Ballinora full-back had escaped a booking for his earlier challenge on Screeney, and picked up just a yellow from referee Chris Mooney despite making forceful contact with the Offaly man's head, while Downey escaped any punishment.
That Downey was shown yellow on 47 minutes for rugby tackling Dan Bourke to the ground would only add to Offaly frustration, as it was potentially another dismissal, or the defender would not have been able to foul so cynically.
Ravenhill buried the penalty on 11 minutes despite Brion Saunderson's valiant efforts, and then Screeney got himself another point after coming onto the end of another lovely crossfield ball.
Mark Howell and Darragh O'Sullivan both had tough moments on the inside forward, and even Downey as a spare man couldn't slow him down.
Physicality began to tell in the final ten minutes of the half as Egan looked for treatment after a big hit, while Cunningham began to take over the game.
Offaly needed half time and were content to be just 1-11 to 1-9 behind as the Rebels created nine of the last ten chances in the half.
Egan had to be replaced by Rigney and it robbed Offaly of an enforcer in attack, while captain Charlie Mitchell was withdrawn early into the second period after a subdued showing.
On a weekend where Ilkay Gundogan scored an FA Cup final after 13 seconds, Mullins soloed through at the started of the second half and had a goal after just nine.
Then Cunningham split the posts four times with Leahy and Buckley sprinkling their white flags in between, with Cork now 2-17 to 1-9 ahead after 38 minutes.
Conor Doyle pulled a goal back two minutes later when driving past two Cork defenders, on a day when a hammering might well have been on the cards.
The pain of last year's minor final defeat to Tipperary and the journey this group has been on since en route to the Under-20 final has ensured this Offaly team has backbone.
They were too far adrift to hope for victory, even if they come from the same blood as the five-minute final men from 1994, and the power of the Cork bench only added to the challenge.
Healy, Leahy, Buckley, Adam O'Sullivan and Cunningham added further points but Ravenhill and Screeney slotted frees, before Rigney rifled in a late consolation goal.
For Offaly, there was no shame in defeat, and the promise of happier days to come with this group.
Power, size, athleticism, and Cork's hurling quality told in the end. How long before it translates to senior success?