Shane Stapleton reflects on Dublin retaining the Leinster SFC title yet again as Paul Mannion's first-half goal put Louth on the backfoot.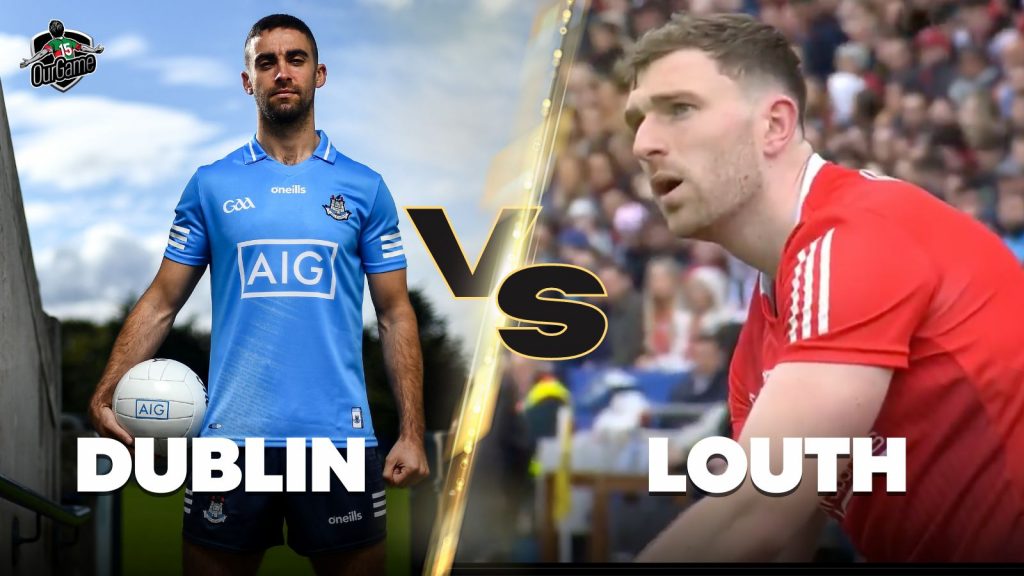 Dublin 5-21 Louth 0-15: Leinster SFC final
BY SHANE STAPLETON
Dublin trounced Louth at Croke Park to claim a 13th Leinster title in a row, and perhaps finally announced themselves as a real force in 2023.
Of course they are a panel filled with Sam Maguire title winners but in truth they have been patchy at best throughout the year. And the two seasons before this.
The Dubs started out meekly here but finished the game with five goals from 11 openings, with 21 points to spare, and feeling good ahead of a group containing Sligo, Roscommon and Kildare.
There is no outstanding favourite for this year's All-Ireland title, so Dublin will be feeling they have as good a chance as any.
Cracking the kickout continues to be a key part of Gaelic football, and it seemed strange that Louth seemed so ill-prepared in this area.
Between this and the unforced turnovers, Dublin had the game won long before the break.
Louth went long with restarts, long some more, and when that didn't work they went long again.
There was a period of 20-odd minutes where the Dubs locked the Wee County inside their own '65, turned over kickouts, ran it through the hands, and countered at pace.
That spell from the 13th minute to the 32nd saw a run of 14 scoring attempts to nil in favour of the Dubs, with a return of 1-10 for the capital.
Strangely, Dublin were rather ragged in the opening 12 minutes, with a performance somewhat in line with the unconvincing display against Kildare.
Brian Howard, Jack McCaffrey and Davy Byrne all gifted possession to the touring party, and Mickey Harte's men deservedly led by 0-3 to 0-2 at that stage.
Then the turnovers began to spread like a virus for Louth. The gaps appeared at the back, and too few players could keep the ball or their heads.
Cormac Costello, Con O'Callaghan, Paul Mannion and Jack McCaffrey all raised flags for the home side, as the goal opportunities began to open up.
Niall Sharkey did brilliantly to flick the ball away from Brian Fenton on 17 minutes, but six minutes later another turnover from a Louth kickout was quick fed through the hands and ended up with a palmed Mannion goal.
Just after, McCaffrey was in on goal after a sympathetic handpass through by Costello, but the Clontarf man clipped the ball over — 1-8 to 0-3.
The latter hit his second point after the half hour and immediately pulled up lame, meaning his fitness will be a concern for the Dublin management team ahead of the All-Ireland series.
To credit the visitors, they hit three in a row through Mulroy, Conor Grimes and Craig Lennon to make it 1-12 to 0-6 at the interval, but it felt as through the game was gone.
Stephen Cluxton had retained only 50% of his first-half kickouts which will be an area for concern heading into the All-Ireland series, and it would certainly be reasonable to expect he can be got at after such a long lay-off from this level of competition.
That remained an issue in the second half despite an impressive performance by their Dubs, though Louth did hit their fifth point in a row through Liam Jackson in the 36th minute.
That made it 1-12 to 0-8 and made it feel like something of a contest, but the debate ended in the 45th minute when James McCarthy slid a ball to the net after Paul Mannion's shot had dropped short to Cian Murphy.
The goal chances kept coming as Sean Bugler hit the net — perhaps via a deflection from Paddy Small — at the end of another flowing move through the hands.
It had all the hallmarks of a one-sided hurling scoreline by this stage at 3-17 to 0-10, and John Small and Ciaran Kilkenny were among those to also split the posts.
Con O'Callaghan had another goal chance that went awry, then Paddy Small came up short, before the latter palmed another to the net after Lee Gannon's piledriver hung up in the air after crashing off the crossbar.
Colm Basquel seemed set on creating or scoring a goal late on and, after Dean Rock had palmed over one opportunity, the Ballyboden St Enda's man drove the next chance to the net.
Louth face into a clash against Cork in two weeks' time in a group also containing Kerry and Mayo, and they will need to recover quickly to progress.
For the Dubs, who hit 5-13 to 5-21 from play, this was a statement win.
A reminder that they have the firepower, the ability to go for the jugular, and some of the top players in the country.