Shane Stapleton was at Croke Park to see Dublin score four goals in the second half to win the Division Two final against Derry.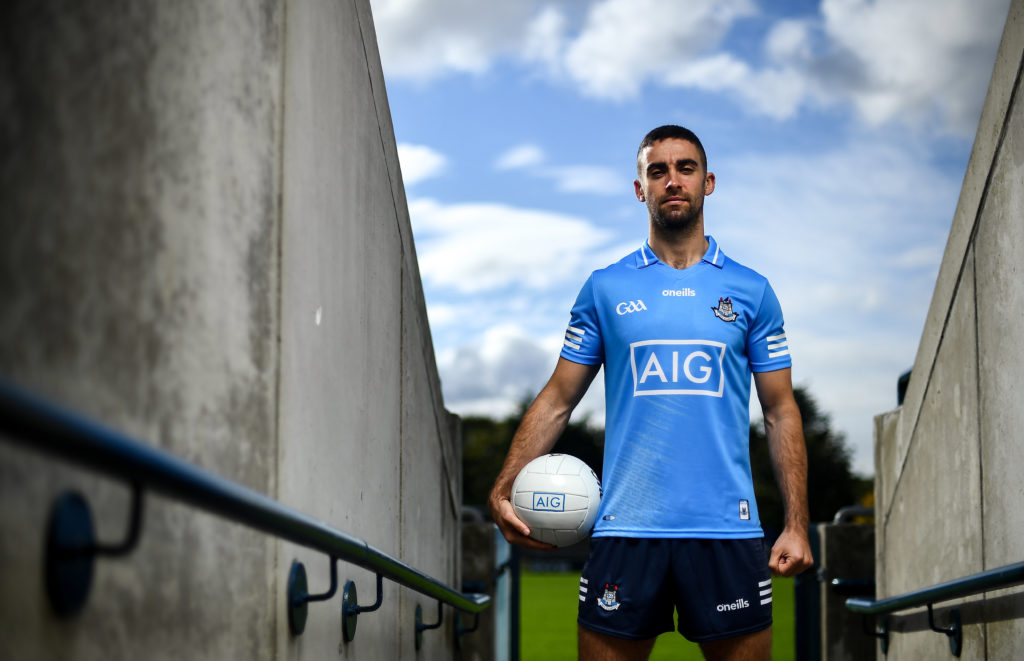 Dublin 4-6 Derry 0-11
Con O'Callaghan may not have scored but the Cuala man delivered the Division Two league title for Dublin.
The powerful forward led the line superbly as the Dubs eventually shrugged off Derry at Croke Park.
Killian O'Gara, Paul Mannion (penalty), John Small and Lorcan O'Dell each hit the net in the second half on a day when Stephen Cluxton remained on the bench throughout.
The Oak Leafers scored with just two of their eight shots from open play in the second half, and were denied a spot-kick just after the hour.
Can Derry feel hard-done by? They surely can. O'Gara was in the square when Brian Fenton's pointed attempt dropped short for the first goal on 37 minutes.
Niall Loughlin should have been awarded a penalty on 61 minutes after Fenton's hip connected with his head in the area.
Finally, O'Dell's pointed attempt on 68 minutes dropped short and clipped the post on the way into the net for the fourth goal.
If Derry had ducks, they might well have drowned during this Division Two final, and yet they will also know they got out of jail more than once.
Small, Tom Lahiff, Sean Bugler, and Daire Newcombe each missed clear goal attempts, as the Oak Leafers coughed up a total of nine open chances to hit three-pointers.
Division Three finalists Fermanagh might not present the same goal threat in the Ulster quarter-final on April 15, but it will most certainly be an area for concern for Rory Gallagher.
As will the loss through injury of midfielder Conor Glass, who caught hold of his hamstring after being dumped to the turf by Fenton during the second half.
It would be optimistic to suggest he will return for the Erne County clash, and even a potential semi-final against the winners of Tyrone v Monaghan on April 29 could be a stretch.
Dessie Farrell will be pleased to collect silverware but accruing just six points from open play after 70+ minutes of action was far from impressive.
The goal threat was there and of course they are the commodity that win games, yet there lacked a fluency to their play for long spells.
The first half: was it boring, or was it intriguing? A little bit of both at times.
To see two supposed All-Ireland challengers so flawed — as are the other runners and riders this season, to be fair — only adds to the uncertainty in the coming months.
Gone are the Dubs of the six-in-a-row era who strait-jacketed all-comers. When previewing the Jim Gavin side of that era, much of the analysis revolved around picking one perceived flaw — often the kick-out which "could be got at" — and little else.
Essentially, pundits were reduced to clutching at straws in the hope of building up their games as contests.
They were a machine operating at the highest level. This Dublin, however, are not and it was again in evidence as experienced players gave away the ball needlessly during the first half.
Ciaran Kilkenny hand passed a ball over the head of the overlapping Davy Byrne on the Hill 16 end line, but the defender didn't see it and a Derry man intercepted easily.
Michael Fitzsimons, a man who in 2011 kicked the ball just once all championship, sprayed a couple of balls to his teammates, but then had another cut out when trying to squeeze it into the D. Uncharacteristic stuff.
Is this a team that is dealing with the reality of so many key men retiring, or are they simply not as well-drilled? Would the six-in-a-row side have tolerated such wastefulness with the ball?
That so much of it is needless coughing up of the ball suggests the standards have dropped somewhat. To see brilliant, experienced players be among those to make such mistakes was quite striking.
The first half was two flawed sides converting just 42% of scoring attempts between them. Of the four goal opportunities created, both sides failed to slot home two clear chances apiece.
It was unusual to see O'Callaghan striking a '45 which tailed wide, while later on Newcombe failing to convert a trademark palmed Dublin after more fine work from Con was another reminder of how human this side is.
That's not to be overly critical of Farrell's side. They had this game in the bag midway through the second half, blocked down five Derry shots through excellent workrate, and made the Ulster side look out of their depth at times.
It is difficult to imagine Dublin not cruising through Leinster once more, after which the real fun should start.