Shane Stapleton reviews the clash of Kildare and Roscommon at O'Connor Park in the third group game of the All-Ireland senior football championship.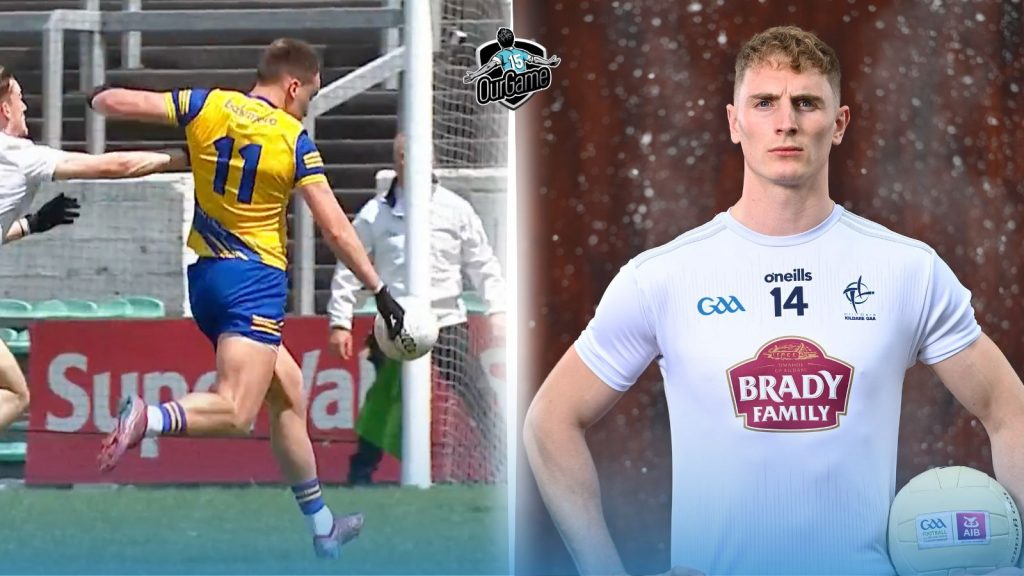 Kildare 1-16 Roscommon 1-15 All-Ireland SFC group stage round three
Kevin Feely scored an exceptional mark from the sideline with his weaker left foot to gift Kildare home advantage in next weekend's All-Ireland SFC preliminary quarter-final.
Glenn Ryan was perplexed after the heavy defeat to Dublin and seemed to lay much on the blame on his players, and again before the game wondered if his training ground work would be seen in this performance.
Both sides put themselves in a position to win, and ultimately Roscommon won't be too upset given that they are still in the championship. For both, it is now all about who comes out in the draw on Monday morning.
The modern rules of the game made an impact during the first half.
Daniel Flynn is working his way back to fitness but lost Brian Stack nicely before collecting a good attacking mark early on, which he converted.
Then, the black cards took over as Kildare were shown two in quick succession, which we will come back to.
The Rossies hit the first point of the game but the Lilies took over to hit 1-3 without reply.
The high watermark of that run was Alex Beirne's brilliant goal, capping off one of the team moves of the season.
Darragh Kirwan solid a dummy with his left hand, transferred it with his right to Kevin Flynn who was inside the penalty area, and the latter padded the ball down for his number 12.
If it was to be a goal, Beirne had to unleash a shot right away, and so he did without even catching it. His volley arrowed brilliantly across goal and low into the side netting.
Roscommon needed to turn the game back in their favour, and an abuse of the rules offered them a way back in.
Forward Cian McKeown twice went looking to hold onto Beirne's arm to induce a foul, and refer Martin McNally bought it.
The Lilywhite was sent to the bin, and minutes later his teammate Ryan Houlihan was rightly shown a black card too, for pulling down Ben O'Carroll.
Down to 13 men for a stretch, Ryan's men held on to the ball, a couple of players went down with head injuries at the same time looking to kill the clock, and generally they managed the game well.
A beautiful Ciaran Murtagh free from the sideline for that Houlihan foul and another placed ball after O'Carroll was fouled in the D were all that the Rossies had show for their efforts when up by two men, right up until Beirne came on.
Perhaps a sense that the storm had been ridden out led to a mistake from Eoin Doyle, with Roscommon collecting it and sending through Enda Smith for a huge goal.
It was one of nine turnovers won by Davy Burke's side compared with just three from his native county.
Roscommon went in front — 1-5 to 1-4 — via Dylan Ruane just before it went back to 15 v 15.
Kildare's first wide came in the midst of those cards, with Neil Flynn's free on 26 minutes going astray when they sorely could have done with it.
Momentum continued to swing in the second half, and Roscommon had 11 wides by the 53rd minute, with a glut of those coming during a spell where Kildare pushed ahead 1-12 to 1-10.
Kirwan, Ben McCormack and Feely — who kicked a first free with his weaker left foot — were among the scores for the men in white.
Kildare were without Mick O'Grady and Houlihan had to go off, and yet still their kept their poise as Ryan dug deeper into the panel.
McCormack began to have a growing impact and celebrated wildly when putting his side ahead late on, before the brilliant Enda Smith levelled in injury time.
Feely claimed one final mark at the end of the game around the '21 on the sideline, and popped it over once more on his weaker foot.
Kildare eked it out, and the question now is where they will nominate as their home ground.