Shane Stapleton reflects on Limerick's titanic tussle with Cork which sends the All-Ireland champions into a Munster final clash with Clare.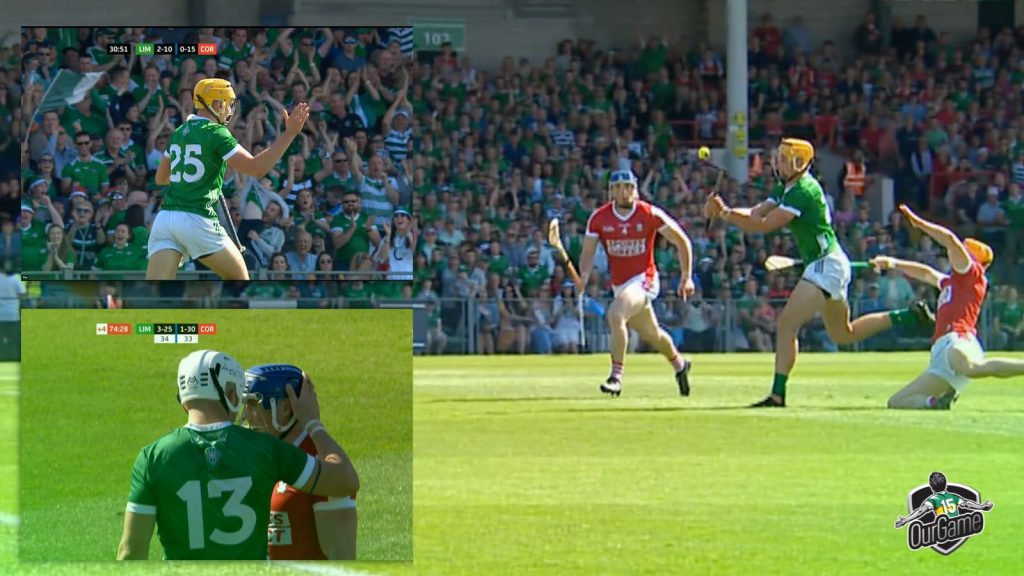 Limerick 3-25 Cork 1-30, Munster SHC
Hurling, like Father Time, remains undefeated.
This truly was a brilliant occasion in a stadium humming with excitement.
Cork eventually gave themselves too much to do, and now Limerick have signs of green shoots coming.
The Rebels had to rise from the dead to draw with Tipp, found parity with Clare from eight behind before losing, and couldn't quite pull back a seven-point deficit at the Gaelic Grounds. Ultimately, they ran out of road.
Pat Ryan can look back on a strong debut season, one where his side showed a new-found ability to win tight games in the league, and deliver manly performances in Munster.
It wasn't quite enough and so their season is done, and it remains to be seen if Patrick Horgan will call time on a wonderful career. The Glen Rovers man defied age to play brilliantly on Shannonside, and they won't see his likes again for a long time.
Once more, 'Dreams' by The Cranberries boomed around a stadium after a huge Limerick win, and they rightly move forward as favourites to win a four-in-a-row of All-Irelands.
Of course, there's the little matter of facing Clare in the Munster final two weeks from now, when The Treaty will look to claim the Mick Mackey Cup for the fifth time in a row.
Gearoid Hegarty showed life, Diarmaid Byrnes and Kyle Hayes stood up, in the trenches were Will O'Donoghue and Darragh O'Donovan, while Aaron Gillane and Seamus Flanagan led the line in brilliant fashion.
This was not a complete Limerick performance but it never had to be. When the team has been struggling to find its flow, when players have seemed strangely off-colour, all that mattered was buying more time.
Top gear may come in the Munster final or thereafter, or perhaps this win over Cork was a final kick in 2023. We'll find out soon enough.
In recent meetings with their red old rivals, decimation has been the order of the day. There was the 16-point All-Ireland final win, and then last year's cakewalk on Leeside.
After four early wides in a row, it was set up for a Cork ambush, and they created a 0-3 to 0-1 platform. Limerick took over, and Gillane's influence became more pronounced.
His ability under the high ball, allied to brilliant movement in tight spaces, is a nightmare to defend, and the absence of Conor Cleary in the Munster final is a huge blow to The Banner.
Sean O'Donoghue won some good ball against the Patrickswell man, but the latter was set up by Hayes for a shot well-snuffed out by Patrick Collins, before then teeing up Flanagan for a major on 22 minutes.
Cathal O'Neill fired to the net on 31 minutes after delaying this strike in mature fashion, and credit to Cork they found a response to each setback.
While manager Ryan will be crestfallen by defeat, he knows this team is made of the right stuff, and they are only at the beginning of their development.
Gillane won a softish penalty when held up by O'Donoghue in the 44th minute, which Byrnes arrowed to the top corner in emphatic fashion, but again the visitors responded — with four of the next five points.
Tim O'Mahony had missed a great chance to whip a rebound to the net amid that, but then a Limerick takeover built a platform for victory.
Five points in a row through Hayes, Gillane, O'Donovan, Flanagan and Tom Morrissey gave them enough breathing room for when Horgan whipped a low ball to the net on 61 minutes.
The drama continued — particularly as Tipperary trailled Waterford by enough to know they were headed out with a Cork-Limerick draw — as points were traded at the Gaelic Grounds.
A brilliant Gillane solo opened up the Rebels once more, but his handpass was off the mark and so the ball was scrambled clear, but Hegarty, Byrnes (free) and Flanagan were able to raise white flags.
Seamus Harnedy and Horgan kept the fight going but eventually the clock beat them. Pain for the Rebels, relief for Tipp, and joy for the Boys in Green.
A crazy and special 70 minutes.