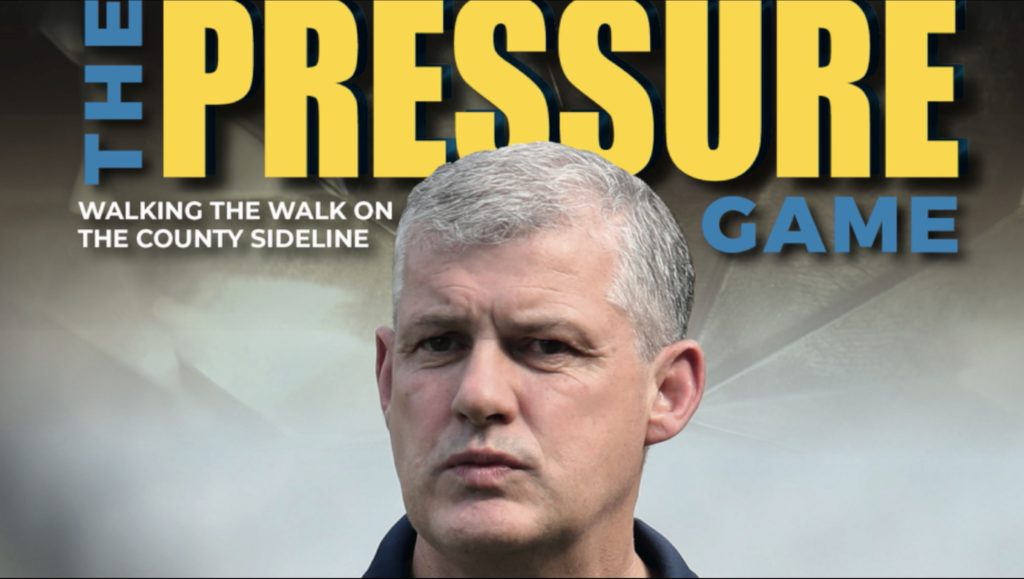 In this exclusive extract from his autobiography 'The Pressure Game', former Mayo All Star Kevin McStay reflects on his three years as Roscommon manager – and a fateful championship visit to New York in 2016 which looked set to end in total ruin and his immediate resignation
Roscommon 1-15 New York 0-17
Connacht SFC Preliminary Round 2016
New York, May 2
I HAVE NO idea whether it was the basement of a church or a school, where we ended up a couple of hours or so after the game. We'd eaten first. The mood in the dressing-room was the absolute worst.
I'd spoken for two or three minutes with them all. They'd mixed with some friends for 30, 40 minutes, and then we all got on the bus.
I was still fuming.
Actually, I was finding it hard to think straight.
I was confused and still panicked by the performance I had just seen. But I was also boiling with anger. Cian Connolly, a young lad from my own club, a corner-forward from the Gaels in Roscommon, had broken his jaw near the end. Whatever had happened to him, it had happened off the ball.
I sought out Maurice Deegan, the referee, before I went near our own dressing-room. I found him in a tiny little room at the back of the building.
'We've a fella in there,' I told him, '… and he's got a broken jaw!
'It's your job to make sure that does not happen!'
He apologised. He said he saw nothing.
'What about your linesmen?'
He said that if they saw something, they would have done something about it.
'And what am I supposed to tell his family?' I asked, thinking of Cian's father, who was a neighbour of mine, and a Garda sergeant in the town.
'He's in my care… and what am I supposed to tell them? That nobody saw another man break his jaw?'
Thirty years earlier, I had my own jaw dislocated by a Galway opponent, who elbowed me and was later hit with a three-month suspension. You'd think that that sort of Wild West stuff was way in the past. But we were in New York City, in 2016, with five or six thousand people watching, and one man can break another man's jaw.
I knew the Connacht Council would do nothing about it when we got home.
And I was right.
WE'D ASKED OUR local liaison man in New York, Jimmy Naughton to find us somewhere quiet, where we could simply disappear from sight for a little while after the game. It wasn't to hide. I didn't want our lads getting dragged into pubs in the city quickly after the game, not at five o'clock. Afterwards would be fine.
That's why we ended up in a room with no windows.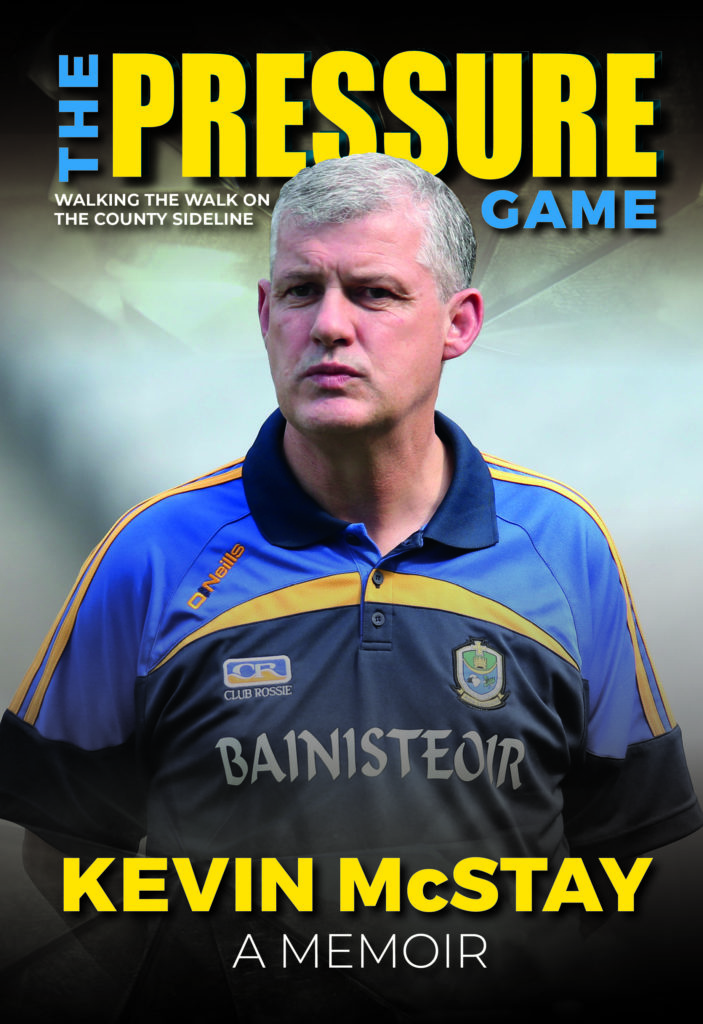 My mistake.
It was a mess of a room. There were chairs thrown around the place and all I could think was… this is like a feckin Quentin Tarantino movie!
Everyone looked pissed off.
Some lads were sitting, but I chose to stand at the side of the room. I'd decided immediately after the game that we would go with Plan A. We'd get on the team bus, and just go. Get far away from Gaelic Park and McLean Avenue and the Bronx. I felt a need to purge ourselves, to face down what had just happened to us, but it was a mistake. It was a big mistake. It was not a good time to ask everyone to take accountability.
'This isn't good enough!'
'The money that was spent… and that's all we can do?'
'Did we get it wrong as a management… did we let you down?'
'All of the people who came over here… to look at us!'
'All the people we've let down!'
That's what the management team had to say for itself before we handed the room over to the players. It wasn't of much value in feeding the players' thoughts.
By then, the room looked even uglier than before.
Spirits were too low.
Everyone was raw.
The talk started slowly, but then, when it built up a head of steam, too many lads wanted to have their say or reply to someone who had just spilled out a home truth.
Too many lads got hot.
Too many were angry, and players started in on players. It was all pouring out. It was getting to the point where some lads were going to say something that they would never be able to take back.
I stood there, listening. I decided to let it wash through, but I let it go too far. But, still, I refused to call a stop. I've no idea what I was thinking.
Finally, Liam shouted… 'ENOUGH!'
I WAS STILL thinking of Cian Connolly.
I should have been with him, and not listening to our lads losing it with one another, and me standing there, doing nothing.
It was Liam McHale and David Casey who stepped in and took control.
I was so lost in my thoughts.
But I should have been with young Cian, wherever he was? I did not even know at that point whether he was already in a nearby hospital.
WE'D LEFT FOR New York on the Thursday.
There was a long, miserable Sunday evening ahead of us, and a Monday that seemed it would never end before we got on our flight for home, at last.
We'd put so much time and energy into the whole trip and we got nothing in return. We also gave nothing, and with Roscommon having such a huge footprint on the east coast of the United States that was simply unforgivable.
Fergal and I took on the brunt of the social engagements that filled the four nights, and we were careful in minimising the involvement of the players. It should have been an outstanding trip. We had no excuses.
Our hotel which was a good hour outside of Manhattan, our team room, our transport, everything was perfection. We didn't want the lads to tire themselves out traipsing around the city, looking at the sights and shopping, so we limited that time.
It was warm from the Thursday evening, when we attended an early evening barbecue and then had a light run around the same field that evening. On the Friday morning, we had a run-out in Gaelic Park. The pitch was far from a 4G surface.
It was more like a 1G, and on Sunday afternoon after the rain had been coming down all morning long, it was also slippery as hell.
The big event of the weekend had been listed for Rosie O'Grady's pub in the centre of Manhattan on Saturday, and the majority of the management team attended with a handful of players.
It was jammers, but we were all back in our hotel by 11.0. We woke up to the rain lashing against our bedroom windows on Sunday morning.
It was a thoroughly filthy looking day.
We were favoured by 22 points with most bookmakers, but we never got going. We had named five Championship debutants. New York were keen, and very tight. Quickly enough, it became apparent that we were not going to get away from them.
I chose to stand and watch the game from one of the embankments, right in the middle of a few hundred spectators. It was the best vantage point I could find. It was also the hardest game of football I ever had to watch.
We were like the Keystone Cops.
Every single mistake we could possibly think of making, we were making out on the field. And there was no mistake too stupid, that we avoided making.
At half-time we did not manage to arrest anything, and in the second-half, we got worse and worse, and worse. Senan Kilbride kicked the winning point from far out near the sideline, taking a shot he should never have considered in the first place. Thankfully, he did.
But they still had the winning of the game. They had a clear goal chance. I watched and, as if in slow motion, I waited for the shot to be taken. Either he got nervous, or he was too cocky, or both merged into one erring decision.
The New York forward delayed his shot. He tried to make doubly certain. He didn't let his shot off, and when he did the ball hit off the ankle of our goalkeeper and flew over the bar. They should have won the game.
Deep into the second-half I was mostly trying to work out two things. First of all, I couldn't figure out what plans the GAA had for a team from Ireland who flew out to New York and lost in the preliminary round game? Did that team still get to play in the Qualifiers?
I'd no idea. But, also, I was thinking that if we lost, would Fergal and I be resigning before we even got home? Or would we wait till we actually arrived back in Roscommon.
Definitely, we'd have to tender our resignations, I told myself. But, each time I came to this conclusion I also found myself wondering if the Roscommon board would ask the pair of us to remain on in our positions for the qualifying game.
If there was a qualifying game for us?
Maurice Deegan blew up the game about 40 seconds too early, by my reckoning. He saved our necks, though not on purpose.
THE ABSOLUTE MADNESS of the GAA fixtures calendar ensured that we'd had to race into our opening Championship game, hot on the heels of losing the League semi-final.
And then, we had a three-weeks wait before meeting Leitrim in the opening round of the Championship proper in Carrick-on-Shannon, and another three weeks wait for our semi-final against Sligo in Hyde Park.
We nailed the Leitrim game, 1-21 to 0-11. They finished with 12 men. We dominated every position on the field, and 10 different men contributed to our final tally. It was too easy to be either enjoyable or satisfying.
We needed to do the same with Sligo, and while we won 4-16 to 2-13, we failed to be even remotely business-like in our performance. As a group, we had told ourselves from the very start of the summer that teams like Leitrim and Sligo needed to be dealt with in the same manner as Mayo and Galway usually treated them.
There should be no kerfuffle, no major or minor dramas. No question of anything, but even though we had 10 points to spare over Sligo we did not act or in any way perform as the 'New Roscommon' we talked about becoming which, bluntly, was a Roscommon team that set out to demoralise Leitrim and Sligo and not only win the game, but leave them with very little interest in seeing Roscommon again for quite some time.
That was the psyche we talked about creating within our group.
When we all sat down in my home as a management team in the week after coming home from New York we had looked at our shambolic performance and came to the conclusion that it was just that, a shambolic performance that did not offer us any insights or clues to where we actually stood at the beginning of the summer.
We did not have the stomach for the deep forensics.
We did not even recognise the team we had been working with for the previous six months, so where could we start? So, therefore, we started sifting through the performance but we never finished our body of work, not properly.
If we had, we would have looked through New York and beyond. We would have gone back to the defeat by Kerry.
And we would have gone back to our terribly disappointing display against Mayo, and we would have joined all of the dots and we would have seen that we were slowly falling off the cliff edge.
We opted, instead, to sign off on New York as a blip.
'The Pressure Game' published by Hero Books is available on Amazon in print and ebook. For more great sporting memoirs visit www.herobooks.digital
📮 Sign up to the OurGame newsletter — a daily email reminder of our latest videos, articles, quizzes and more.
Don't forget to subscribe to the OurGame YouTube page for live streams and more.