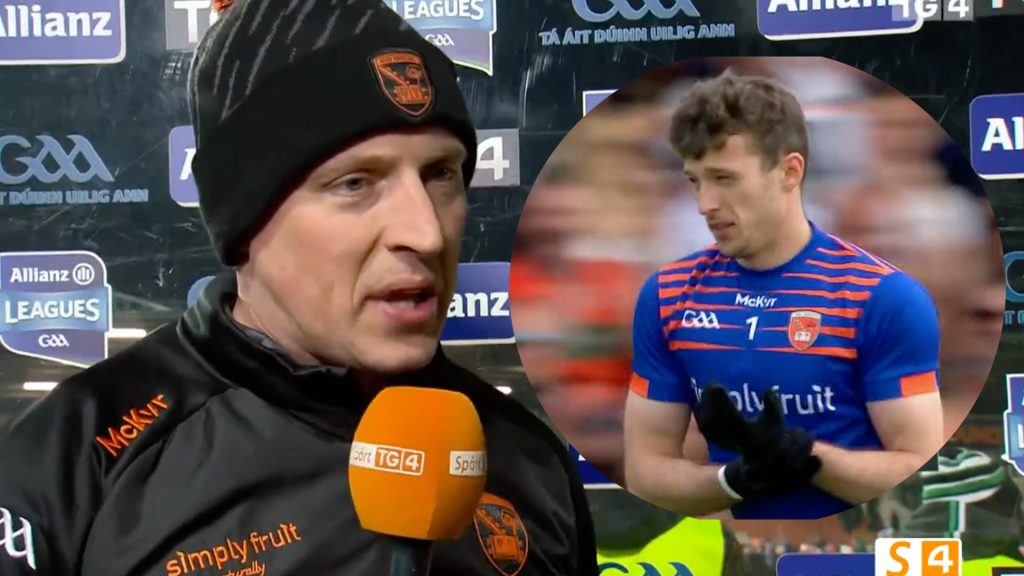 Ethan Rafferty transitioning into a goalkeeper has been one of the more interesting tactical moves in recent years. The Armagh shot-stopper has used his experience playing outfield to full advantage, and his forays forward have certainly added a string to the team's bow in attack.
Rafferty's ability to kick scores, win high balls and link play is central to the Orchard County's game plan.
Their selector Kieran Donaghy was quizzed about the net-minder after the victory over Donegal on Saturday night, and the Kerry legend admitted Rafferty does play with fire at times.
"He is sailing close to the wind," Donaghy acknowledged, speaking to TG4.
"He offers a big dimension to us. I think he's working very well on the axle with the lads at the back.
"He doesn't really leave us too exposed. He's quite quick if he does make a mistake, he does run back.
"But look, it's a part of the game that we're still evolving ourselves. Maybe he might calm it down a bit coming into the summer, [or] he might ramp it up! It's depending on the game, where we are, what's left, what do we need in a game? Do we need him out the field? Do we need him in goals?
"He was certainly big around the square tonight. I think Rian [O'Neill] might have taken one off him in the last play of the game. But they're two good fellas to be going up there with the game on the line."
Otherwise, the 0-13 to 0-10 victory was a pleasing one for Armagh, as they eased relegation fears.
"We had two tough defeats on the road. It was good to get back here with the Armagh fans. It was a three-point game, that's how much was riding on it. We're both down the bottom half of the table. It was always going to be tight. In fairness, we had some huge plays at the end," Donaghy said.
"Jarly Óg [Burns] catching a lot of ball in the middle of the field. Rian kicking the free, sprinting back and catching the ball on the edge of the square. It was one of those games where a dropped ball could cost you or win you the game. Thankfully, we gritted it out. It wasn't pretty at times. There's a lot we have to improve on. But today was about winning for us."
But they will not ease up just yet.
"It's backs to the wall until that point where you know you're safe. That's the division it's in. There's serious quality in every team you play against," Donaghy continued.
"There's no easy week. You have to rise to it all the time. You have to give our fellas credit in the way they dug it out."