Shane Stapleton was at Semple Stadium to see the National Hurling League clash of Tipperary v Waterford.
Tipperary 4-23 Waterford 0-25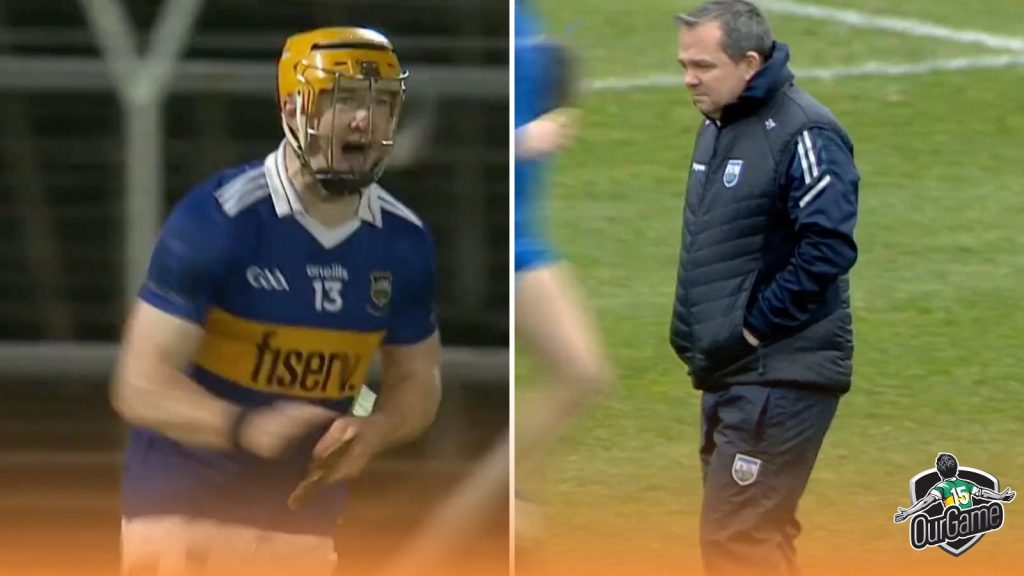 BY SHANE STAPLETON
Ruthless. The best descriptor for what we saw at Semple Stadium on Saturday evening as Tipperary beat Waterford.
In how Jake Morris plundered three goals chances low past Billy Nolan, to the manner in which Liam Cahill whipped off the other man who had given the Deise netminder no chance.
Conor Bowe was sent into the fray after 57 minutes, raised a green flag a minute later, before being hauled ashore in the 67th minute. Yes, young man, you scored a lovely goal but what have you done for me lately? Cahill wasn't willing to watch the Moyne-Templetuohy starlet coast to the final whistle.
The red card to Jamie Barron on 56 minutes — for an off-the-ball clash with Conor Stakelum — was pivotal, coming as it did just moments after Morris had pierced the Waterford goal for the second time to put the hosts 2-16 to 0-19 ahead.
Then came the Bowe goal, before substitute Jason Forde went on to rattle four points (0-6 in total after coming on in the 48th minute) in the remaining 12 minutes. The Deise kept going, but they needed more than one Calum Lyons on the pitch at that stage.
It proved to be a fascinating game and whets the appetite for their Munster clash down the line. Davy Fitzgerald's side had good spells and bad, but their fourth red card from four league outings must surely be a concern.
They had started the game well, winning breaking ball and speeding at the Tipperary defence. A 0-3 to 0-1 lead after five minutes was no less than the visitors deserved, but it wasn't too long before Tipp got to grips with those interchanging Deise forwards.
Such was the fluidity of the Waterford attack, it was difficult to discern who was where. Yes, Dessie Hutchinson was posted furthest forward at that stage, though at times strangely close to the corner flag, while otherwise it seemed a smorgasbord of bodies and movement. What it soon amounted to was a period of dominance for Tipperary, who seemed always to keep two up near Nolan's goal.
Between the fifth and 33rd minutes, Cahill watched his side go on a scoring run of 1-11 to 0-4, with Morris rifling the goal home on seven minutes. What was noticeable about this Tipp first half, as was so often the case with Cahill's underage teams, was the intent to probe for goals even when the chance seemed slight, with the point taken if needs be.
Stephen Bennett had a sniff of goal on four minutes when latching onto a break behind the Tipp half-back line, but he dithered and was blocked down — Hutchinson had helped open the space by taking Johnny Ryan to the corner flag, but the downside was not being in a position to aid his teammate.
Ronan Maher had a strong opening half, and did well to hook the exceptional Calum Lyons who went for goal after the Deise had turned Tipp over high up the field.
Morris, who had goaled on the right-hand side, then had a weaker attempt off his left — which has become a theme for the Nenagh man of late — and the Patrick 'Bonner' Maher made little more of the rebound.
Barron scored two before the break while Bennett added a pair of frees to draw Waterford back within four at the break — 1-12 to 0-11. Both sides had 20 attempts during the first half, though what was notable from Fitzgerald's side was that their attackers had registered just three shots and two points from open play — perhaps a by-product of what at times felt like a shapeless attack.
Austin Gleeson struggled with man-marker Dan McCormack but it was early in the game by the time the 2016 Hurler of the Year was withdrawn through injury. Any niggle is concerning this close to championship.
Waterford went on a scoring run of 0-6 to 0-1 early in the second half and twice forced low-percentage goal attempts through their racehorses, Neil Montgomery and Jack Prendergast. The latter was a problem for Tipp throughout.
The red card changed everything and allowed for a feelgood factor within Semple as the scores were piled on in the final minutes. After a horrid three seasons since winning the All-Ireland in 2019, there's a hint of something building.
Fitzgerald will be frustrated with the result but he too can feed on crumbs of comfort. The Fitzgerald trio of Mark, Paudie and Patrick, Colin Dunford and Tadhg de Burca (in the second half) all showed that they can be important players this season.
Tipp are into a league semi-final with a game to spare, and have already claimed more competitive wins in 2023 (four) than in all of 2022 (three).