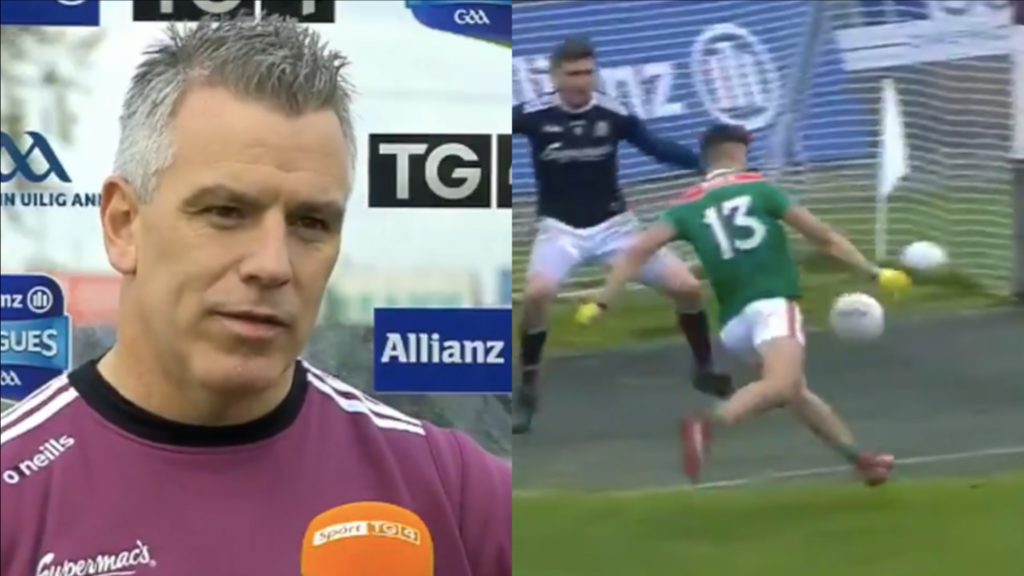 BY SHANE STAPLETON
Galway might have been missing Shane Walsh, seen Damien Comer limp off early on with a hamstring injury, but the manner of this defeat cannot easily be explained away.
The notion that it was a league game, and that league is league, might hold water if there was no meaning to the game.
The Tribe would like to a national title, and after seven and a half months on the shelf, every county is keen to put a few performances together before championship.
Padraic Joyce knows that, and will take very little from this outing. He will hope to have Ronan Steede back soon, whereas questions remain over the availability of Walsh.
"Shane has a couple of injuries that he is dealing with at the moment, an issue with a knee and one of his ankles," the manager said last week.
A Connacht semi-final clash with Sligo is pencilled in for the weekend of November 7/8, with the provincial final (with Mayo on the other side of the draw) set for a week later.
Given the manner of this defeat, Joyce will need Steede, Comer and Walsh back and on form. Whether that's realistic remains to be seen.
NEW FACES
The performance of Mark Moran was a real boost for Mayo; a coolly-taken goal being the highlight of the number 11's performance.
Oisin Mullin drove forward from corner-back from the start of the game, and looks very composed on the ball.
Eoin McLoughlin, like Mullin, showed pace coming from deep and it was interesting to note his positioning at wing-back, with Lee Keegan further back in the corner.
Upfront, Tommy Conroy impressed, Conor Loftus did well at midfield, and all of a sudden things are looking quite rosy for James Horan, Ciaran McDonald (pictured below) and Co.
JIM'LL FIX IT?
A video emerged last week of former Donegal manager Jim McGuinnes taking a training session with Galway.
It was the subject of much commentary during the week, including how a handpassing drill was breaking down.
As the Tribe foundered early on, and Joyce began to ring the changes (both through injury and due to tactics), the talk on social media intensified.
O'SHEA AT 14
The debate about Aidan O'Shea's best position has been raging for years, going all the way back to 2009 when he and Barry Moran were the apparent answer to Kerry's Twin Towers in the full-forward line: Kieran Donaghy and Tommy Walsh.
O'Shea won a free from the throw-in at the start, another closer to goals a minute later, and had a point of his own all inside seven miuntes.
His fetch from a long ball in, over full-back Sean Andy O Ceallaigh, reinforced the belief that number 14 is the best place for him.
That assumes, of course, that the right type of ball goes in, and not just hopeful deliveries.
Ex-Kerry captain Darran O'Sullivan agrees: "50-50 wouldn't work cause he'd be fouled but refs wouldn't give it.
"If he clocked the same distance as he does midfield he'd be a nightmare for full-backs."
The patience that sallow O'Shea to feed Paddy Durcan for a goal in the 27th minute highlighted that the Breaffy man can be a creator too.
ON THE MARK
Mayo's shooting efficiency was exceptional, although the paucity of Galway's challenge in that first half certainly aided their cause.
SCORING FOR FUN
Much has been made of the unusually high amount of goals being scored in the Premier League of late, a topic that has also been a regular feature among American Football analysts.
Perhaps it is the lack of crowds making for a more relaxed atmosphere, and one where players can more easily communicate on the field.
There may not have been high scores across the board in the National Football League, but Dublin's 1-20 to 0-19 win over Meath stood out, as did Mayo amassing 2-17 by half time.
The scoring rate slowed down in the second half, but 3-23 was still a huge tally.
📮 Sign up to the OurGame newsletter — a daily email reminder of our latest videos, articles, quizzes and more.
Don't forget to subscribe to the OurGame YouTube page for live streams and more.