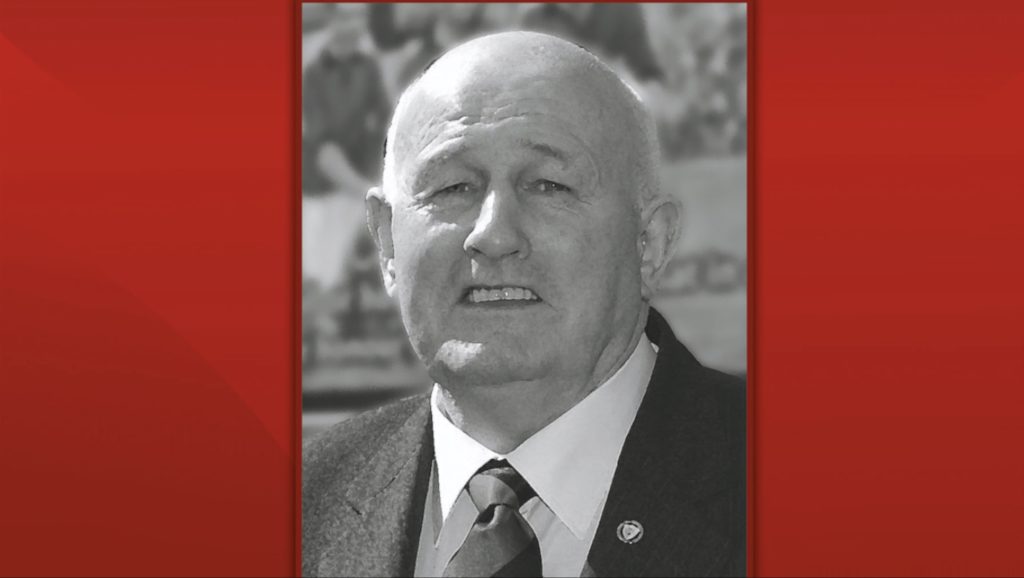 In an extract from his memoir 'The Making of Paddy Mo', Paddy Doherty recalls the historic All-Ireland triumph of 1960 and teammates recount the controversial turn of events which helped mould Down into a team capable of winning the Sam Maguire Cup.
Martin O'Neill
(Double European Cup winner with Nottingham Forest, Northern Ireland international, football manager)
The football Down played in the 60s was absolutely magnificent. Everywhere they went they drew huge crowds. They were the first glamour team of Irish Sport. Youngsters used to queue up to get the autographs of players such as James McCartan, Sean O'Neill and Tony Hadden.
But for me there was nobody to touch the flair and scoring touch of Paddy Doherty. He was a magical player… a genius on the ball, who was capable of hitting the target from all angles and distances.
When he (Paddy Mo) was on the ball my eyes were glued on his every trick… as he swayed… dipped his shoulders.
With the grossly inflated figures floating about in the professional game it's hard not to speculate just how much Paddy Doherty would have been able to command in the transfer market.
DOWN HALF-BACK Kevin O'Neill now speaks of Peter McDermott's influence (McDermott was a member of the Meath team that won the county's first all-Ireland championship in 1949, captained the side that won the title in 1954, and also refereed an All-Ireland while still a player). 
'In 1959 we went to Croke Park for our first semi-final and were beaten. The following year we played Offaly in the semi-final and drew.
'After that game the players on the team felt our mentors knew as little about winning big games in Dublin as we did. In that match against Offaly our boys were fouled and dragged all over the place, and we never got frees. And it seemed if we even touched an Offaly forward they got a free.
'We, the players, felt we needed to get somebody into our camp who had experience of winning All-Irelands.
'Peter McDermott was an egg-merchant who had a great friend in Newry man, Alfie Matthews. Alfie brought Peter to the Newry Shamrocks club on one occasion to coach them for a championship game. And after getting the go-ahead from the Down committee, Matthews spoke with Peter again.
'Peter McDermott was an instant success. He had the Down players behind him from the first night he arrived at training in St Malachy's in Castlewellan. But he said the team needed to give more and he pointed out where they were going wrong. He also thought that we were not nearly streetwise enough.
'And with his experience as a referee, he taught us when to foul and when not to foul… when we could get away with a sly tug of a jersey or a bit of obstruction. In other words, be like their big-name rivals, and become "cute hoors".
'Peter also felt Down should concentrate on continuous movement and swift interchanging of positions in attack. He urged mobility to be the keynote with no player rigidly tied to his position.
'Peter's understanding of Croke Park was absolutely amazing. The difference of playing football in Ulster and playing in Croke Park was night and day. In Ulster if you touched anybody it was a foul. In Croke Park it was different.
'Peter McDermott brought these things home to us.
'After his first training session in Castlewellan he sat us down and gave us a long talk. I actually went home and wrote down what he had told us … and in fact I still have those words.
'His explanation of how to play in Croke Park was mindboggling. Though we would have been jailed if we had carried out some of the things he advised us to do. "You boys hand-pass far too much," he lamented. "And you don't shoot from far enough out."
'Peter then spoke of the Antrim team that went to Croke Park in 1946 to play Kerry in the All-Ireland semi-final. They were absolutely blitzed… bulldozed out of it.
'Mauled to death.
'That Antrim team wouldn't kick the ball either. They hand-passed. They weren't satisfied bringing the ball into the square… they wanted to carry it across the line.
'He said, "You fellows are not quite as bad as that!"
'But he said we needed to shoot from 40 or 50 yards.
'He spoke of the Ulster teams being battered and going back home, licking their wounds and speaking of raw deals. "If you boys go to Croke Park, you have to expect all that. When you leave home for the semi-final you need to know the four umpires are going to be against you. The referee is going to be against you … and the two linesmen".
'He warned us not to be looking for sympathy from anybody because we would not get it. "You have to overcome all that in your minds", he told us.
'That was always the weaknesses of Ulster teams coming to Croke Park. They didn't know how to handle the situation.
'He then spoke to defenders, saying, "When the other team are attacking and the ball is on the opposite side of the field, you turn and catch your forward… and don't let him pass you. Don't under any circumstances let your man get free".
'When the boys replied that it would be a foul,' he said, "No it won't. The referee will be watching the ball".
'Peter knew that because he was a referee.
'To the full-backs he pointed out, "When the ball is coming in grab your man… but keep watching the referee. If he's looking at you, drop your hands".
'That hit home as we remembered in the drawn game when we were looking to pick out Paddy (Doherty) or Sean (O'Neill) and invariably there would be somebody holding them. You could not have given them the ball. But there were no fouls being blown.
'Peter insisted, "Ok if the referee is watching, don't foul … but anywhere else hold your man and don't let a forward loose".
'We followed Peter's advice, did it and got away with it.
'Without that advice we would not have won.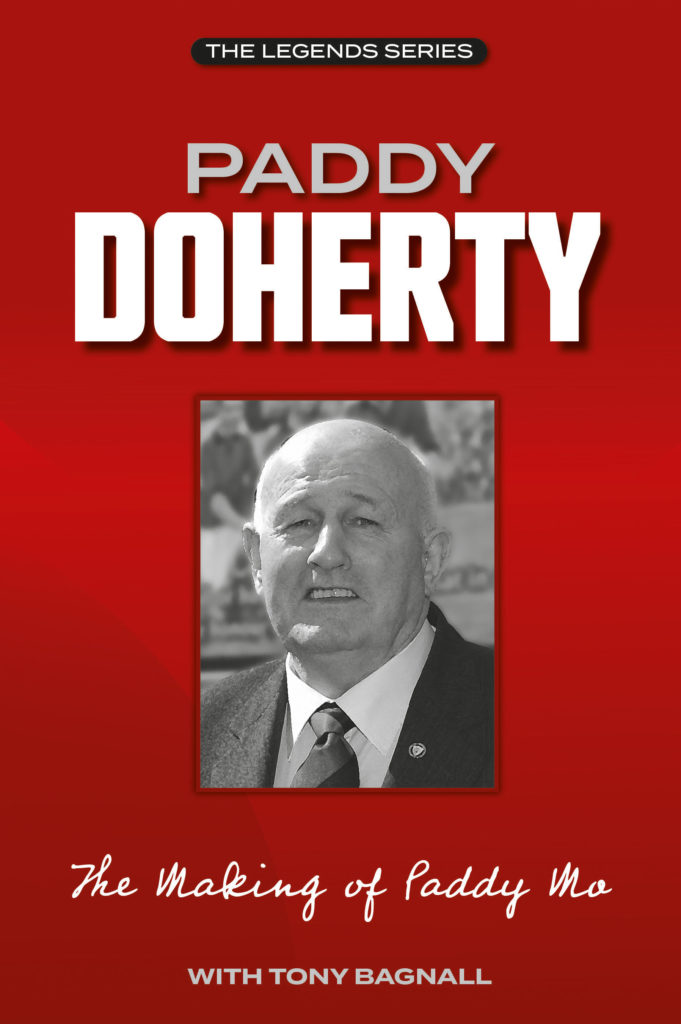 'We would have gone up to Croke Park and it would have been the same old thing. We would have been roughed up, kicked around and fouled early.
'Peter also said that when the ball looks like coming in your direction get up close against your man and give him a shove in the back.
'He said, "Kerry do it… Offaly do it. They all do it. You boys will have to start doing it. It's obviously against the rules but if you obey the rules, you won't win in Croke Park".
'McDermott brought all that knowledge to us and I never forgot it. In the big games the referee watches the flight of the ball.
'I can remember marking Offaly's top scorer Harry Donnelly and having my two arms wrapped around him, holding him … but watching the referee. On another occasion I remember grasping him and I was inside the square but I managed to push him outside it.
'Before McDermott's talk, I would have been trying to shadow my man. But McDermott taught us the most efficient way to do it.'
****
Tickets for All-Ireland finals in modern times cost a small fortune and are in short supply. Back then in 1960 they were also in short supply, but not just as costly in those black and white days of yore.
'Tickets for the All-Ireland final in 1960 cost seven and sixpence, three half-crowns (37 and a half penny),' remembers Doherty. 'They're a wee bit dearer now.
'We got six tickets each… three free… and three we paid for.
'I have always maintained that there should be a seat at the final every year for All-Ireland medal holders. And I wouldn't even mind paying for them.
'We used to get tickets… winning captains got an All-Ireland ticket, but a few years back that was stopped. After we first won the All-Ireland we got a 10-year ticket. Although in that 10-year spell we played in two further finals, where we had no need for tickets.'
From the early morning of that fateful September day, cars and buses and trains ferried red and black bedecked supporters from villages and towns in Down to Dublin. Northern voices were predominant in the capital. All those northern fans had trust.
All believed Down would win.
All believed Kevin Mussen would be the first man from the Six Counties to raise Sam above his head in the Hogan Stand.
The excitement was mounting as skipper Mussen led his Down team behind the Artane Boys Band, with Paudie Sheehy doing likewise for the men from Kerry. In the stadium, 87,000 supporters cheered lustily.
Doherty was amazed to see the crowds milling around the dressing-rooms.
'They were all trying to get into Croke Park. Some did, but the Gardaí put them out again. Patsy O'Hagan and Breen Morgan were the last Down players to leave the rooms and they slipped open the door and let in some of the fans who were unable to get tickets for the game.
'Someone once asked me how we warmed up?
'Walking behind the Artane Boys Band,' I replied, telling him all of the boys in the band were Down supporters.
'But that walk was nerve-racking.
'Before we went out, we hadn't seen the crowd… there was just a deep drone in our ears. There was plenty of room on the pitch but there wasn't so much room on Hill 16.'
Just before the throw-up, Down's Leo Murphy had a few words for John Dowling. Pointing to the parallelogram, the full-back and Elvis Presley lookalike, warned the Kerry full-forward… 'See that square… IT'S MINE!'
****
A BIG 30 minutes lay in front of the Ulster champs.
They needed to be at their best as Kerry were certain to come battling back in the second-half. And, playing with the breeze, Mick O'Connell narrowed the gap to the minimum, before Seamus Murphy then squared things on 37 minutes.
The match was up for grabs.
Who wanted it most?
Turned out, Lady Luck was to have a big hand in the equation.
With 41 minutes gone Kevin Mussen switched the ball to James McCartan who was 40 yards from the goals and way out on the right-hand touchline.
The Glenn man lofted in a high, hopeful punt.
The Kerry goalkeeper Johnny Culloty rose confidently for the ball but took his eye off it at the last second.
Unbelievably, it ended in the Kerry net
James McCartan didn't believe it.
Johnny Culloty didn't believe it.
The Kerry fans didn't believe it.
But the thousands of Down fans did and they saluted the goal with one of the loudest roars ever heard at Croke Park.
It was the stroke of luck Down needed. And two minutes later those Down fans were in full voice again.
From out on the right flank Sean O'Neill lobbed a great ball that was meat and drink for Paddy Doherty who bee-lined for the target. Doherty's power and pace was too much for the Kerry full-back Tim 'Tiger' Lyons who could find no legitimate way to stop him.
Lyons gave away the free.
But, it would be a match-winning penalty opportunity instead.
Referee John Dowling was well up with play. The shrill of his whistle blast and his outstretched arms signalled the bad news for Kerry.
Up stepped Doherty.
He looked the coolest man in Croke Park. And his drive thudded past the helpless Culloty and into the back of the net.
Six points ahead.
Sixteen minutes left.
Those last 16 minutes turned into a stroll.
In this time there were three more excellent Doherty scores, including a trademark over-the-shoulder point and two from free-kicks.
Kerry's lone reply came from Mick O'Dwyer.
Down had scored two goals and two points in the last 23 minutes while that O'Dwyer effort was all Kerry could muster in that time.
'When the match was level Paudie Sheehy drove a shot wide of Eamon McKay's post,' explains Doherty, pin-pointing the moment when the game swung decisively towards Down. 'Had that shot gone in it might have been a different story. But then James McCartan's long ball deceived Johnny Culloty to end up in the net… and my penalty finished them off.'
For the duration of the match the crowd had thronged the touchlines, sometimes within inches of the players. With seconds left, John Dowling blew his whistle for a '50', but the impatient Down fans rushed onto the pitch, thinking that the game was over.
There was a danger that the match wouldn't finish but eventually order was restored and the pitch was cleared.
'I was afraid the referee would blow the match up,' Doherty recalls. '… and we would have to play it again. And I felt if he did that, the next time Kerry might not be so easy to beat.'
But that uncertainty lasted mere seconds.
The crowd edged back off the pitch, Dowling did blow the final whistle, and the red and black invasion began in earnest. Down had defeated the mighty men of Kerry: 2-10 to 0-8.
Double scores!
Down were All-Ireland champions.
Down were on their way to the border of the Six Counties with Sam Maguire as a high-profile passenger.
And Paddy Doherty had completed a marvellous season. In 19 games during 1960 – from February to November – the blistering Ballykinlar sharpshooter had amassed an almost unbelievable tally of 11 goals and 77 points.
*'The Making of Paddy Mo" The Paddy Doherty Autobiography' (with Tony Bagnall) is published by Hero Books and is available 10 in all good book shops and also online (print or ebook) on Amazon, Apple and all quality digital stores.