In the third quarter-final in our Best All-Ireland winner of the past 16 years series, we look at the Dublin team that went back-to-back in 2016 against Mickey Harte's bearded Tyrone brigade of 2008.
Dublin's 2016 crew saw off the Kerry side of 2009 in the first round, while the Kingdom's class of 2006 was no match for the Tyrone side that stood above the rest two years later.
This quarter-final class pits the multi-All-Ireland winning minds of Jim Gavin and Mickey Harte, and that's just one of many interesting match-ups.
Who would the Dubs put on the 2008 iteration of Sean Cavanagh, who was at that time proving an irresistible force — winning Footballer of the Year from full-forward?
Would Michael Fitzsimons, who was sprung into the starting XV for the All-Ireland final replay against Mayo of 2016 where he got man of the match, have been up to the task?
This was a Dublin side that sealed a fourth All-Ireland from six seasons, and in this year bent Leinster to their will, before overcoming Donegal, Kerry and the Connacht side.
Brian Fenton won the Sunday Game Footballer of the Year, and his form that year might well have been too much for anyone the Red Hands had at that time.
Tyrone, for their part, lifted Sam Maguire for the third time in five campaigns, and were led by the likes of Brian Dooher, the McMahons, Philip Jordan, Davy Harte and other class players.
Their bout with Kerry in 2008 was considered a clash for team of the decade, and again the Ulster men came out on top against the kingpins of Munster.
Dublin, without a shadow of a doubt, were the team of the following decade, and those two finals against Mayo were among the most pulsating clashes even seen at Croke Park.
Shane Stapleton and Michael Verney weigh up the pros and cons of these two teams, their paths to the final, the managers involved, and the quality of their players.
Then it is up to you, the viewers, to vote for who goes through to the semi-finals.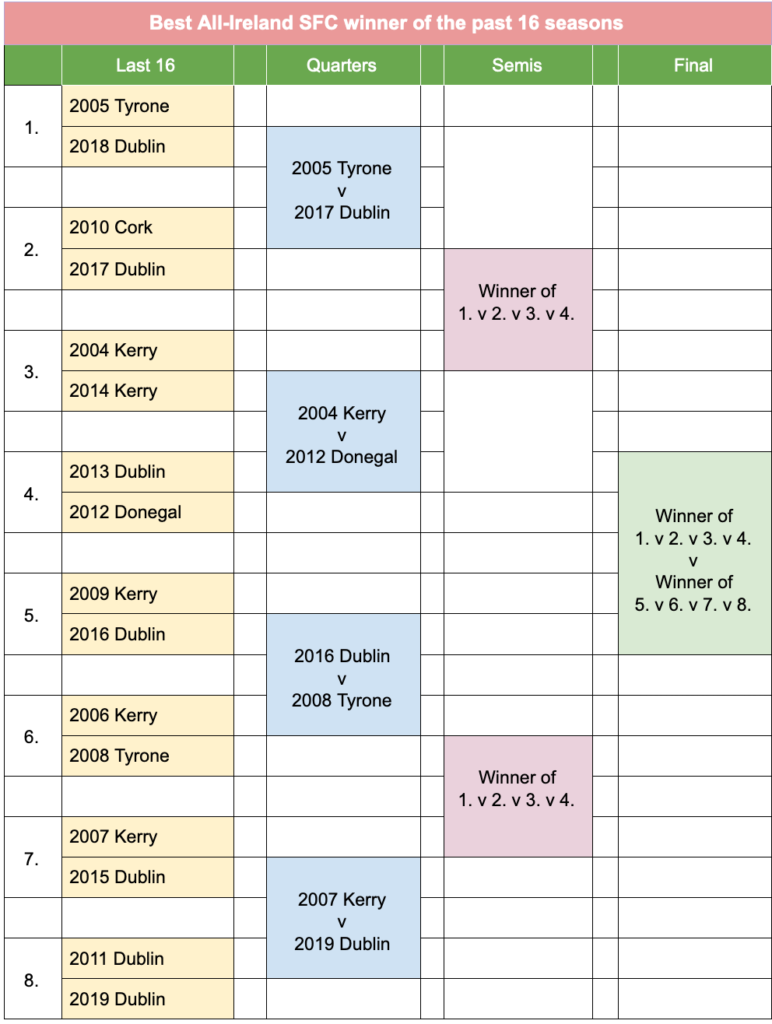 📮 Sign up to the OurGame newsletter — a daily email reminder of our latest videos, articles, quizzes and more.
Don't forget to subscribe to the OurGame YouTube page for live streams and more.