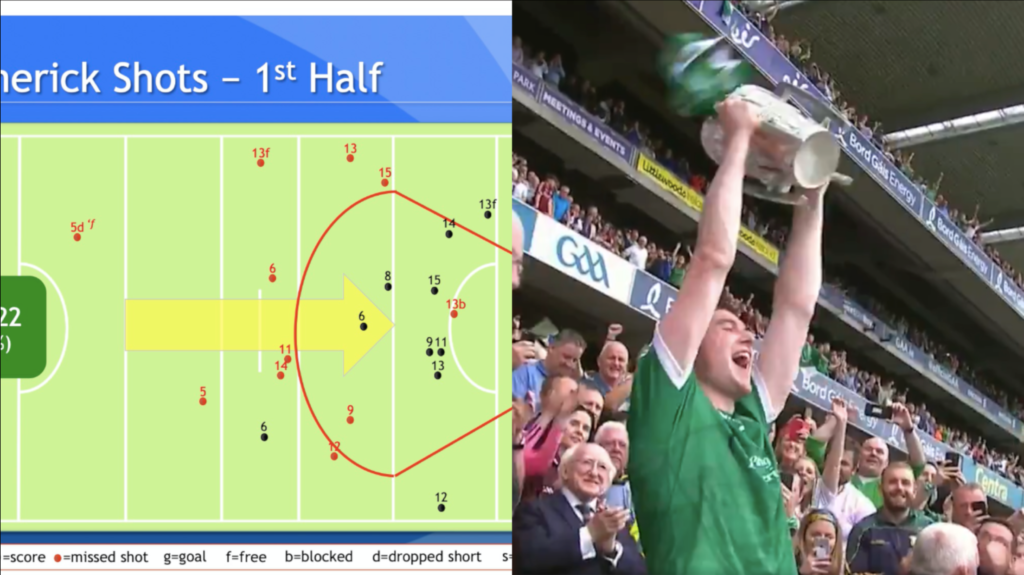 Breaking down Limerick's 2018 All-Ireland hurling final win over Galway, with modern-day statistics used by the top teams in GAA
BY SHANE STAPLETON
Gearoid McInerney ran past his own '65 and into hell.
That came in the form of a Seamus Flanagan shoulder, one that planted the centre-back into the ground, reinforcing a tone that had already been set by Limerick inside the opening ten minutes.
The numbers don't lie, so let's start with the biggest truth of the lot: the tackle count, a barometer of appetite. Limerick made 152 tackles to Galway's 101; put another way, the winners put in three for every two by their opponents. A starving pack of wolves had brought guns to a knife-fight hosted by kittens.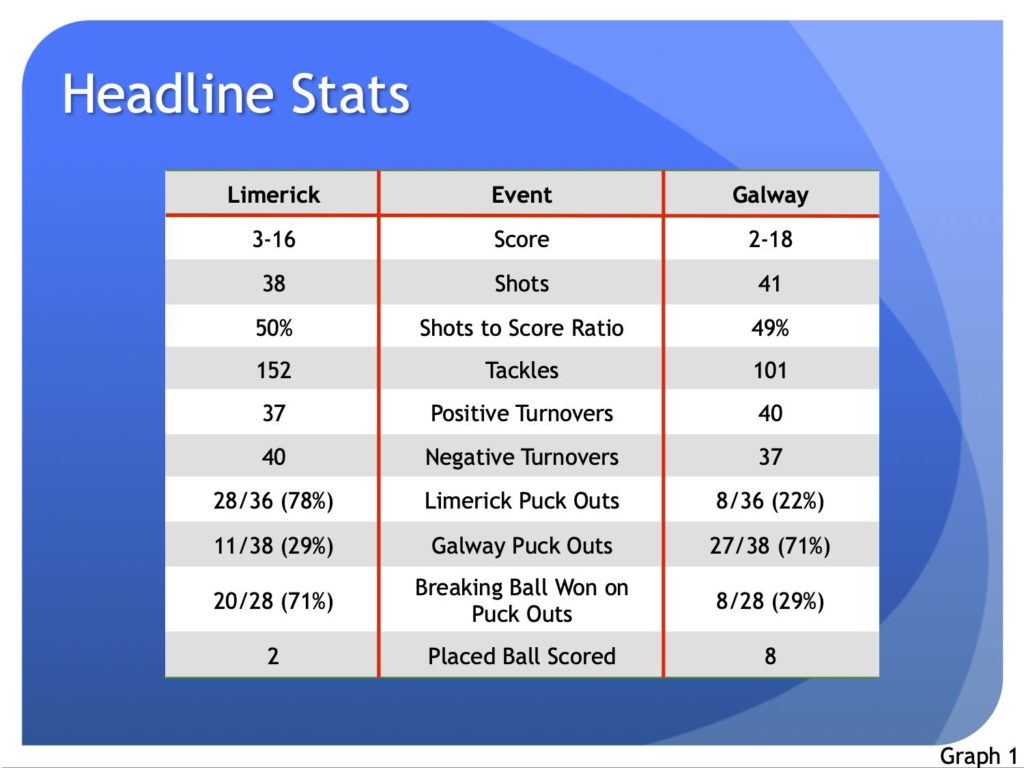 One moment rarely decides a game, and that Flanagan-McInerney collision is no different. It was instructive, but moreso because of what came a split-second afterwards, when four more green shirts encircled the marooned Galway man like a school of frenzied piranha. So it would be all afternoon.
It's a tough gig being the hunter every year. Padraic Maher jackknifed Joe Canning in 2016 en route to Tipperary glory, though a year later the former had his clock cleaned by McInerney, and so the wheel turned once more as the title passed to Limerick.
Delve into the numbers, and you can find a wealth of reasons that add up to victory for Limerick. John Kiely sent out a team to hurl with their heads but hunt with their hearts.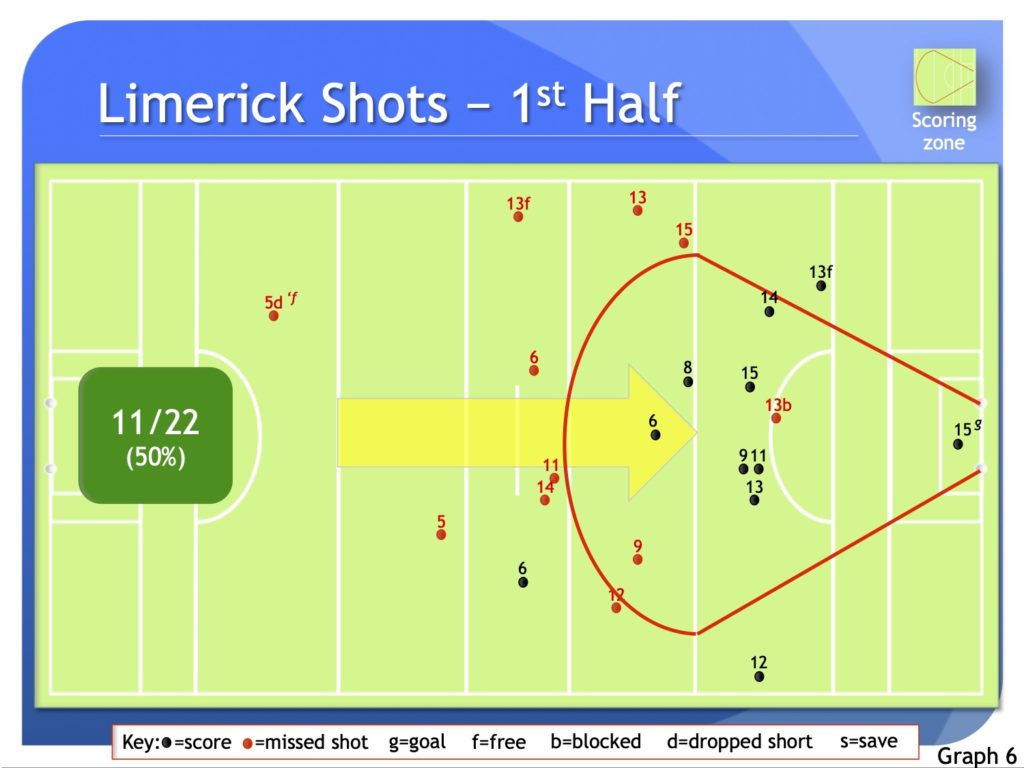 Look at where they shot from, how they drew Galway into traffic in the middle, where they fouled, where their puckouts landed, the tackle count; then contrast it with Galway, and their champions side of 2017. The latter led for just 61 seconds of the 84 minutes in total played in this All-Ireland final, largely because they were not allowed to play the game on their terms.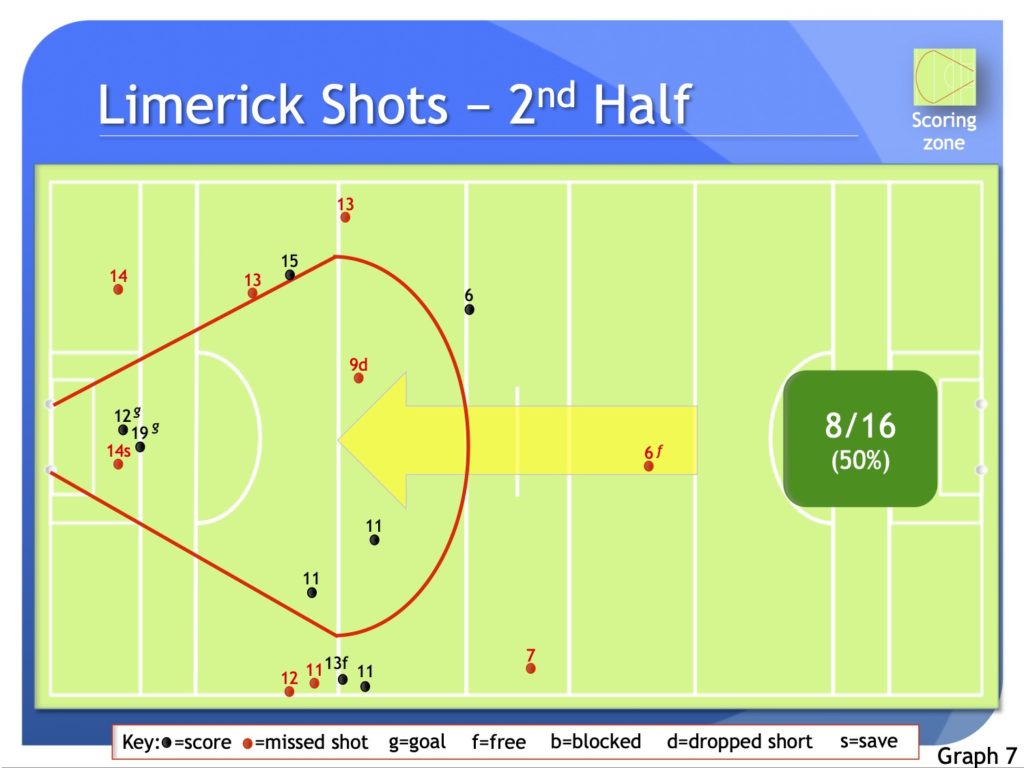 That was clear from the start, and not just by Limerick hitting seven of the first eight shots. A cursory glance at the game would say that Daithi Burke marked Aaron Gillane throughout but the latter contested, and indeed won, the first two balls into him ahead of John Hanbury and Adrian Tuohey. The full-back line couldn't settle, was dragged from pillar to post, and not one of the trio will feel they put a solid day's work behind them.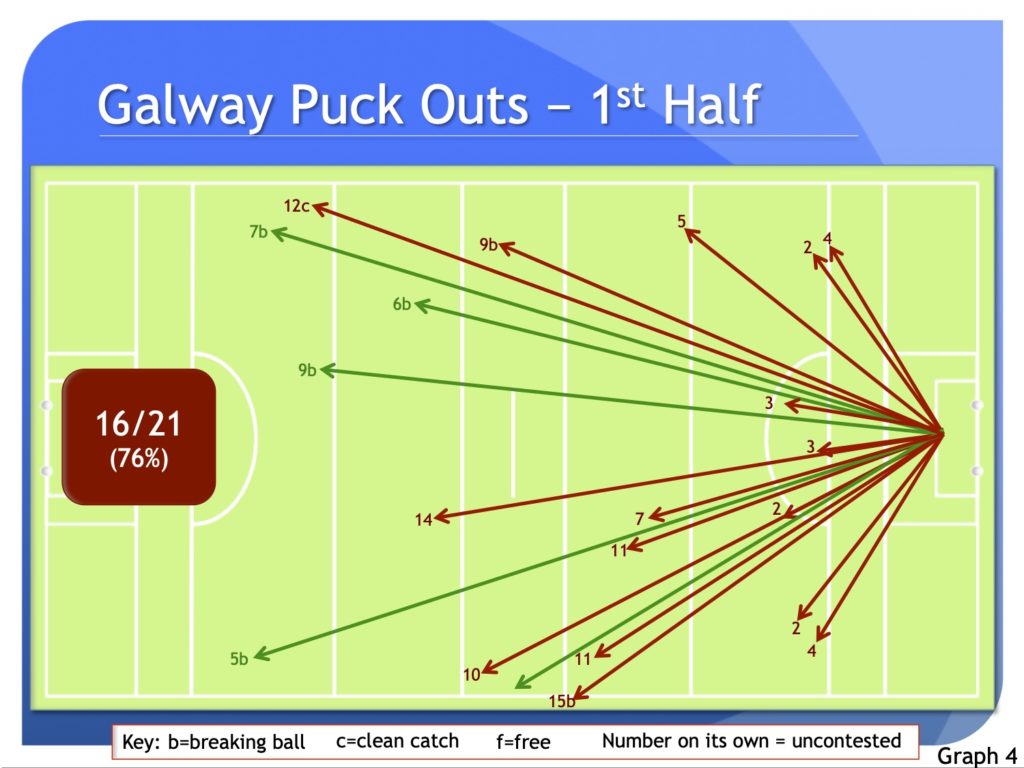 In fact, it was Limerick's intention to expose this line of the field. Galway were offered the chance to hit short puckouts throughout the first half, which they did on seven occasions, and five of those were turned over on the second phase of play.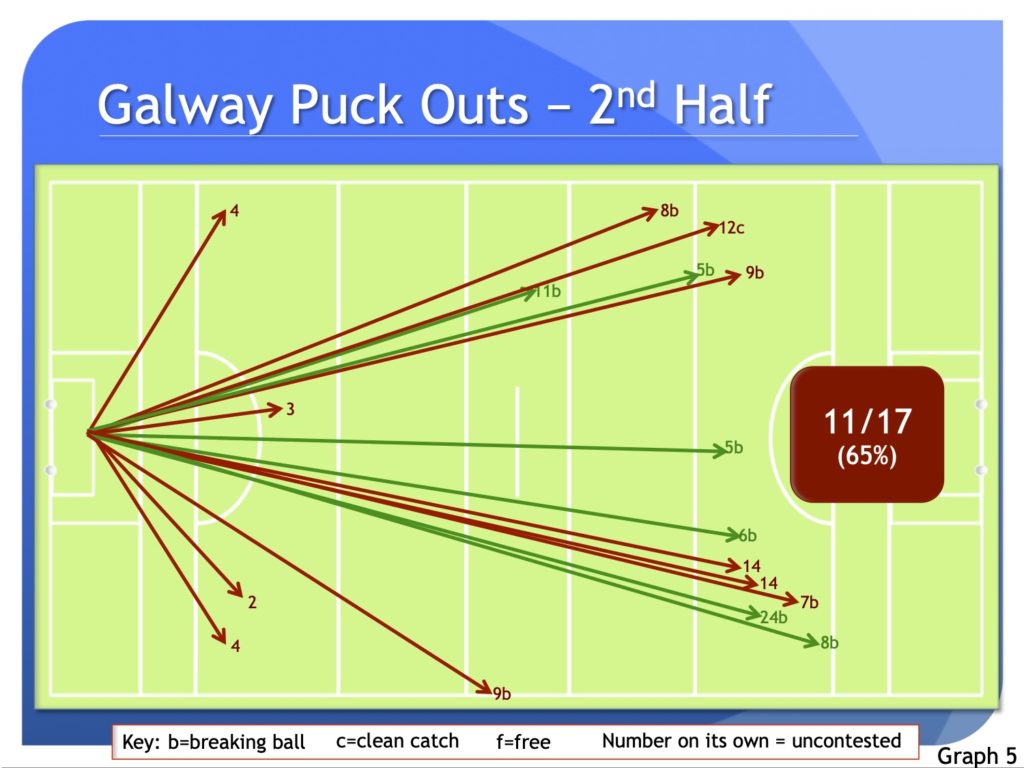 In the second half, they went short on just four puckouts but three of these broke down on the next phase, with Peter Casey turning over Tuohey to assist Shane Dowling for a goal that sent Limerick eight points clear.
It would be unimaginative to suggest that Limerick were the side with more desire, and little more to it. Galway have won just five All-Ireland titles in their history and had a chance to complete a back-to-back, which is rare for teams not under Brian Cody's watch. Within their own county, it would be just a second time ever retaining the Liam MacCarthy Cup. Of course they wanted this.
The tackle rate improved in the second half (from 45 to 56), though it still paled in comparison with Limerick's. Perhaps they didn't want it quite as much as in 2017; only they know.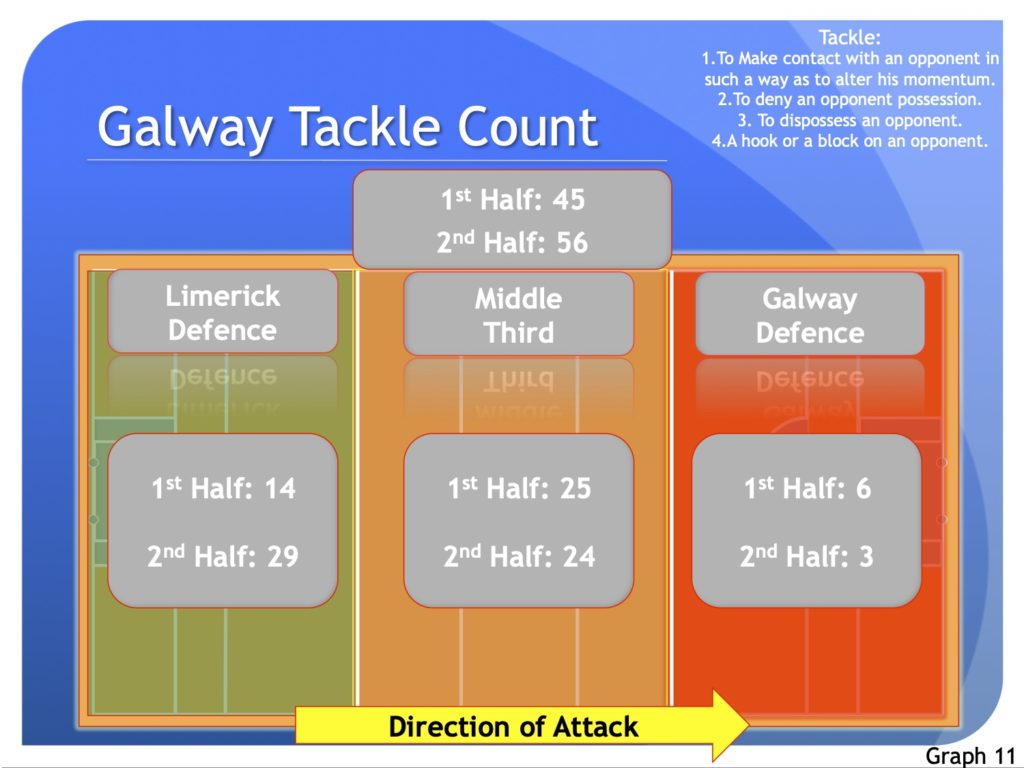 Where Galway also came up short was in their use of the ball. Johnny Glynn is a great asset but the temptation to hit long into the big man has too often meant that other strengths are ignored. Conor Whelan is arguably Galway's most dynamic and dangerous forward, yet had just three chances to shoot, with one returning a fantastic goal at the death.
Three-quarters of an hour into the game and Cathal Mannion, who had hit 0-18 from play during the summer, left without making any impact. Joseph Cooney was the sole forward to score from play until the 51st minute. Where was the game plan, where was the quality ball in front of these dynamic forwards, and where was the same level of hunger?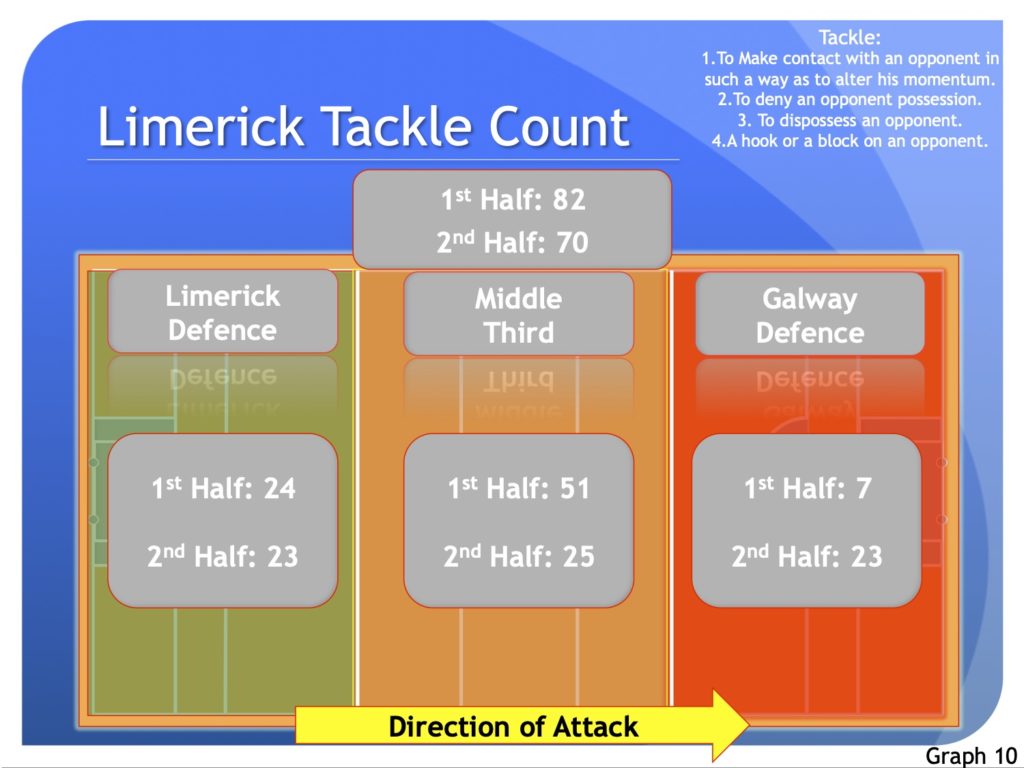 The answer to the latter is that it's on the Limerick side of the battle lines. Their terms of engagement were to induce Galway into the spider's web, which is the area between the two '45s — the middle-third, the battleground. In the first half, Limerick put in almost as many tackles (54) in the middle zone alone as Galway had all over the field during the entire second half.
Davy Burke fired over his first of three points from midfield on eight minutes, but not until after riding a Flanagan storm going into the opposition '45. The Limerick forward made an impact all over the field, from barging into Padraic Mannion to help set up the first goal, to his perpetual movement, to his absurd workrate. It was a wonder he was taken off on 63 minutes when seven points to the good.
Read between the lines for traces of further information. Limerick filled the central areas of the field by dropping their half-forward line deep, hence why Galway were able to take so few shots from inside the scoring zone (the optimal area from which to shoot).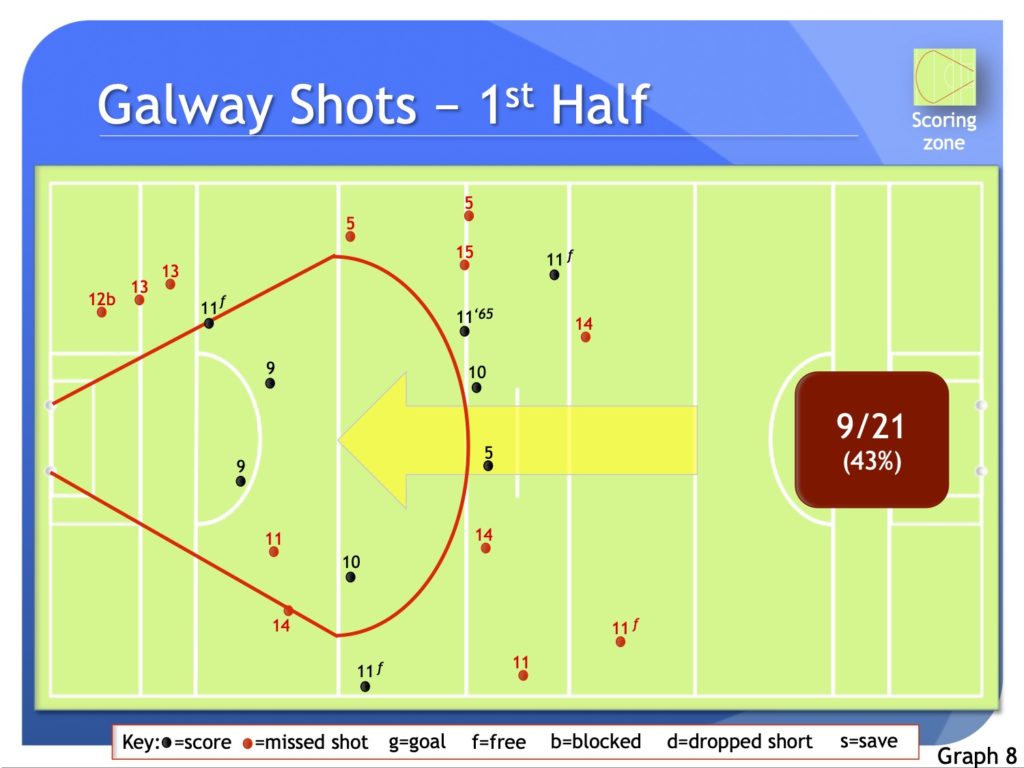 Just ten of Galway's 41 attempts came from inside that sector, and two more on its perimeter. Unremitting tackling pushed Galway out to uncomfortable shooting positions, and even when Limerick's tenacity went overboard, often these resulting frees were in unfavourable areas (as per the Galway Shots maps).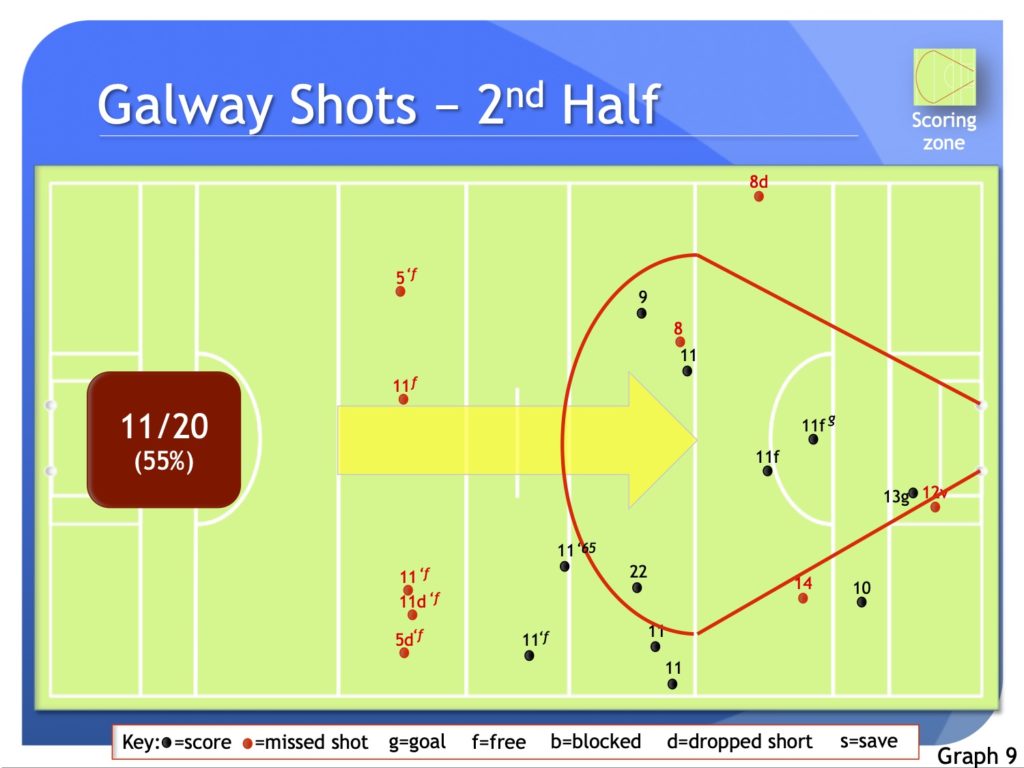 Everyone has a plan until they get punched in the mouth, and the ferocity of Limerick meant the likes of Conor Cooney, Padraic Mannion, and Johnny Coen took on low-percentage attempts.
Limerick targeted Aidan Harte with their puckouts, with 11 of the 14 restarts won in the first half on his left flank. No doubt, Kiely was hoping to limit the amount of aerial ball that McInerney and Padraic Mannion could attack.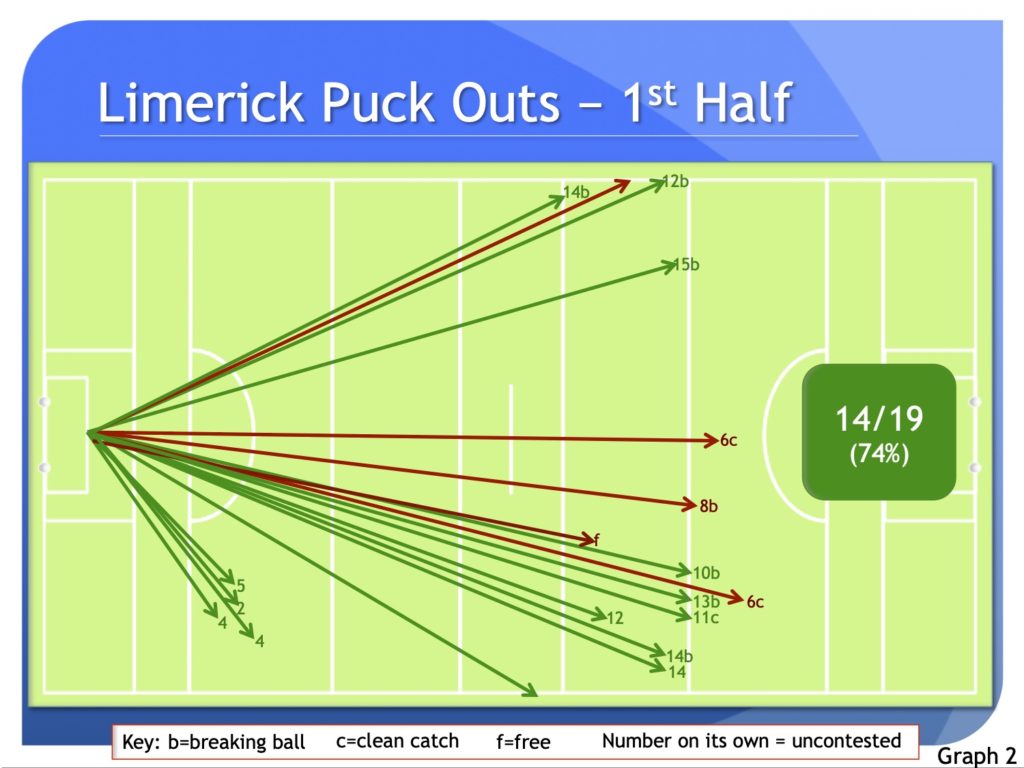 There was some nice variety to the Limerick restarts, complemented by great movement at both ends of the field. Perhaps the nicest point came when Diarmaid Byrnes dropped back to right corner-back to receive possession from Nickie Quaid on 20 minutes, had time to turn and pick out an unmarked Tom Morrissey up the same wing, who then put Limerick 1-6 to 0-6 ahead. Simple hurling, and symptomatic of how a sluggish Galway could be exploited.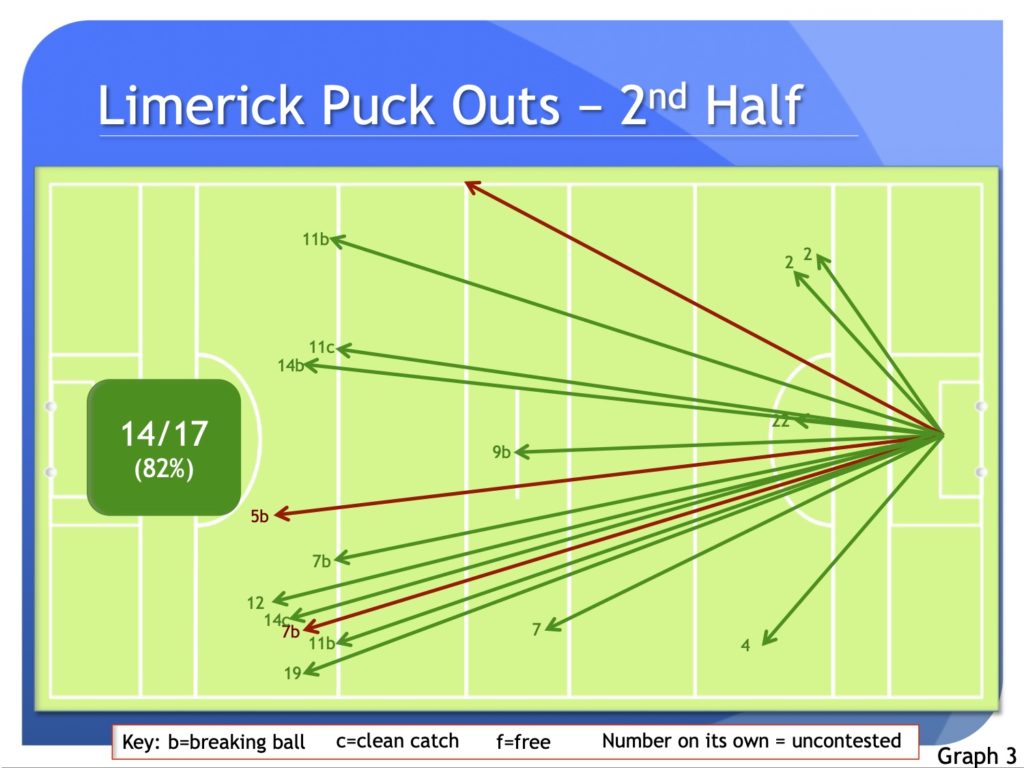 Joe Canning floated beautifully in the second half to hit points in the 51st, 53rd and 65th minutes, launching what then felt like an improbable rescue effort. Yet he too needed to atone for passive spells in the game, most notably when 0-3 was scored by his men in the opening 40 minutes, from Declan Hannon (0-2) and Byrnes. Canning's goal from a '21 was crucial, his points from play were an elixir, but far more was needed from him and the entire forward line in general play. Their collective tackle count upfront alone tells the tale.
Was it Galway's resurgence alone that paved the way for their fightback? Partly, but it had even more to do with Limerick's compass being off. White-line fever meant they scored just three of 13 attempts in the final 35 minutes of play (including injury time), and two of those were goals from positive turnovers on McInerney and Tuohey.
Peter Casey had won the ball for the Dowling goal, and rumbled Tuohy once more to set up what would be the winning score for Graeme Mulcahy on 78 minutes. Workrate was the only thing that saved Limerick from a repeat of '94. Kiely spoke afterwards of a bad ankle injury that Casey was carrying, of how Tom Morrissey was going around on a leg and a half, and yet they played through it. This was a side prepared to go off the cliff edge without leaving skid marks.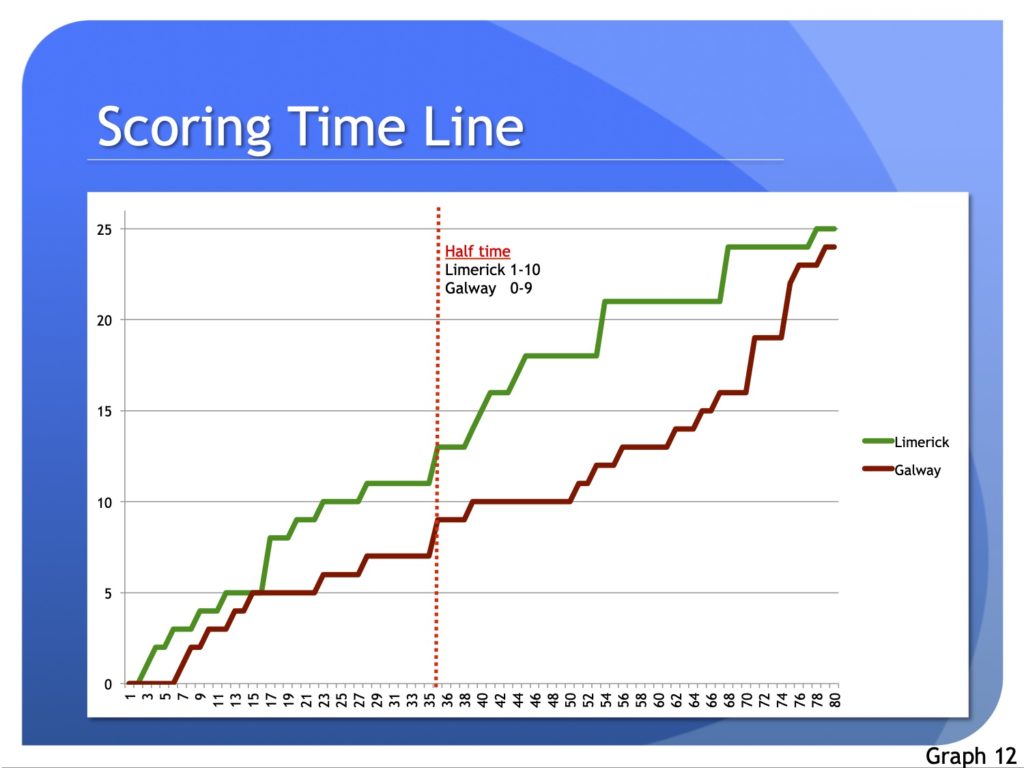 It's little surprise that the tackle count inside the Galway '45 jumped after the interval because Limerick didn't drop as deep from the restarts. Pushing up also forced more long puckouts from James Skehill and Fearghal Flannery, of which Galway just won seven of 13. Overall, Limerick won 71% of the breaking ball from puckouts, an area that both Kiely and Micheal Donohue would have honed in on before the game.
It's that trench warfare when the ball goes to ground and you go toe-to-toe with an opponent, and ultimately it comes down to desire to win possession.
All three Limerick goals came from turnovers by their forwards, and it was just reward for the 30 tackles made inside the Galway '45. The harder Limerick worked, the luckier they got. Galway had to rely on Whelan's snap-and-blast goal in injury time, before which Casey was possibly fouled by Daithi Burke at the other end, and a sublime 21' from Canning into the top corner.
Both chances originated from long balls, rather than sweet hurling or a by-product of hard work. Galway's nine tackles inside the Limerick '45 will give Donohue sleepless nights, and he knows too that a one-point loss flatters his team.
The numbers show that Limerick won a number of key areas, but an unrelenting grit was the primary reason they hung on. On a day when a famine of 45 years finally ended, hunger was a great sauce.
PLAYER NUMBERS (CORRESPONDING WITH PITCH MAPS)
Galway: 1. James Skehill; 2. Adrian Tuohy, 3. Daithi Burke, 4. John Hanbury; 5. Padraig Mannion, 6. Gearoid McInerney, 7. Aidan Harte; 8. Johnny Coen, 9. David Burke; 10. Joseph Cooney, 11. Joe Canning, 12. Jonathan Glynn; 13. Conor Whelan, 14. Conor Cooney, 15. Cathal Mannion
Subs: 16. Fearghal Flannery, 17. Paul Killeen, 18. Seán Loftus, 22. Niall Burke, 25. Jason Flynn
Limerick: 1. Nickie Quaid; 2. Sean Finn, 3. Mike Casey, 4. Richie English; 5. Diarmaid Byrnes, 6. Declan Hannon, 7. Dan Morrissey; 8. Darragh O'Donovan, 9. Cian Lynch; 10. Gearóid Hegarty, 11. Kyle Hayes, 12. Tom Morrissey; 13. Aaron Gillane, 14. Séamus Flanagan, 15. Graeme Mulcahy
Subs: 17. Peter Casey, 18. Tom Condon, 19. Shane Dowling, 22. Richie McCarthy, 24. William O'Donoghue
📮 Sign up to the OurGame newsletter — a daily email reminder of our latest videos, articles, quizzes and more.
Don't forget to subscribe to the OurGame YouTube page for live streams and more.