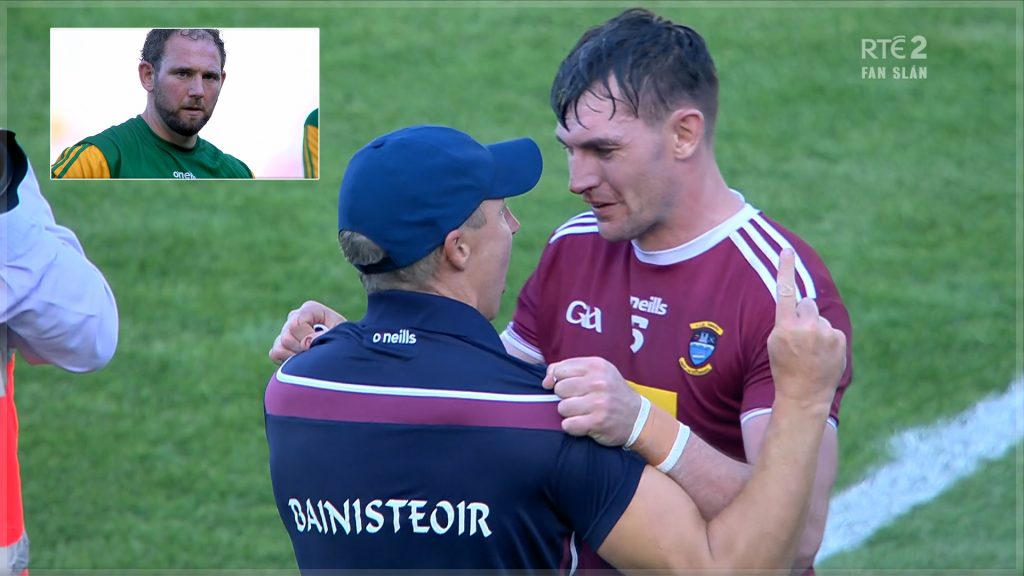 Niall Mitchell and Ciaran Doyle filled their boots as Westmeath ensured a return to the Leinster championship for 2022 after beating Kerry.
BY SHANE STAPLETON
Westmeath 2-28 Kerry 1-24
Manager Shane O'Brien insists that Westmeath's trip to mass on Saturday morning teed them up for their Joe McDonagh Cup final glory against Kerry.
Niall Mitchell blasted 1-4 and Ciaran Doyle 1-3 as the Lake County saw off a brave Kingdom challenge by seven points, and landed a return to the Leinster championship for 2022.
"We were primed for this performance and the mindset as much as anything else was key for us as management," says O'Brien.
"We knew the hurling would then take care of itself. We went to mass there this morning as a team and it calmed a few nerves.
"It was a lovely experience and got us in the right mindset.
"The celebrations inside in the dressing room are a reflection of what they have been through as a group and they deserve what they got."
It has been a topsy-turvy season for a Lake County side who were beaten in each of their Division 1A games, and came in with the memory of losing two previous finals at this grade.
"As a group, we couldn't be happier considering what they have gone through over the last years," adds the Cuala native.
"They have responded to tough defeats and in recent weeks.
"Nobody could tell in our trainings from week to week when we had tough times and when spirits were down. I can't praise them enough."
Mitchell, Cillian Doyle, Robbie Greville (0-4) and Galway import Davy Glennon (0-5) were key to the victory, while Darragh Egerton largely contained Kerry dangerman Shane Conway.
Westmeath were ruthlessly efficient in front of the posts throughout the first half.
From their 24 attempts, they forced the umpire into positive action on 18 occasions.
The first time was a major through Mitchell, who snapped a high ball and charged at goal, before slamming the ball to the net with some excellent improvisation.
"We knew Niall can do that," says O'Brien. "I think he had the hurl upside down."
Kerry fought back and levelled the game just after the first water break when the impressive Padraig Boyle fired over.
The scoring pace was relentless throughout that first half and a Ciaran Doyle goal just before the break gave the Lake County a nine-point lead.
Egerton had won a great ball in front of danger man Conway, and they countered swiftly for Doyle to smash home.
Westmeath kept Kerry at arm's length for much of the second half but a Mickey Boyle major — blasted home from 12 yards — reignited the Kingdom.
Not for long, however, as Westmeath steadied the ship with frees from Killian Doyle and Niall O'Brien (frees), and Aonghus Clarke helped bloat the lead once more.
"There might have been a cushion on the scoreline but not for us on the sideline," says O'Brien.
"The lads put in a great performance and Robbie got man of the match. Those players have been on some journey."
After losing two of the three previous finals at this level, Westmeath finally make the breakthrough and they will play among the elite in 2022.
KERRY
John B O'Halloran
Eric Leen
Evan Murphy
Conor O'Keeffe (0-1)
Jason Diggins (0-1)
Fionan Mackessy
Tomas O'Connor
Paudie O'Connor
Shane Nolan (0-2)
Mikey Boyle (1-4)
Daniel Collins (0-1)
Barry O'Mahony (0-2)
Padraig Boyle (0-6, 0-3f)
Shane Conway (0-4; 0-2f, 0-1 sl)
Cian Hussey (0-3)
Subs: Michael Leane for Paudie O'Connor (ht), Bryan Murphy for Tomas O'Connor (42 mins); Maurice O'Connor for O'Mahony (54 mins); 
WESTMEATH
Noel Conaty
Darragh Egerton
Tommy Gallagher
Conor Shaw
Aaron Craig (0-1)
Tommy Doyle
Aonghus Clarke (0-2)
Cormac Boyle
Robbie Greville (0-4)
Davy Glennon (0-5)
Killian Doyle (0-4; 0-1f)
Joey Boyle (0-1)
Ciaran Doyle (1-3; 0-1f)
Niall Mitchell (1-4)
Niall O'Brien (0-2; 0-1f)
Subs: Shane Clavin 7 for C Boyle (49 mins); Josh Coll 7 for Ciaran Doyle (55 mins); Derek McNicholas 7 (0-2f) for Killian Doyle (62 mins); Shane Williams NR for O'Brien (67 mins); Darragh Clinton NR for Joey Boyle (71 mins)
Referee: Sean Cleere (Kilkenny)
Man of the match: Niall Mitchell (Westmeath)
📮 Sign up to the OurGame newsletter — a daily email reminder of our latest videos, articles, quizzes and more.
Don't forget to subscribe to the OurGame YouTube page for live streams and more.