Shane Stapleton reflects on the clash of the two most recent All-Ireland champions as Kerry visited Tyrone at Healy Park.
BY SHANE STAPLETON
It's early days, but then that's the point.
Why throw David Clifford back into action so soon after his mammoth 2022 season ended with Fossa glory on January 11, 2023? We saw the usual flashes of genius, but his performance certainly deteriorated in the second half as Tyrone hunted him in packs.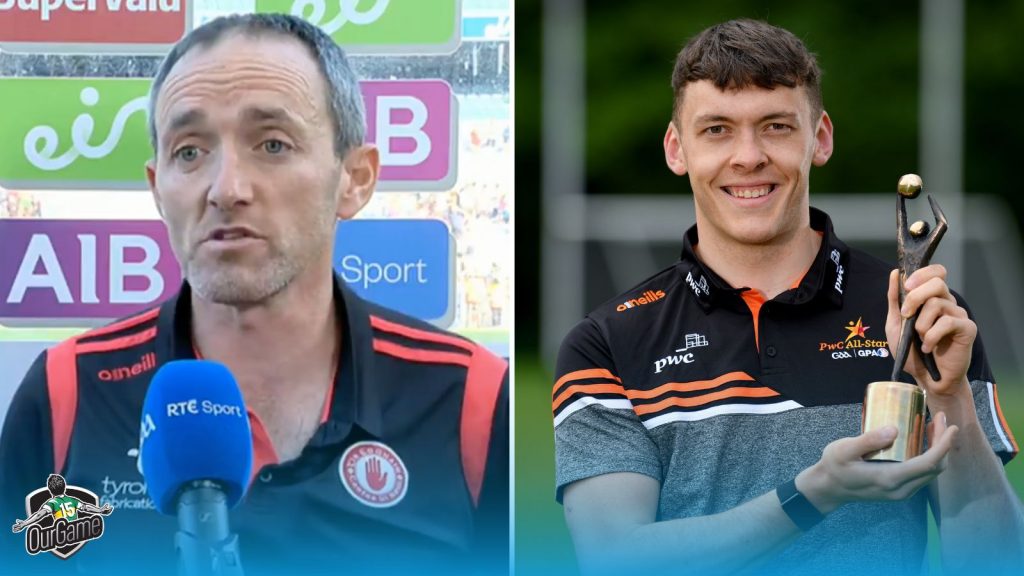 That's not to question whether the game's biggest superstar can still be the deciding factor in this year's championship, but it's to ask whether it is necessary to use him now. Surely these league games aren't that crucial, and he can be held back for more exacting days.
The same could be said for his brother Paudie who gave a muted display before being withdrawn during the second half. Even Paul Murphy, who had a long season interrupted by a honeymoon with Rathmore, scored a goal in the second half but looked leggy giving away a free late on.
The Red Hands were jubilant on the final whistle after turning what at one stage was a five-point deficit into a three-point win. Mattie Donnelly pumped his fist on the final whistle, perhaps in response to the many questioning where his side are headed to.
It was interesting to see three or more Tyrone players drag Sean O'Shea around in the 38th minute, with no Kerry man coming to his aid.
Yes, O'Shea had tackled Donnelly high but it goes without saying that a man is never left alone amid wolves — this is something that Jack O'Connor will likely address. League game or not, it was a bad look, and something Tyrone could potentially feed off of by thinking "they won't stand up to us".
O'Shea sparkled at times in the first half. His goal after two minutes, when collecting a break and stepping into the penalty area to finish, spoke of a man switched on from the start.
His point with his left boot arching inside from the right flank, for all the world, had a cut of David Clifford about it — no higher compliment.
The latter bombed over an incredible score on five minutes which Paudie Hampsey could do little more to stop, and the Footballer of the Year then converted a very soft free from 35 yards when he was gently tugged by the same defender.
Tyrone, who Enda Varley said on the show this week look like a team happy with one All-Ireland, started slowly but could have scored a goal after seven minutes through Conn Kilpatrick.
Shane Ryan got down brilliantly to save after the midfielder had caught a hanging sideline delivery from Darren McCurry, and it wasn't the only time the Red Hands went down this route.
Joe Oguz had a shot half-blocked for the All Star goalkeeper to collect, but Brian Kennedy helped pry the ball from his grasp and it spilled to the net. An own goal or a Kennedy major? Hard to say.
Kerry were 1-5 to 1-2 ahead on 25 minutes after Tony Brosnan popped over a mark, but the hosts created seven of the next ten scoring chances during a spell where they drew level.
The first opportunity came when a Kerry kickout was turned over, Tyrone moved the ball through the hands to allow Darragh Canavan in on Ryan, but the latter got down once more for a great stop.
If ever a goalkeeper had a tumultuous first half, this was it.
After the interval, Tyrone never looked like scoring a goal and though Murphy hit the net on 46 minutes to go two points in front, Kerry rarely looked like adding points.
They managed to do that just twice in the second half through a Clifford free and a slaloming Donal O'Sullivan effort in the 56th and 59th minutes, but that was it.
A scoring efficiency of just 27% (3 of 11) curtailed the Kingdom's chances, as did Tyrone winning some brilliant turnovers on Clifford and Co in their own defence, while Ruairi Canavan did the business with placed balls after coming on.
Tyrone have been underwhelming since winning the All-Ireland title in 2021, but perhaps this gutsy league win on a showery April day can revive them.