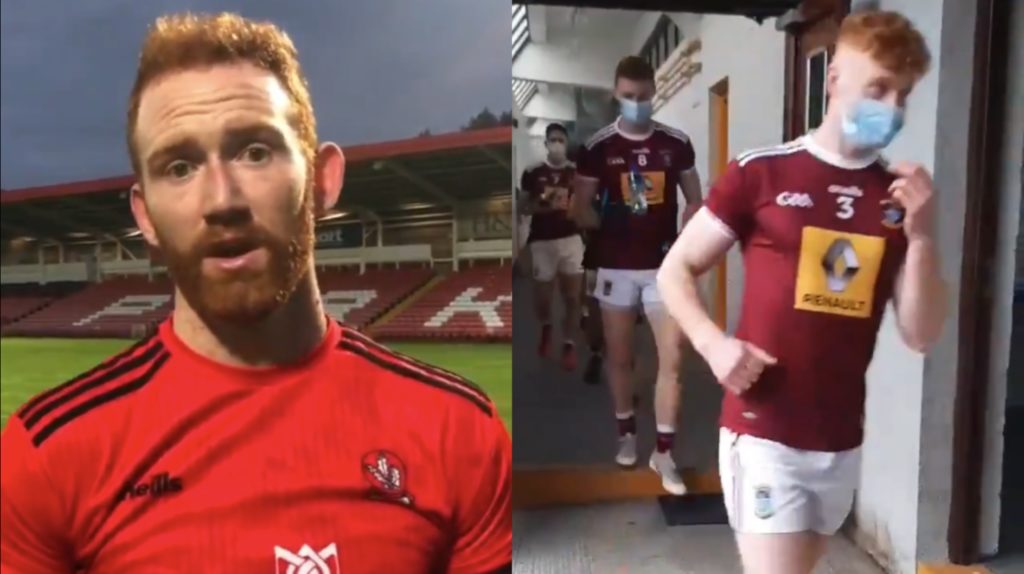 Shane Stapleton looks at some of the more eye-catching stories in the world of Gaelic football as the league made its return on Saturday.
BREAK GLASS IN CASE OF EMERGENCY
A major talking point in Derry's 2014 to 0-12 win over Longford was the introduction of Conor Glass on 56 minutes.
The Glen man recently decided to end his AFL career and returned to the county last weekend, and subsequently to training with Rory Gallagher's crew.
Had he been in the 26 counties, Glass would not yet be able to return to action, but his manager pointed out this week that he did not need to isolate.
The former underage star looked classy and powerful on the ball, winning a free that was pointed, and catching a lovely defensive mark in around the full-back position.
PUZZLING LONGFORD VENUE REQUEST
It has been a tough lead-in to the season for Longford manager Padraic Davis.
As exclusively revealed on OurGame, key player Mickey Quinn this weekend decided to opt out of the panel for the 2020 championship.
Not only that, but the county championship had firstly been delayed as Killoe Og Emmets battled a county board fine, and currently remains unfinished at the semi-finals stage due to the suspension of the club season.
Ahead of their trip to Derry, Longford asked for the game to be moved from Celtic Park to Owenbeg, with the proximity of Covid cases being the apparent motivation.
Derry refused the request, and it begs the question of what it would have achieved in any case.
The players will be going directly to the ground and leaving afterwards, meaning the venue was unlikely to have an impact on potential transmission.
NOTHING LEFT TO CHANCE
In a week where there has been much talk about the All-Ireland championships and whether they should go ahead, Westmeath have decided to make an extra effort.
Their players came out for their clash against Laois wearing face masks and distancing from each other.
The Lake County won the game by 1-18 to 0-13.
IS LEAGUE FIT FOR PURPOSE?
League is league, or so we are told.
It's the notion that not every team takes it particularly seriously, or that they don't all of the time.
The flipside is that this has been the most competitive tournament in Gaelic football, and it is more important to teams lower down the food chain than the championship.
Let us know in the comments section what you think.
RESULTS
SUNDAY
Division 1
Monaghan 0-14 0-17 Kerry
Dublin 1-20 0-19 Meath
Division 2
Westmeath 1-18 0-13 Laois
Armagh 0-15 3-10 Roscommon
Division 3
Cork 5-19 0-16 Louth
Down W/O — 0 Leitrim
Derry 2-14 0-07 Longford
Division 4
Wicklow 7-11 0-07 Antrim
Carlow 2-17 2-15 Sligo
SUNDAY
Division 1
Donegal 2-17 2-13 Tyrone
Galway 0-17 3-23 Mayo
Division 2
Clare 1-11 1-09 Fermanagh
Kildare 1-21 0-20 Cavan
Division 3
Tipperary 1-16 0-16 Offaly
Division 4
Limerick 1-10 1-13 Wexford
Waterford W/O 0 London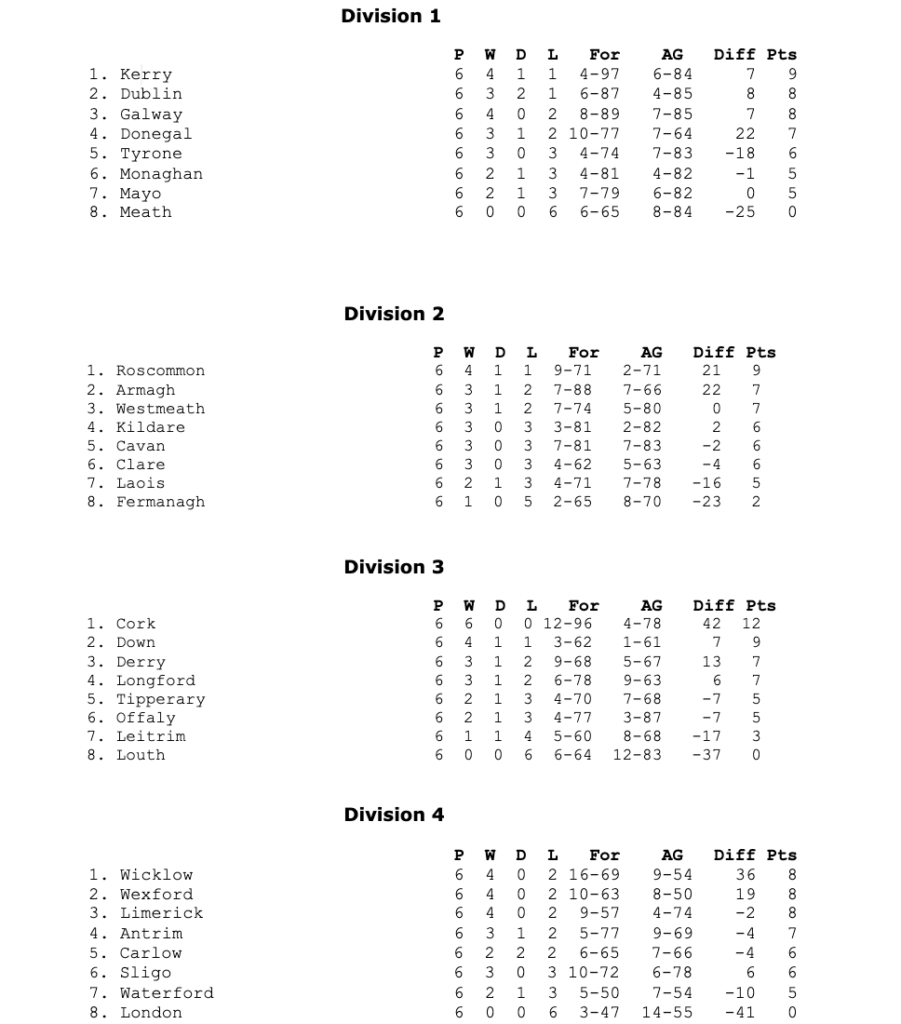 📮 Sign up to the OurGame newsletter — a daily email reminder of our latest videos, articles, quizzes and more.
Don't forget to subscribe to the OurGame YouTube page for live streams and more.