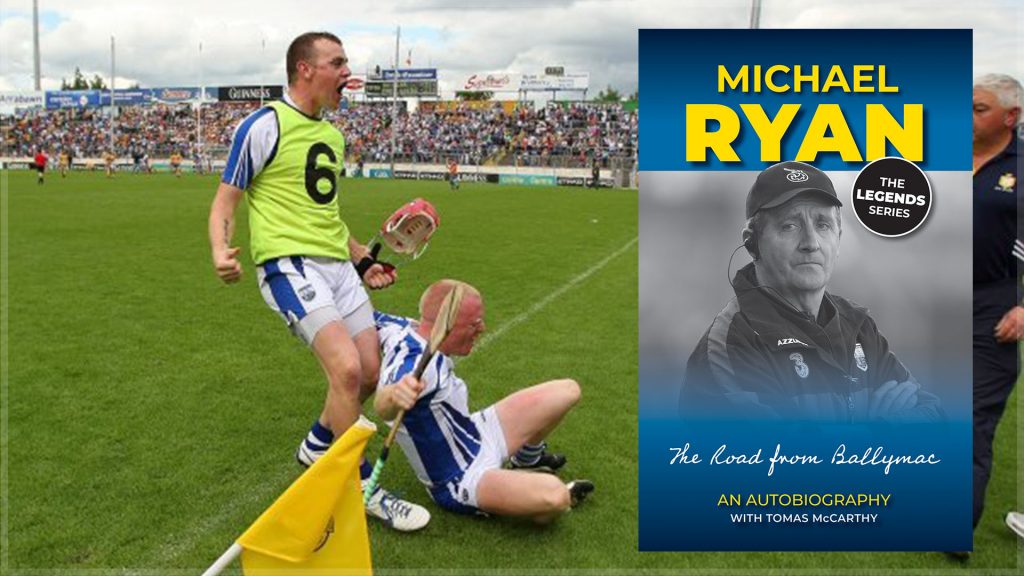 In this extract from his new autobiography, 'The Road from Ballymac', former Waterford and Westmeath hurling manager Michael Ryan relives the pressures of his first season with the Deise.
I HAD TO find results.
Pat Grant told me that we had to stay in Division 1. If we didn't stay in Division 1, my job was in jeopardy.
Which is a bit odd, because two years later Waterford got relegated and it made no difference. Where that came from, I don't know. I never let it worry me anyway.
I said I'd do my best, fight on and see what happens. It didn't keep me awake at night. There was a lot of flak.
I probably wasn't getting it because I wasn't in the city. I never bothered about the flak because I had been getting it all my life. I wouldn't be a fella for reading newspapers.
People would tell me this or that when I met them, or the family would tell me at home. I didn't read it; I didn't take any notice of it. I didn't care what was on the paper. I saw some of it but I made a conscious decision for it not to bother me.
You're always under pressure managing a county team. My attitude was… I'll give this everything I have and I can do no more. Whatever will be will be.
That's always been my attitude to any job I've taken. Ken McGrath came in as a selector. I met him in his own house. His brother, Eoin, sounded him out. He said he'd think about it. He rang me back a day or two later and said he'd give it a go.
He came in and he was a massive man to have around the team. He was well respected and he was great around the place.
In my opinion, Ken McGrath is the best hurler Waterford ever had. He did it everywhere. He started off as a wing forward, he got seven points from play when they won the Munster final, then he went back in the backs. Ken was a big influence around the team.
It was a pity he didn't stay on in some fashion the following year. Séan Cullinane came in as well. We were under massive pressure going to Galway.
Ken was on the sideline but he couldn't really act because he wasn't ratified. That's the politics of the GAA! He came up the day of the game.
We had a good team meeting on the Saturday night. We asked for a response. The only two mentors that were at it were Pat Flanagan and myself.
Ken wasn't ratified, Brother Philip came to Galway but stepped down after the game and Nicky Cashin had already stepped down.
John Mullane came as well. He was thinking of coming back to the panel and he did. I said to Mullane that we were down a lot of fellas. He rang me back and said he'd travel.
MULLANE WAS A fella that liked to be right. He never wanted to play if he wasn't fit. He wasn't a fella who would play for the sake of playing. It was a massive fillip for us. He was huge that day.
We met Galway on one of those days when Galway weren't at their best. Part of that was the fact that we tore into the fray from the start.
Shane Walsh shouldered James Skehill in the act of scoring a goal and the goalie broke his collarbone. The team just took off, they started hurling well.
We rolled up the sleeves and tore into Galway. Everybody was hurt. The players were hurt, the management were hurt. We asked for a response and they certainly gave a response.
We beat Galway 1-14 to 0-15 and straight away there was a weight lifted off everybody. It was a huge relief. That was a Galway team that was in the All-Ireland final later that year.
Reports of our death were greatly exaggerated!
Suddenly it was in our own hands to stay in the division. We had Dublin in Fraher Field. We knew if we won that game, we were in fourth place. We had a few fellas back so training was a bit better. Ken took a lot of the sessions.
He was great. He wouldn't have been into all those mad tactics but I wouldn't say he had no tactics. He was a bit like Michael Walsh of Kilkenny. Michael's philosophy is, the ball to play is the intelligent ball, whether that be short or long. The intelligent ball.
Ken did the coaching, Séan gave a hand and Pat and Jimmy Payne did the strength and conditioning. We always sat down and prepared. We often met on nights when there was no training on.
As a management team, we would plan the night's session. My job would be to observe it, look around and see what's happening; make sure that Pat got his time and Ken got his time. Anyone who's injured is with the physio and all the other things that go with it.
I'd always find time at training to talk to three or four players, you can't talk to everybody on any given night. If somebody didn't have a good game or if somebody was injured or if somebody wasn't playing well, you'd pull them away and have a chat and try and get inside their head.
Because if you don't know what's going on inside their head or don't know what the problem is, it's very hard to fix it. The only way to find out that is to talk to the players.
A million meetings go on. Media duties, county board… gear. At the end of the day, any county manager is responsible for 50 or 60 people. That's a full-time job. You don't have time to coach. It's something I've been doing all my life, I just always find time.
If you want something done, ask somebody that's busy because that's the reason they're busy. How many hours went into it never bothered me.
I've always felt that there's four or five players on any panel that you can talk to, suss things out and find out exactly what the mood is. You have to know, to some extent, what the players are thinking.
Then you go back and talk about it as a management team and assess the players.
We had so many meetings, particularly Pat and myself. Jimmy Payne was there as well. And selectors meetings. We had a review of every single thing but at the end of the day, the manager carries the can.
I can't speak for the players but I would have felt that the players weren't happy with themselves or with the management after losing the first three league games. I would've guessed that. After that, the training got better.
I would have felt communication was okay. I don't think it's ever going to be perfect because at the end of the day, you take any panel. You have 35 players, there's 20 of them unhappy straight away. Fifty percent of the players are always going to be unhappy. It only takes a very small swing then to tilt the ship or the balance of power.
I did notice that the training got better after winning the game in Galway. Everybody seemed happy, everybody worked harder. Once we started winning, the players saw it in a different light.
Mullane was a massive help as well.
There was Fergie Time and there was Mullane Time. Before he went out, he would walk around the dressing-room and throw out a few expletives. It was his way of psyching himself up. He had this habit of slapping the back of his legs.
'When are we going out?' Ten minutes before we went out on the field, he would get up, start hopping the hurley off the back of his legs, redden his legs and walk around the dressing- room. He went into a different mode.
There was a table and Roger Casey's hand was up on the table. Roger was the kitman.
'F*** these Dubs!'
He pulled down on top of the table across Roger's hand. Mullane never even knew he hit him! As the game started, I looked behind me and there was our physio and our doctor trying to patch up Roger's hand in the dugout. He was very badly bruised. We brought on Eoin Kelly and he got a marvellous point.
We won 0-17 to 0-13 and we finished fourth in Division 1. There were only six teams. It was cutthroat.
WE HAD A training camp in Fota and we all put a lot of work into that. That seemed to go very well. We dropped Tony Browne for the Munster semi-final against Clare.
That was a tough call. Tony had been struggling. We told him together as a management. The three of us. Any fella who was left off, we told him.
I would never let a fella find out in front of 30 people that he was being dropped. Nobody is happy to be dropped but in fairness he accepted it. He won his place back for the Munster final.
That's the kind of man he was. Tony was such a good wing back that the onus was nearly on the wing forward to mark him. He was a really top player.
Tony was different. He liked the chance to prepare himself and Justin (McCarthy) afforded him that chance. We got him to do more early in the season than he did in previous years.
Even when he was dropped, he bounced back. To play to the level he did, at the age he was, he seemed to be almost like a full-time, professional hurler, the way he prepared. He left no stone unturned to make sure that he was completely mentally and physically right himself.
The championship draw was made the previous October and I knew we were going to draw Clare. It was bound to happen. The Davy factor was coming down the track and that was going to be a distraction in itself.
That was going to take on a life of its own.
We stopped in Clonmel for a pre-match meal, we had a meeting in the hotel. I always believe that when you're talking to players, you must pull something out.
You must have something different every time you speak. I had heard a story that the Clare players were brought out of bed one morning and made climb Carrauntohill.
'This is what we're up against today. Listen very carefully. About six weeks ago, the Clare players got a phone call after midnight to be in Cusack Park an hour later… where they were met by a bus.
'They drove through the darkness of the night and they went to Kerry and they climbed Carrauntohill.
'All the ways up and all the ways down again.' Everyone was looking at me. 'In the middle of the night.'
I left it hang there. There was a lot of tension about the match because these fellas wanted to beat Davy.
'Climbing up mountains makes you good at… Climbing up mountains!' The whole place erupted! It lifted the tension.
Stephen O'Keeffe, Stephen Daniels, Philip Mahony and Gavin O'Brien all made their championship debuts. Fourteen months later, Clare were All-Ireland champions.
The Clare goalie, Patrick Kelly came up and took a free at the end and the ball ricocheted up in the air. I thought it was in the back of the net. Stephen Molumphy came out with it. 
I WASN'T HAPPY about Mullane and Kelly celebrating in front of Davy. I was disappointed it happened. That's not my style at all. You lose with grace and you win with grace as well. But it happened and what could I do?
Of course, the media hounded me over it.
Our lads were delighted to beat Davy and delighted to get back to a Munster final again. For some of them, it was the be-all and end-all. He would have put manners on some of those fellas. They just couldn't wait to play against him.
I didn't say anything to Mullane and Kelly, there was no point because it was like throwing petrol on a fire, but I was disappointed with it. They were on a high over it.
From Davy's point of view, we got a goal from a penalty that should have been a free out. Kelly pulled Cian Dillon's helmet.
One man who led the team that year was Stephen Molumphy.
Molumphy always led the way. Molumphy was a born leader. He would be a fella that would go around and say a few words to fellas privately.
He wouldn't be one that wanted the whole world to know what he was doing but behind the scenes he was a guy who was born to lead.
It probably came from his work in the army. He was with that Ballyduff Upper team that won the county in 2007 against all the odds. 
THE MUNSTER FINAL was against Tipp, who had beaten us by 21 points the previous year. We felt that we'd give Tipp a game.
There was a lot of talk about playing in Cork. We had been hammered in Cork. We had a vote amongst the players. Were they prepared to go to Thurles for the Munster final? Out of the panel of 30… 25 or 26 of them said yes. 
It never came to anything. It was a drizzly kind of a day. We hurled well enough. We gave away two poorish goals. They beat us by seven. We never looked like winning but it could have been a three-point game.
It was a decent performance without setting the world on fire. I wouldn't be calling it a moral victory, I'm not into moral victories. I remember leaving Cork saying that there's something to work with here. 
WE SHOULD HAVE beaten Cork in the All-Ireland quarter-final. We were three points up and we missed a chance to go four up.
Then, they went down the field, got a point and it was back to two. We hurled well in that game, we coped with their lively forwards. We pulled back our half-back line, we said the '45' was their bench line and pulled back the midfield a bit and crowded it up; we didn't give them much space.
Shane Casey had a chance at the end, and Eoin McGrath had a chance as well. We got a lot of criticism over playing Eoin. Ken got the blame, but I'll take responsibility for that.
He had been going well in training and if you look at the DVD of that game, I think he got five balls and did well with four of them. He just happened to miss a chance and that's what everybody remembered.
Eoin McGrath was a maligned figure. If it was raining, Eoin McGrath was blamed. But it was my call.
We wouldn't have feared Galway in the semi-final. Anything could have happened.
'Don't worry, I'll be around,' I told the reporters after the game, when I was asked about the length of my term. I had a two-year term and that was it.
I always felt that you had to kill speculation at the start. Don't give a half-hearted answer, put it to bed straight off. After the game, we sat down as a management team and we felt we had turned a corner.
We had stayed up in Division 1, got to the Munster final and should have won that Cork game. Waterford had lost a lot of players in the few years before that but we had a few new fellas coming through, and we had given championship debuts to six players.
We felt that there was plenty to work with. 
'The Road from Ballymac': Michael Ryan, An Autobiography' is published by Hero Books (€20.00) and is available online (print or ebook through Amazon) and in all good bookshops.