Shane Stapleton looks at the social media post of former Westmeath player John Connellan, the results in the provincial football finals, and asks if the All-Ireland semi-finals should be played outside Croke Park for this season.
BY GERARD BROWNE
Sixty-one per cent of people surveyed by OurGame want the All-Ireland SFC semi-finals played outside Croke Park.
Our Twitter poll had 4,002 participants across a 24-hour period this weekend, and almost two-thirds of voters believe that one or both of the games should be staged at neutral venues in two weeks' time.
Reigning five-in-a-row champions Dublin face newly-crowned Ulster winners Cavan, and Mayo will take on Tipperary, who ended an 85-year drought in Munster.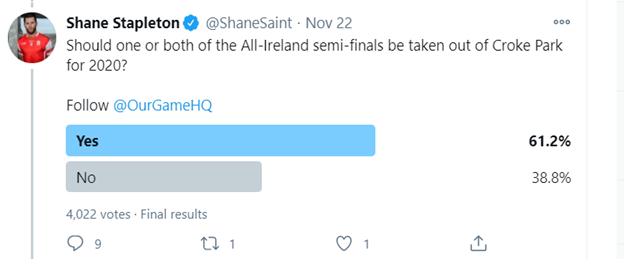 No announcement has been made on where these matches will take place, but GAA HQ traditionally hosts the All-Ireland semi-finals.
However, with no/limited numbers of spectators expected to be allowed in through the gates, Mickey Graham doesn't see the need to play these games at the Jones' Road stadium.
Speaking to the Independent, the Breffni boss wants to see his side's encounter against the Dubs taken out of Croke Park.
"With the year that is in it, no crowds allowed in, is there a need to go to it, that's my point?" he points out to Colm Keys.
"Would a nice neutral venue, somewhere different for a change, be any harm? For Dublin, that's like their own back garden, they are so used to playing there.
"A lot of our lads would never have been there before, it's a first time for them and it's a huge experience for them and it's definitely a disadvantage for us."
There have been a few exceptions in recent years, where some provincial grounds have hosted last-four deciders.
In 2014, Kerry and Mayo met at the LIT Gaelic Grounds in football, while All-Ireland SHC semi-final were played at Semple Stadium in 2016 and 2018 — all three were replays.
📮 Sign up to the OurGame newsletter — a daily email reminder of our latest videos, articles, quizzes and more.
Don't forget to subscribe to the OurGame YouTube page for live streams and more.