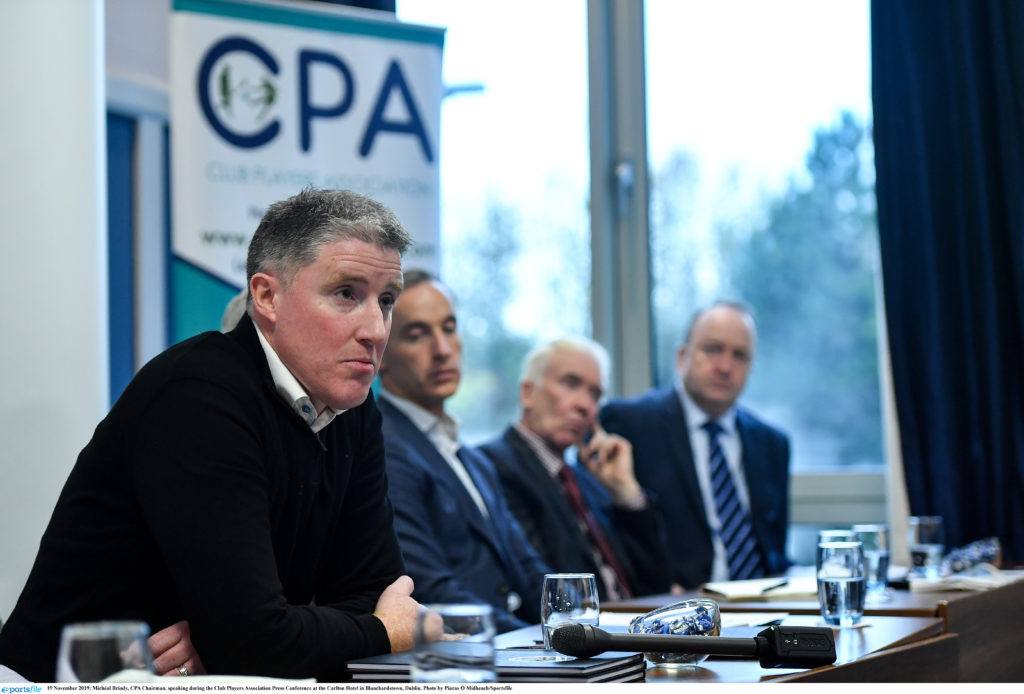 CPA blasts disrespectful GAA for allowing county championships to be run off like blitz competitions, and vows to continue fighting for club players.
The Club Players' Association has come down hard on the GAA for not taking control of the upcoming club window.
Certain counties have decided to run off their championships before the end of August, giving their inter-county bosses a free run to prepare for the elite-level competitions which can begin from September 14.
Other counties are making full use of the 11 weeks granted to clubs from July 31 to give players as much meaningful action as is possible.
The club v county debate has been a hot topic for a number of years, but has intensified as county championship structures have been revealed across the country.
The CPA insist that "shrinking club competitions is sacrilege" and have doubled down on their frustrations with the association by stating that "we have been suppressed by various people in the GAA over the years in the hope that we would go away".
The statement released to OurGame asks two major questions of the GAA on behalf of CPA members:
"1. What are the leadership going to do to ensure all counties optimally use the 11 weeks allocated to run their championships?
"Already we have seen different counties proposing blitz competitions to get club competitions out of the way so their intercounty teams can resume training as early as possible.
"Is this not a once-in-a-lifetime opportunity for the leadership of the GAA to enforce fairness on each county so a level playing field is achieved?
"2. What are the leadership going to do to ensure intercounty players are not asked or coerced into training with the intercounty team before they finish their club championships?
"In some counties, intercounty managers have very strong influence over the fixtures scheduling.
"We call on Croke Park through the powers vested in The Management Committee at a Special Congress held on April 17 2020, to use those powers to take a stand once and for all on this and rule with appropriate sanction."
Recently retired Corofin and Galway star Kieran Fitzgerald has been added to the CPA executive — along with Cahir Healy, Denis Coughlan, Colm Garvey, and Paraic Fanning — after their latest AGM, and made clear his feelings on the status quo.
"I have followed the Club Players' Association with keen interest over the years in the hope of obtaining a better playing calendar for the club player.
"From playing club football for the last 20-plus years, I have seen and heard on a weekly basis the continued frustrations of my fellow players regarding the uncertainty of fixtures and the lack of a formal consistent playing calendar.
"I have seen at first hand the unnecessary sacrifices players have had to make and the pressures players have been put under just to play the game they love because of lack of consideration and foresight by leadership of the GAA.
"The club game is the heartbeat of the GAA but due to neglect and disregard, it is slowly dying on its feet. 
"I am delighted to join the national executive of CPA and I am looking forward to assisting in getting a positive outcome in this regard for club players across the country".
Chairman Micheál Briody was re-elected to serve as chairman of the CPA for a further year, with Tommie Kenoy replacing Michael Higgins as secretary and Joan Kehoe taking over from Anthony Moyles as Treasurer.
Briody said: "As an association we must respect the integrity of our club competitions and this means using the time available in the best possible way.
"Suggestions of running of championships in blitz format or shrunk to a very tight timeframe to enable county preparations are sacrilege and will have long-lasting implications.
"We have been suppressed by various people in the GAA over the years in the hope that we would go away," he added. "But we are not going away.
"Logic and reason is on our side and the statements from our new executive members proves that club players are still not getting fairness.
"We look forward to working with the leadership of the GAA to help get a resolution to this once and for all.
"We simply cannot enter 2021 without an acceptable games programme and calendar that is acceptable to the playing population.
"If we do we will compound the problem and do further irreparable damage to the Association."
Cork dual legend Coughlan added "This is the best committee I've ever been on. For the only time I remember all members want the same thing.
"The good of the club and for the future of our games and the Association. 98% of our players are being totally disrespected by Croke Park, county boards and managers.
"Everything I have heard since joining the committee has been practical and conciliatory rather than radical to bring about a fair system for all our clubs and players."
"Regarding my own reasons for joining, I am concerned about the unfair situation of my friends who just play club," says Laois and Portlaoise player Healy.
"My own personal reason for having a passion to change things stems from my non-involvement with my club over my years as a county player.
"I am a county panel member at the moment and a GPA member, I am proud to play for Laois but I still don't feel county players should be strangers in their own clubs which I feel is what is happening all over the country.
"The clubs games and county games are all part of our one association, we must find a way that they both thrive together and not be in conflict with each other which is what is clearly happening"
📮 Sign up to the OurGame newsletter — a daily email reminder of our latest videos, articles, quizzes and more.
Don't forget to subscribe to the OurGame YouTube page for live streams and more.