Shane Stapleton pores over the statistics as Limerick and Clare prepare to meet in the Munster SHC final this Sunday.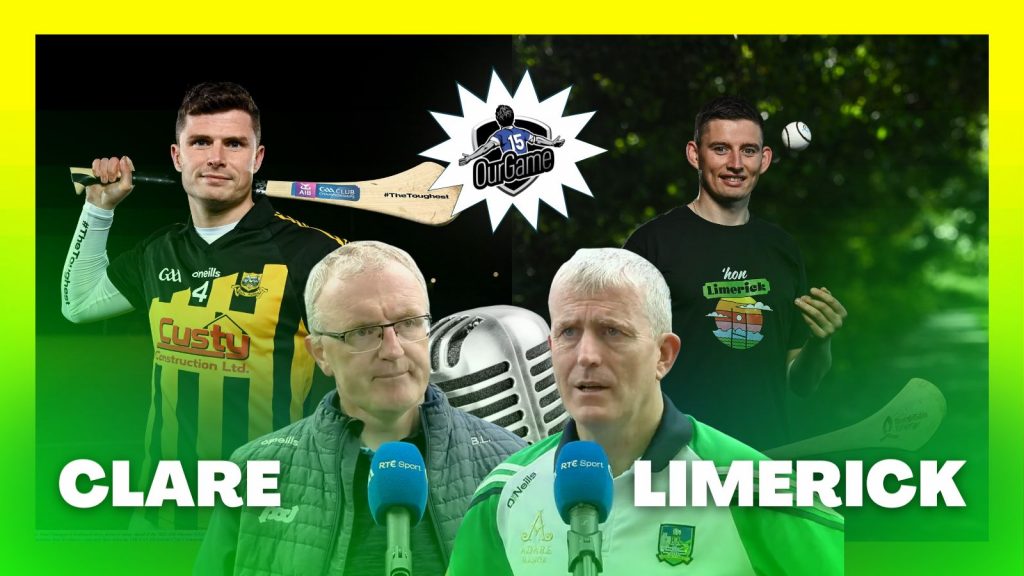 When these great old rivals met at the Gaelic Grounds in round two of the round-robin stages, there was just a point between the teams as Clare won by 1-24 to 2-20.
Limerick created the same amount of opportunities in the second half (21 apiece) and just one fewer in the opening period (22 to 23).
In terms of sights at the net, Limerick rattled home two efforts through Seamus Flanagan but left two more behind them, again Flanagan and also Tom Morrissey.
For their part, The Banner beat Nickie Quaid thanks for Peter Duggan but four more chances went abegging: Tony Kelly, Duggan, and Aron Shanagher twice coming up short.
Interestingly, The Treaty had five shots hooked, blocked or pressured into dropping short during the first half alone, and a high workrate is of course key to interrupting their flow.
Tony Kelly has rifled over 50 points including 24 from play in his last four championship bouts with a Limerick side that refuses to man-mark him.
Brilliant though he may be, the Ballyea man scored with just four of nine attempts a couple of months back and may need to convert more consistently this time around.
Limerick have pulverised plenty of teams in the third quarters of game over recent seasons, but teams are weathering their charge somewhat better lately.
Between the 40th and 55th minutes, John Kiely's crew managed to convert just one of 11 scoring attempts in the third-round game against Tipp: five wides, three shots blocked, and two shots forced short.
Against Clare before that, Limerick responded to Duggan's goal by having ten of the next 12 shots between the 41st and 53rd minutes, but the Banner survived half of those attempts to remain in front.
What seems clear is that the green storm will always come, and it is about navigating a way through that without the wheels coming off. Easier said than done, of course.
Cian Lynch was taken off after have almost no influence in the April 29 game, while Gearoid Hegarty came on and didn't really get into it either.
Had we been told that two players who have won Hurler of the Year three times between them would have just 0-5 on the board at this juncture, and that Limerick would still get to a Munster SHC final, eyebrows would have been raised.
It is a credit to Kiely's panel that they have nonetheless, and that players such as Aaron Gillane, Tom Morrissey, Flanagan, Cathal O'Neill and Diarmaid Byrnes have raised their levels.
Clare have oft been accused of an overreliance on Kelly and his 1-13 from open play is a reminder of his importance.
Yet Aidan McCarthy has 1-8 from play despite injury limiting his gametime, while Mark Rodgers, Shane O'Donnell and Diarmuid Ryan have all regularly pitched in with scores.
Three different players hit frees for Limerick that day — Gillane, Byrnes and Morrissey — in a game where they managed just ten flags from open play.
Brian Lohan's charges managed 19 conversions from general play, which is in marked contrast.
As to who will win on Sunday, it's clear we have come a long way from what happened in 2019 when the Treaty beat the old enemy 1-28 to 0-13.
In normal time, just one point separates them over their last three championship meetings, with Limerick of course winning the 2022 Munster final by three points after extra time.
*John Kiely is in his seventh season as Limerick manager. Their championship record in that period reads: Played 35; Won 25, Drew 3, Lost 7.
*Brian Lohan is in his fourth year as Clare manager. Their championship record in that period reads: Played 21, Won 13, Drew 1, Lost 7.
*Limerick are bidding to win the Munster title for a fifth successive year. Cork (1982-86) were the last to win the Munster five-in-a-row.
*Clare last won the Munster title in 1998. They have lost five finals since then.
*This will be the 60th championship game between the counties. Limerick won 37 to Clare's 20 with two draws, from the previous 59.
LAST FIVE CHAMPIONSHIP MEETINGS
2023: Clare 1-24 Limerick 2-20 (Munster 'round robin')
2022: Limerick 1-29 Clare 0-29 aet (Munster final)
2022: Limerick 1-21 Clare 0-24 (Munster 'round robin')
2020: Limerick 0-36 Clare 1-23 (Munster quarter-final)
2019: Limerick 1-28 Clare 0-13 (Munster 'round robin')
LAST FIVE MUNSTER FINAL MEETINGS
2022: Limerick 1-29 Clare 0-29 aet
1995: Clare 1-17 Limerick 0-11
1994: Limerick 0-25 Clare 2-10
1981: Limerick 3-12 Clare 2-9
1974: Limerick 6-14 Clare 3-9
TOP SCORERS
CLARE
Tony Kelly……………….2-22 (0-8 frees, 1-0 pen, 0-1 '65')
Aidan McCarthy………1-23 (0-12 frees, 0-3 '65s')
Mark Rodgers……………2-4 (0-1 s/l)
Ryan Taylor………………0-6
Diarmuid Ryan…………..0-6
Shane O'Donnell…………0-6
LIMERICK
Aaron Gillane…………0-25 (0-16 frees)
Diarmuid Byrnes……..1-16 (0-11 frees, 1-0 pen)
Seamus Flanagan……..4-5
Tom Morrissey………..0-12 (0-1 free)
Cathal O'Neill…………..1-7