Liam Cahill and Davy Fitzgerald are playing for wildly different things on Sunday, but whose need is greater when Tipperary host Waterford?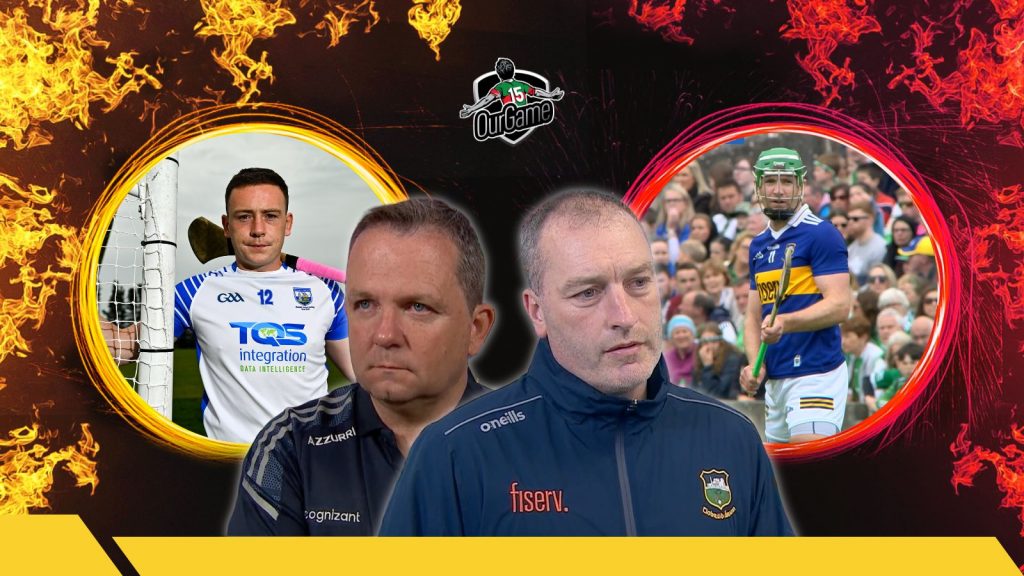 Waterford's team for Sunday features eight players who were nominated for All Stars two and a half years ago.
That was the winter All-Ireland SHC of 2020, when the Deise pushed Limerick close in Munster, outmuscled Clare, overcame Kilkenny, and ultimately came up well short against the Treaty in the final.
Conor Prunty, Calum Lyons, Iarlaith Daly, Jamie Barron, Stephen Bennett, Dessie Hutchinson, Austin Gleeson and Jack Fagan all showed during that season and at many stages throughout 2021 and 2022 that they are elite talents.
Say what you will about the inconsistency of Waterford in certain campaigns recently, but they do have enough to compete with anyone.
That they folded up the tents at the latter stages of last year's championship in Ennis places a huge question mark over their character, however, and you can understand why Liam Cahill exited stage left.
Irrespective of the new manager, Davy Fitzgerald, it is up to these players to show their mettle at Semple Stadium against Tipp. To find a cause.
They shouldn't have to look too far for inspiration because they have been accused of lacking manliness, of quitting, of not being fit, and of plenty in between.
Should they end 2023 in as limp a fashion as last year away to Clare, then this group will be telling us there's nothing to them.
Die with their boots on and win the game, or go down fighting, and it changes the picture and narrative heading into what will be a long off-season.
The manager knows his neck is on the block. Paraic Fanning and Colm Bonnar found out that one season is all you might get if enough people turn on you, and Davy Fitzgerald will understand that there is already a significant appetite for change.
He needs a huge performance more than his players do in some respects, but then would he even want to stay on if Waterford again don't show up. What could he expect to get out of them in a second season?
Will the Sixmilebridge man persist with tactics that have confounded analysts, angered supporters, and evidently confused his own players? Going more orthodox would be akin to tucking into a big portion of humble pie.
In the past, Dessie Hutchinson has had joy on the brilliant Cathal Barrett, so it's a matchup they should target. Having already opted against using the Ballygunner man against Sean Finn and Rory Hayes — both of whom he has troubled before — it would seem strange to continue ignoring roadtested avenues.
Dan McCormack will likely pick up Austin Gleeson, and if so the Mount Sion man should head into the squad and see if his marker likes it. Few players in the game have a better paw than Gleeson.
The teams have been named but there is a chance yet that Patrick Fitzgerald could play a part, or the pacy Carthach Daly. These players offer a bounce, the exuberance of youth. Go with it.
Should Fitzgerald retain the same tactics that made it feel like the team was inside-out against Clare, there is always the chance that the players will come together and say enough is enough.
No matter whose door the blame lies at, reputations are at stake here. Big personalities tend to want to at the very least lose on their own terms. It would have been interesting to be a fly on the wall at recent team meetings, and to see any player-manager interactions with regard to set-up.
Cahill is only human, and you could forgive him for wanting to nail his former team to the walls of Semple Stadium.
They had some great times together but they gave up on him at the end — whether it was his fault or theirs is at this stage irrelevant, as what remains is ill will. Not that anyone will publicly pronounce it.
Tipperary may well go out if they lose this game and there is a draw between Limerick and Cork, so they should be fired up. Whether they can summon the same energy they showed against the Treaty last weekend is the big question.
Having foundered for three successive seasons since last winning the All-Ireland title in 2019, it feels as if there is a wave of momentum building behind the Premier.
The crowd were initially slow to come back, but the walls shook at Semple last week. Victory here would mean a Munster final, and a chance to claim that title for the first time since 2016 under Michael Ryan.
Three players cramped up during the draw with Limerick — Ronan Maher, Conor Stakelum and Gearoid O'Connor — so there is a risk of a slow start or a leggy finish, or perhaps even both.
Waterford are well-rested, should be full of fire, and know their why on Sunday. Nothing to play for, but everything at stake.